If you know anything about me or This Online World, you'll know that I absolutely love free, passive income.
I'm a huge advocate of using phone farming to earn passive income, and I've covered some of the best ways to earn passive income before in some of my posts.
So, you can only imagine my initial excitement when I started researching the best exercise apps that pay users to get fit. I mean, what could possibly beat a list of apps that pay you to walk, run, or exercise?
This is definitely one of the easiest passive income streams I've come across, and while you won't become rich by installing some of these apps, a litter extra cash never hurts.
Time to break down some of the best apps that pay you to walk or get fit!
Apps That Pay You to Walk & Exercise: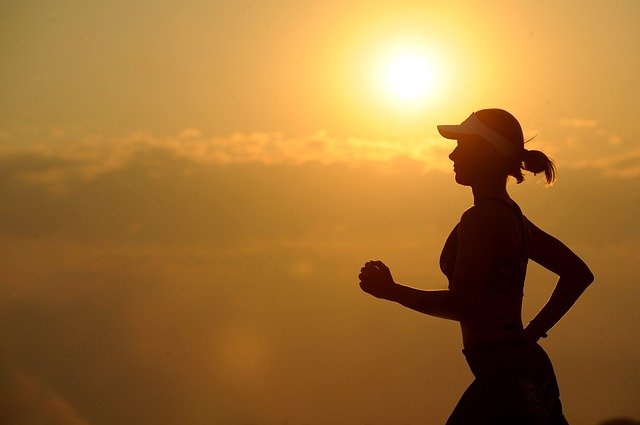 I decided to run a 1 week experiment on as many apps as I could possible use in Canada.
For the sake of data collection and actually figuring out the best fitness apps that pay you to walk or stay active, I simply decided to walk to my College's campus and back every single day for a week.
To give you an idea, it's about 1.5 miles each way. So, 3 miles a day worth of data!
I walked to school and back for 5 days, and then was moderately active for the weekend.
All in all, I collected about 20 miles of step data over the course of the week.
I actually exercised/walked for more, but I didn't always have my phone on me (I did every time walking to campus) and Google Fit doesn't pick up on absolutely everything.
However, since every single exercise app requires my phone to track steps and earnings, if I miss out on steps, all apps are equally impacted so there is no bias in the data set that makes a certain app disadvantaged.
So, onto the apps!
Carrot Rewards (Ontario, Canada Only):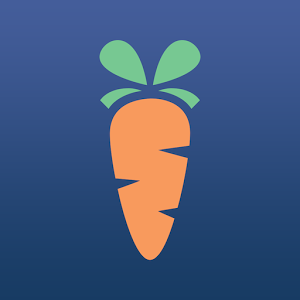 Edit: 6/23/2019: Carrot Rewards has officially shutdown.
I'll save you some time and get to the point: Carrot Rewards is the best fitness app that pays you to walk or remain active.
I briefly touched on Carrot Rewards in my post 11 Ways to Easily Earn Passive Income, but I'll cover the topic a bit more here and share some numbers.
Think of this as my overall Carrots Rewards review, I guess.
Carrot Rewards rewards Canadians for being active. In fact, the app even received $1.5 million dollars in funding from the Ontario Government to help the app accomplish this mission.
Users can answer surveys, receive the latest fit and fresh deals, and also earn passive income for meeting daily step goals.
Your Carrot Reward Points are redeemed by connecting the app to another reward program. Personally, I use Drop, a passive earning app that rewards you for spending with your credit card at certain stores.
However, you can also connect Carrot Rewards to:
Scene Points.
Petro-Points.
More Rewards.
Aeroplan Miles.
The point system is fairly straight forward. If you get 100 Carrot Reward Points, that will be 100 Drop Points, for example.
Carrot Rewards presents almost-daily surveys to users which they can take a few minutes to answer to earn some quick points.
For passive earning, Carrot Rewards rewards points for meeting a daily step goal: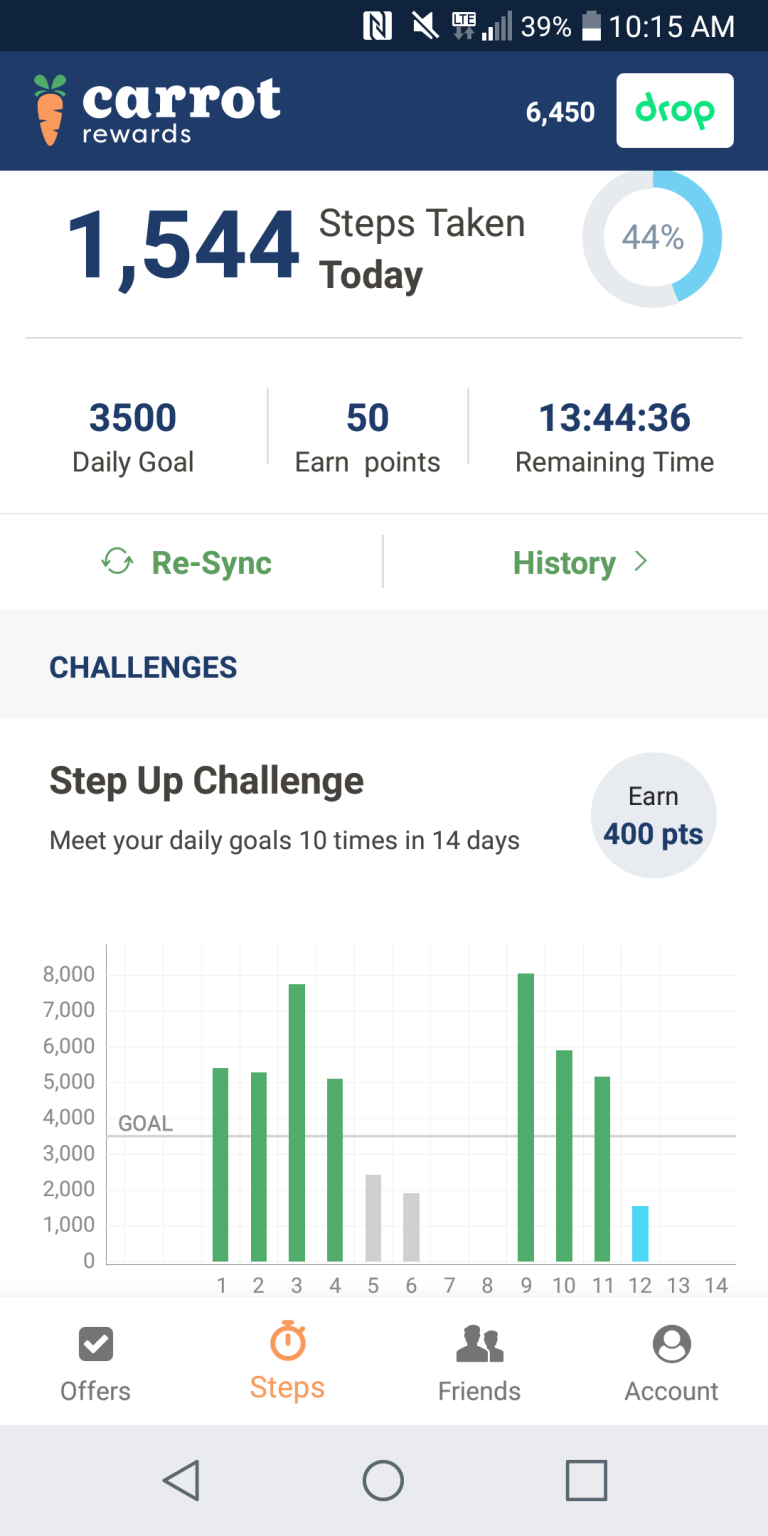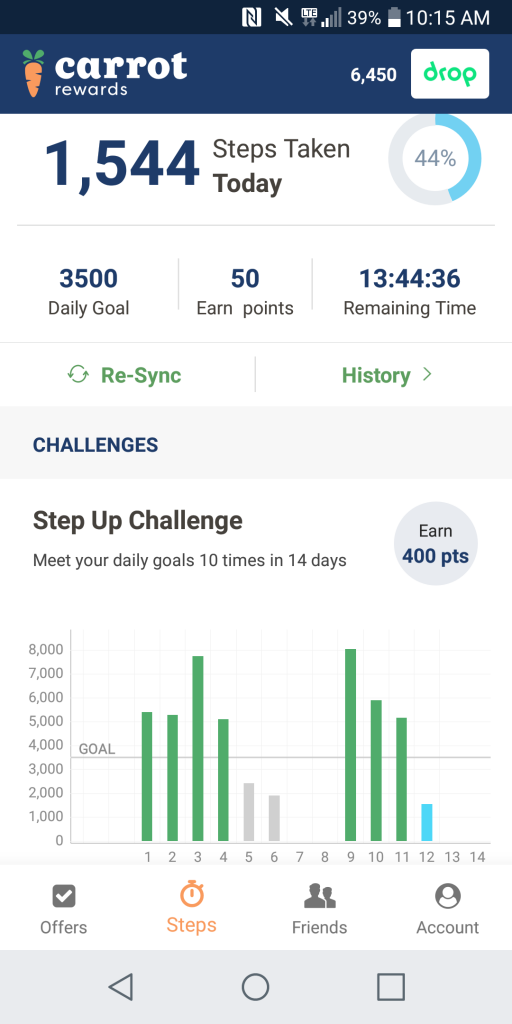 Every time you meet your daily step goal, you earn points.
Additionally, if you meet your step goal for consecutive days, your points will increase (i.e. 10 points on day one, then 20 points, then 30 points and so on…I'm not sure where the bonus ends to be honest!)
My step goal (this was set for me) is only 3,500 steps in a day, and as you can see by the graph, as long as I have my phone on me when I walk throughout the day it isn't very hard to do.
If I was more on top of tracking my steps, I'd probably have a shot at the 400 bonus points you get after 14 days of consecutively meeting your step goal.
So, how much does Carrot Rewards pay?
Well, if you can keep your step streak alive, you can easily start earning 50+ carrot points a day just by walking.
And, even if you let yourself slip every once in a while, it isn't hard to get back to a step goal streak within just a few days.
Plus, Carrot Rewards also lets you work together with friends to earn more points in their Step Together Challenges.
If you invite friends to join you on Carrot Rewards, you can earn 400 point bonuses if the two of you successfully hit 10 daily step goals within the span of 7 days. This is a nice freebie if you have some active friends!
Ultimately, if you walk every day, you can probably earn more than $50 a year just by having Carrot Rewards installed. If you have a more sedentary life, you can still earn some decent pocket change through answering surveys and completing the lower-end step goals Carrot Rewards will probably start you off with.
EDIT: 11/25/2018: Lately I have been earning 10 Carrot Rewards points when I meet my daily goal, but my step goal has also gone down since I started working a desk job. Keep the variability of points in mind when making any calculations, and know that it might be harder to earn with Carrot Rewards now.
If you are eligible to download Carrot Rewards, I'd suggest giving it a try and linking to Drop. Between the money-saving rebate offers with Drop and the passive income you earn from Carrot Rewards, you should easily clear $50 a year without doing anything.
I've been redeeming my Drop Points that have been earned through Carrot Rewards for a variety of gift cards, and I can usually cash out once every month or so: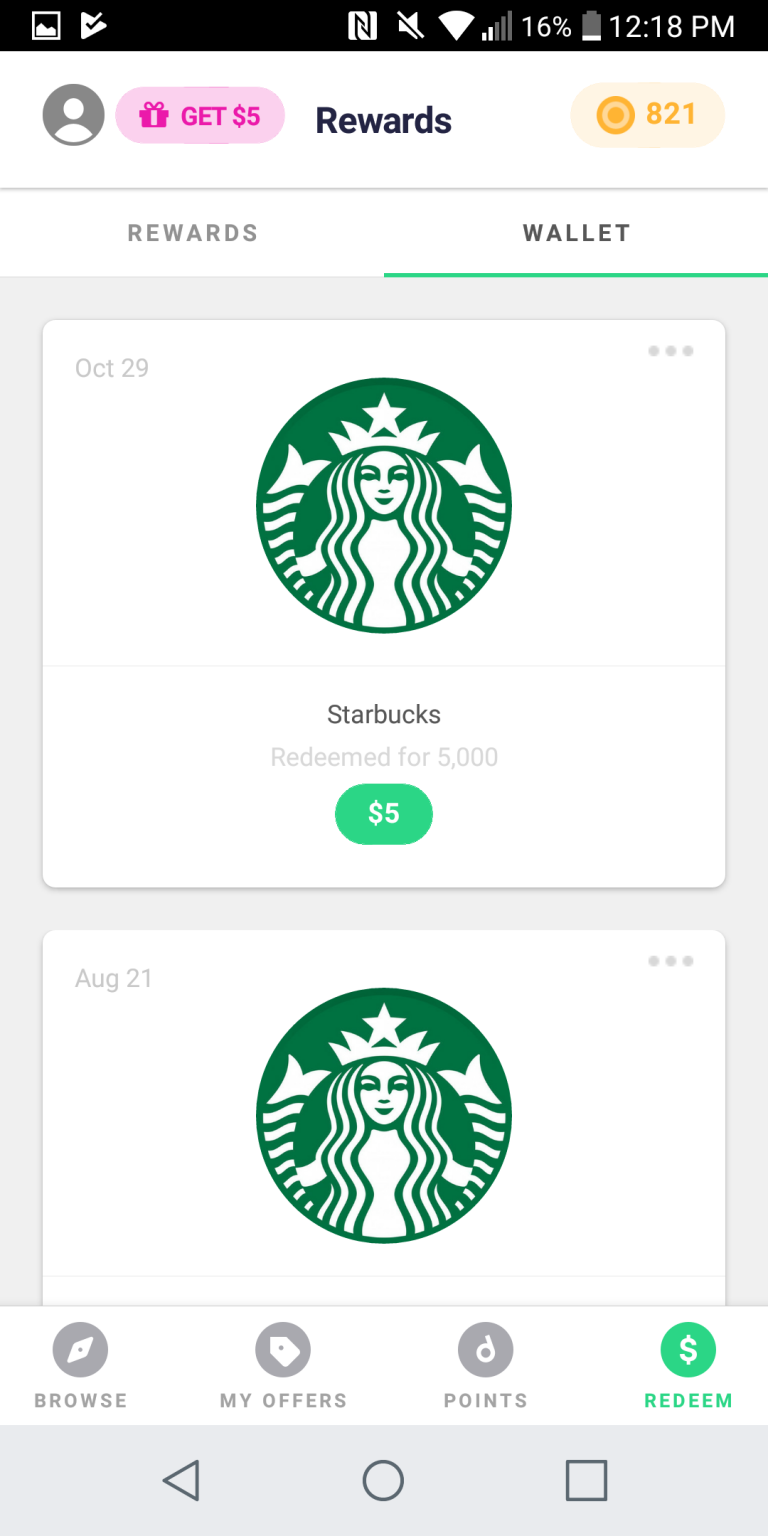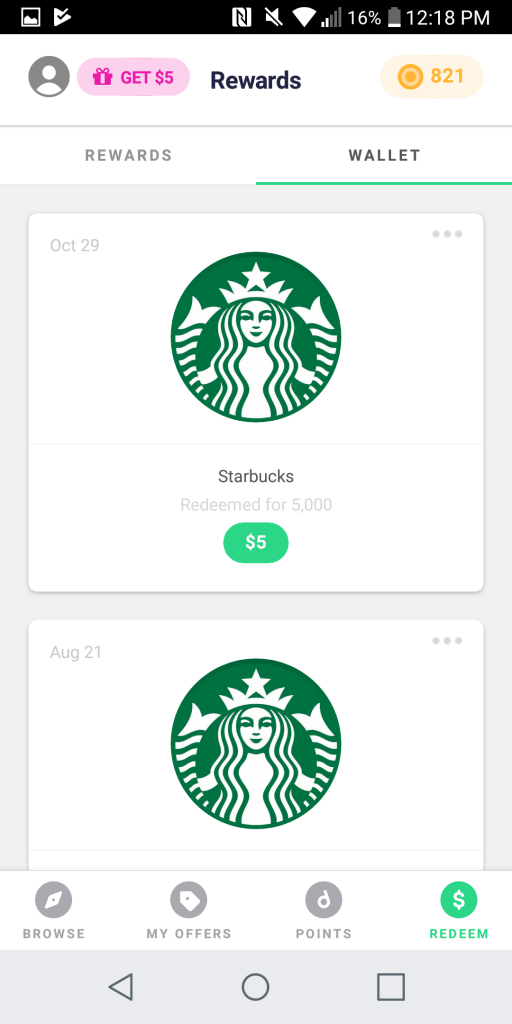 Ultimately, I think Carrot Rewards is one of the best fitness apps that pay users, but it certainly won't make anyone rich.
If you do decide to use Carrot Rewards, please consider using my code thomasb6591 when signing up. It'll help support me and This Online World!
Edit: 12/10/2018: Carrot Rewards has now introduced Carrot Plus, which is a paid subscription to Carrot Rewards that increases the earning potential of the app.


As you can see, there are 3 tiers of Carrot Plus subscriptions available, and all levels encourage users to be more active and to utilize the Step Together Challenge feature.
If you look back on your previous Carrot Rewards history, it should be pretty clear if any of these subscriptions are worth your time.
Since I have a sedentary job and struggle to keep my step goal streaks active, Carrot Plus 2X is probably the only package that would be earn me a profit. However, if you have been crushing it
Achievement: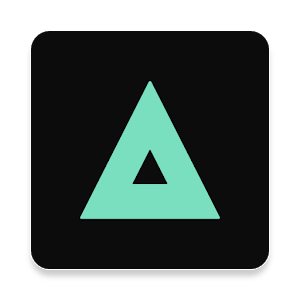 Achievement is another popular fitness app that pays people to walk or stay fit..
However, after testing the app for a week, I think it is a classic "recommend shit I haven't actually tried" app for a lot of bloggers.
I don't have a FitBit or Apple Watch, so I use the Google Fit app to track my movement. Additionally, I also live in Canada.
I'm not sure if the 2 factors above are limiting my earnings, but Achievement barely pays users for their activity.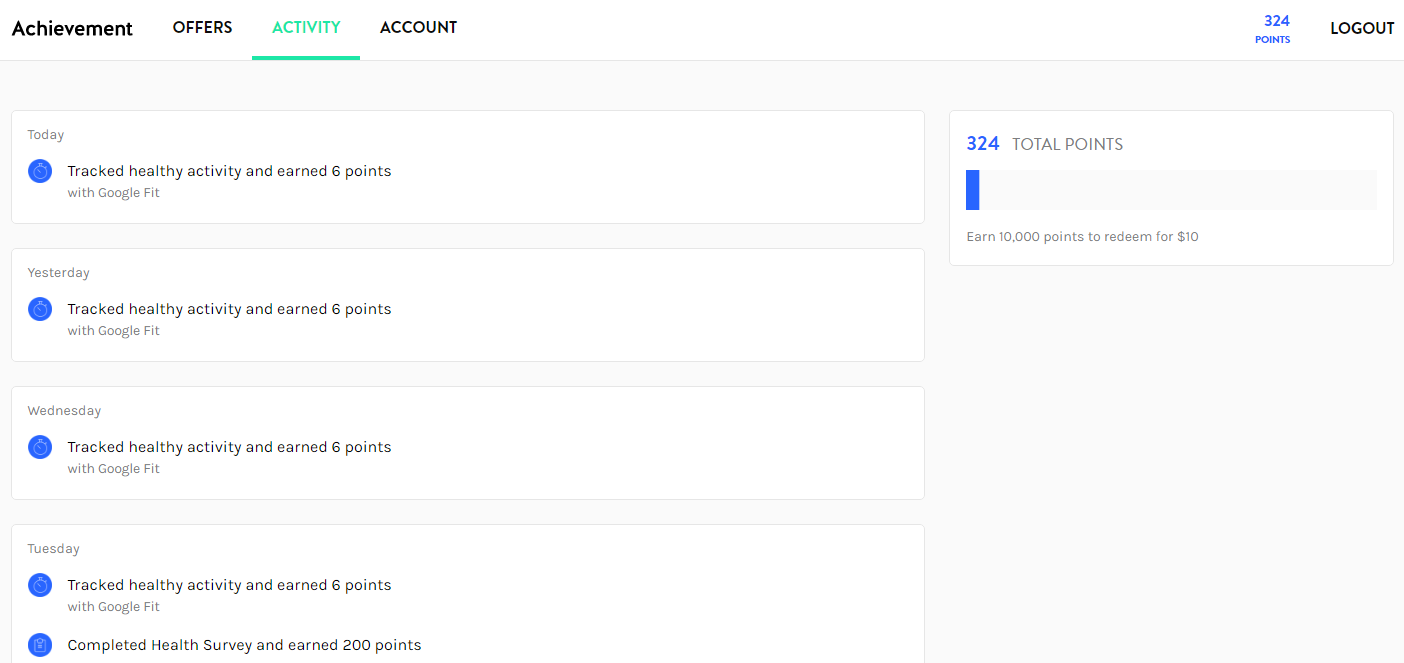 As you can see, no matter how much I walked in a given day, I was always rewarded with 6 points.
I answered a quick survey or 2 as well, and you receive 50 points for signing up with Achievement.
However, from a purely passive income viewpoint, Achievement is a surprisingly popular fitness app that pays users considering how low the daily payout is.
Additionally, you also need 10,000 points to cash out, which looks pretty grim considering I earn 6 points a day.
So, how much does Achievement pay users to stay fit?
6 points a day = $0.006/day
Which is $0.18/month
Which is $2.16/year…
In other words, I will be able to redeem my Achievement points in 1,666 days.
Unless I take time to answer their surveys (which take 5 times longer than Carrot Reward surveys and pay less) I will have to spend years with this service to make $10.
Achievemint does reward up to 80 points a day for tracked activities such as biking, swimming, or running. However, this requires you to actively track these metrics through a variety of apps or systems.
There's nothing wrong with that, but unless you are actively training and tracking your stats, you won't earn anything.
If you earned 80 points a day, you'd make about $30 a year.
Unless you are immensely active and regularly track all of your stats, don't waste time with Achievement.
Sweatcoin: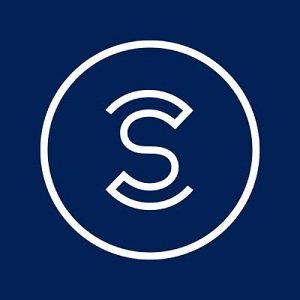 Edit: 5/31/2018: Apparently there are now some Sweatcoin buy and sell groups on Reddit and other platforms. I was pretty rough on Sweatcoin in this review, but take a look around to see if you can sell your coins if you are interested in this fitness app!
When it comes to fitness apps that pay users to remain healthy, Sweatcoin is certainly one of the more interesting ones.
The app has also been featured on Forbes, the Daily Mail, The Telegraph, and has exploded in popularity in the UK. All in all, it is one of the most popular apps that pay users to walk.
What is Sweatcoin?
The app is a cryptocurrency based platform that rewards users into Sweatcoins – the cryptocurrency native to the app. Users can then use these coins to purchase gift cards and a variety of rewards.
The app is only available in the United States, UK, and Ireland, so I haven't actually tried Sweatcoin yet.
Edit: 5/29/2019: Sweatcoin is now available in the UK, Ireland, Italy, Spain, France, the United States, Canada, and Australia. I will be installing the Sweatcoin app to test how it performs!
According to the Sweatcoin website, 1,000 outdoor steps = 0.95 sweatcoins (there is a 5% fee on all credits you earn, hence the 0.95 value).
Alright, so how much is a Sweatcoin worth?
Well, for a modest 20,000 Sweatcoins, you can allegedly redeem $1,000 of PayPal money. So, that's roughly 21,000,000 steps in order to make that 20,000 Sweatcoins.
If you average 10,000 steps a day, it will take you 2,100 days to reach that amount.
That means you're technically earning almost $0.50/day, which doesn't sound too bad.
However, the larger rewards are very expensive, so you'll either need to have months (or years) of patience or to approach Sweatcoins as a team as you can pool Sweatcoins together with your family to work towards some of the more expensive rewards
If you are really serious about earning money with Sweatcoins, I suggest getting a group of friends together.
If you are a fan of cryptocurrency and want to checkout other apps like Sweatcoin, you're going to love the Lympo Run app so keep on reading! 😉
Charity Miles: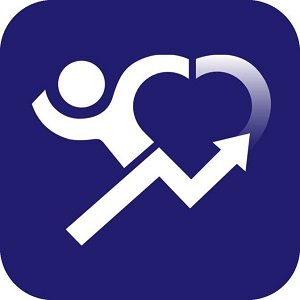 Charity Miles won't earn you a dime, but it's still a great fitness app that can pay you to walk or exercise/
With Charity Miles, users can select from dozens of charities and have donations be made to them based on how much they exercise.
For every mile you run or walk, you can earn up to $0.25 for the charity of your choice.
If you're more of a biker, you can also earn up to $0.10 per mile for that same charity.
Some of the charities supported by the Charity Mile platform include:
Feeding America.
Alzheimer's Association.
Wounded Warriors.
ALS Association.
Stand Up To Cancer.
Habitat for Humanity.
Autism Speaks.
WWF.
And dozens more.
Alright, so who pays the bill?
Well, every time you commence a workout, the donation is brought to you by partnered brands.
You don't have to endure an advertisement or product pitch, just their logo. Considering major companies like Johnson and Johnson are paying, I don't mind that in the slightest.
The only problem I have with Charity Miles is that you have to actively start your workout tracking within the app.
Personally, I am terrible at remembering things, and so throughout the week of data collection I only accrued about $0.50 for the Alzheimer's Association.
I just never remembered to start the damn thing.
However, since a company is paying the donation, it makes sense that Charity Miles requires some form of user interaction (so users can see which companies are contributing to their favorite charity).
If you find motivating yourself to workout to be a problem, download Charity Miles today.
It's on Android and IOS, and what better way to get off the sofa than to use an exercise app that does some good in the world.
Lympo Run: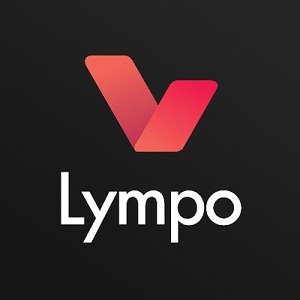 Lympo is a blockchain company that is one of the newer entrants to the fitness app industry, and they have recently launched the Lympo Run app to reward users for exercising.
Like the other fitness apps on this list, Lympo Run is designed to reward users for living healthy lifestyles in exchange for collecting user data and marketing to them throughout the process. Nothing new there.
However, Lymp Run definitely has a more cohesive idea about what they envision for Lympo Run.
Lympo Run aims to partner with businesses directly involved in the health and fitness space, not just anyone. Users will be able to earn LYM Tokens as they exercise, and they will also be able to spend their hard earned tokens at various online retailers in the health and fitness space.
Businesses are also able to set fitness challenges through the Lympo Run app, so users have the opportunity to earn additional coins by meeting certain requirements.
From a bigger picture, Lympo Run is really trying to create a platform where businesses and consumers can interact with one another under the common goal of improving global health.
Lympo.io still hasn't listed any shops where users can cashout their tokens, and this would normally be a red flag for me. However, the company is partnered with the Dallas Mavericks and owner Mark Cuban, so I don't think there is any harm in trying this new blockchain based fitness app.
Ultimately, I think this is an exciting addition to the world of monetized fitness apps, and I would definitely consider giving Lympo Run a try if you want to increase your passive income streams and earn money for getting fit.
Edit: 5/29/2019: Lympo Run has started to pay users for walking or running, and has paid out more than $162,000 worth of Lympo Tokens according to their website. If you want to snag merchandise or gift cards and get paid to walk or exercise, this app is definitely worth checking out!
Walgreens Balance Rewards:


While I haven't personally tested out Walgreens Balance Rewards because I live in Canada, this app is certainly a popular one in the world of fitness apps.
With the Walgreens app users can earn points known as Balance Rewards points when they walk/are active.
Balance Rewards points can be redeemed for Redemption Dollars, which can be used when shopping at Walgreens to save money.
You'll need a Walgreens Balance Rewards account to actually start earning points, but once you have an account it is as simple as connecting it to a fitness tracker like Google Fit, FitBit, or an Apple Watch.
1,000 Balance Rewards points are equal to $1, and you can only earn a maximum of 1,000 points per month. However, there are a few ways to earn Balance Rewards points, including:
20 points per mile walked or a daily limit of 20 points for a logged exercise activity (can only be logged once per day).
20 points for a daily weigh-in.
20 points for a blood glucose test or blood pressure test.
You can also earn 20 points for logging sleep.
Again, not the highest earner, but if you want to get paid to walk Walgreens Balance Rewards isn't a bad place to start!
Learn more about the program here!
Fitness Apps to Avoid:
I think many blog posts that cover the best fitness apps are already somewhat outdated.
I tried a host of other fitness apps that pay users over the course of my research week, and many of the highly recommended apps no longer work or have additional issues.
Do not try the following fitness apps that pay users:
GOODcoins: No longer works.
Wellcoin: Seems like every user has trouble registering.
StepBet: Even after a week of having it installed, they won't let me complete my user profile. Also, apparently you don't earn much money even if you win a bet you've placed on yourself to reach a fitness goal (it's a betting-based system).
Bounts: Keep an eye on this app. You can currently earn points for passive activity, but you can't redeem the points for any rewards. Use with caution (your points might never be redeemable).
Final Thoughts on Fitness Apps that Pay you to Walk:
I've placed this post under my Passive Income category, but that's just because you can realistically earn $50 a year with apps like Carrot Rewards just by being a living creature.
However, I don't think the earning potential is what makes some of these apps useful.
Rather, I think it's the built in stat tracking and monetary reward systems that can be powerful.
If you do not like working out or being active, perhaps tracking your steps and watching your progress grow can be an empowering way to become more active.
Ultimately, none of these fitness apps that pay people to get fit will earn much. However, they might help to provide an extra push of encouragement, which can go a long way.
Thanks for reading! Be sure to subscribe with your email to know when new posts are out!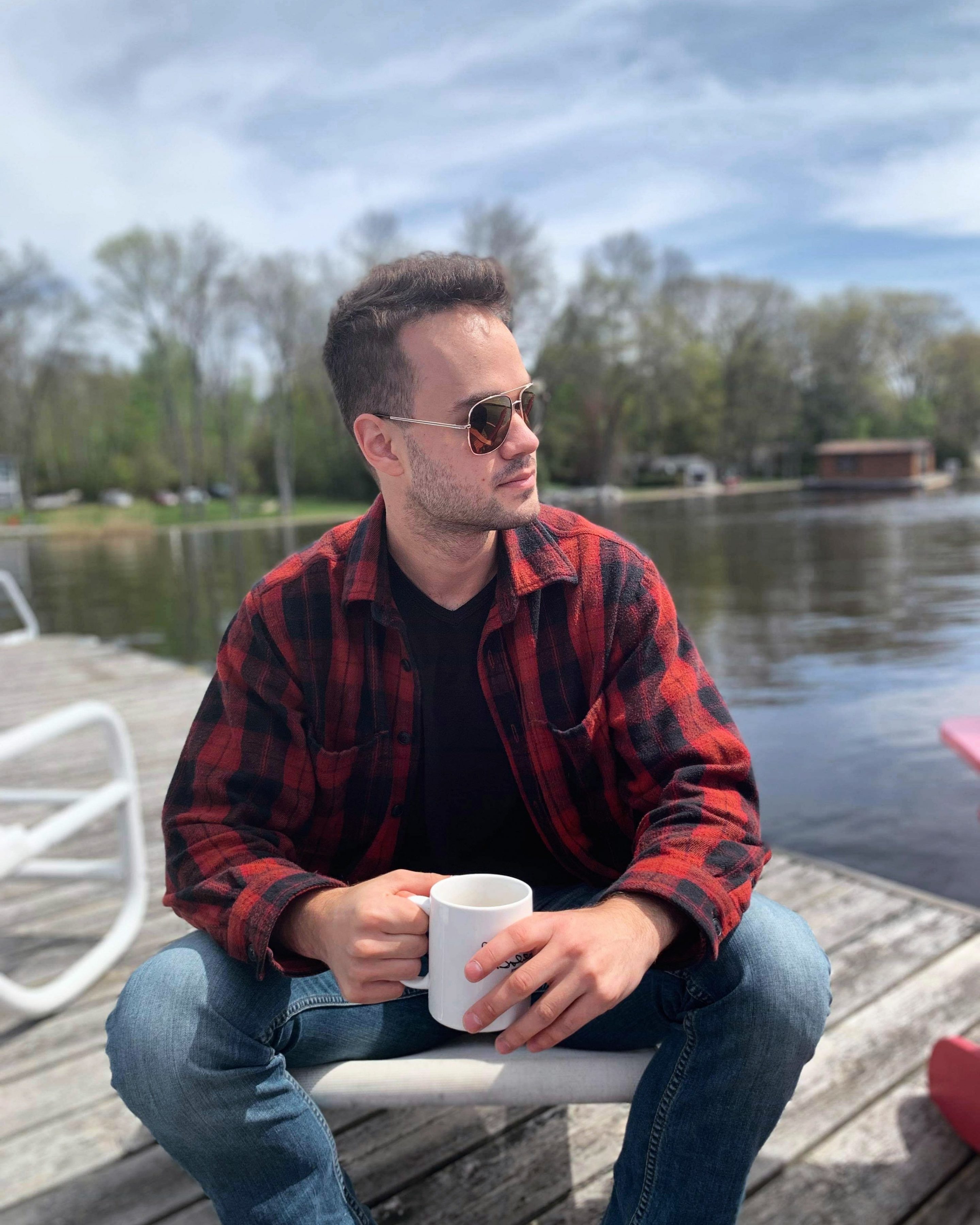 Tom is a 22 year old recent college graduate from Canada with a passion for side hustling, passive income, and marketing. This Online World is all about providing people with honest ways to make and save more money by using technology. To learn more about Tom, read his About Page!