When it comes to making money in the gig economy, food courier jobs seem to be one of the most popular options people turn to.
After all, if you have a functional vehicle or bike and live in an area that is decently populated, your chances of finding a job with at least one of the food delivery behemoths out there is pretty decent.
Since two of the most popular food delivery services Uber Eats and DoorDash are often where hustlers end up applying, I figured I would write this post to help break down the differences between the programs and to highlight the pros and cons of each company.
I'll go over the requirements and legal stuff first, and then you can hear from a current Uber Eats and DoorDash courier for his take on which service he prefers working for and how he makes hundreds of dollars every single month between the two platforms.
Let's get to it!
If you're ready to start making money already…
DoorDash Or Uber Eats – Which Service Should You Deliver For?
My friend has been working as both an Uber Eats and DoorDash courier in Toronto for the past 2 months.
I wanted to get to the bottom of which food delivery service paid more for side hustlers, as well as his overall impressions of both apps and companies.
Here's what he said.
How Long Have You Been Delivering & How Do You Deliver?
I've been delivering with Uber Eats and DoorDash for the past 2 months. I recently moved to Toronto and had a couple of courier friends that said it was a job you could do full time so I decided to give it a try!
I also deliver exclusively by bicycle.
What Is Your Food Courier Setup? What Gear Do You Use?
Your overall set-up will probably look a lot different than mine. I'm a pretty DIY guy and spent last Summer camping out across the country so I like to be prepared.
I'll give you a basic set-up of what you need to have, as well as a more 'advanced' set-up, of what I like to ride with!
Basic Set-up:
Bicycle.
Food-Delivery Bag.
Cellphone (with data).
That's literally it. Once you have those two things, you're ready to ride for Uber Eats or DoorDash!
If you want to be more prepared for biking in a variety of conditions or at night, I recommend taking some notes from my setup:
Single Speed Road Bike (built myself, this helped cut down on costs quite a bit).
Cellphone (with data).
Large Food-Delivery Bag.
Bike Lights (this is crucial for riding around at night).
External Battery Powerbank for my cellphone.
Cellphone Charger Cable
Bluetooth Headphones (So the cable doesn't get caught when taking your phone on and off the phone holder)
There aren't a lot of hills in Toronto, so a single speed bike is the ideal choice. It allows me to accelerate quickly, it's cheap, easy to build, and is overall quite simple to maintain.
The bike cellphone holder is ideal to see where you are going for an order and you absolutely need an external battery if you'll be delivering food for an extended period of time.
Uber Eats Vs DoorDash Pay – Which Company Pays Drivers More?
In my experience, DoorDash pays slightly more than Uber Eats per order. However, I get more consistent orders with Uber Eats in my market, so I end up making more money with it overall. This means DoorDash has a higher hourly rate, but I actually deliver for Uber Eats more consistently.
Uber Eats, I make anywhere from $15-$25 an hour. If I receive consistent orders, it's generally around $20/hour.
As for DoorDash, it never seems busy enough in Toronto to have the same volume of orders that I receive with Uber Eats. However, I do make slightly more per delivery.
For example, the last three deliveries I made for DoorDash paid me:
These orders took around 15-20 minutes each to complete, so for this reason, I like to run both apps simultaneously and to accept all my DoorDash orders if I'm not swamped with Uber Eats.
My advice is to signup for DoorDash to see if there's enough demand in your area and to also keep Uber Eats in your back pocket…there's no real harm is delivering for both companies!
Noticeable Perks Or Benefits Besides Pay?
As I said, Uber Eats = more orders, at least where I'm located.
However, DoorDash seems to have higher surge pay. Sometimes they even message me saying "earn $7.50 more per order right now" which basically doubles what you would make.
However, in downtown Toronto, Uber Eats almost always has a 1.1x multiplier anyway, so keep this in mind.
Both apps have decent UI, but Uber Eats has their own GPS, while DoorDash relies on external software like Google Maps (which can still be used with Uber Eats).
Overall, I like delivering for Uber Eats more since they let you accept a second order before your last one has been completed. This is important because it allows you to work without stopping between orders.
DoorDash also lets you stack orders, but I seem to get more stack order requests with Uber Eats than I do with DoorDash.
What Do You Recommend Other Couriers Do?
This may be the unpopular opinion, but I prefer Uber Eats over DoorDash based on how I complete my deliveries and where I'm located.
I only go out between 5pm – 12am on any given day, which seems to be more than busy enough to have constant orders (usually). Food Couriers seem to talk a lot of trash about Uber Eats, but it is the most commonly used food delivery app and it's by far the simplest to sign up for.
That being said, I have courier friends that double app (dapping) with other jobs like DoorDash to optimize their earnings.
This is best done with Doordash + Skip The Dishes, and Foodora because Uber Eats wont show you where the drop off location is until you've picked up the food you're supposed to deliver.
I would suggest that other couriers/drivers download and apply for both companies and to test what works best for them.
You can really increase your earnings if you optimize and work smart, so don't be afraid to mix things up.
Extra Reading – Best DoorDash Driver Tips & Tricks To Make More Money.
What Is The Sign-Up Process Like?
Uber Eats was by far the easier of the two for signing up! You don't have to meet or talk to a single representative and everything can all be done from their website.
If you're delivering on bike, the only requirements are a background check (takes around 10 minutes), some basic info about yourself, and a profile picture. It's that easy!
DoorDash was still a really easy sign-up process, but I did have to go meet them in person.
If I'm being completely honest, this made me a little uncomfortable; it felt like I was going in for an interview. However, I can assure you it's still an incredibly easy sign-up process, and a lot of DoorDash drivers can complete signing up online anyways.
You fill out a quick survey and pick a date to meet in person. You are then put in a group orientation, where they tell you how to use the app, and you fill out the a form and listen to a quick presentation by the orientation leader. After that, you are good to start working with DoorDash too!
What Surprised You About The Whole Food Delivery Side Hustle?
That I actually made money doing it!
With how much people talk shit about it, I assumed I'd be making $10 an hour or less. However, as long as you're smart about it – you can easily make some decent money. However, I think its best kept as a side hustle during busy hours.
Also, I was surprised by how much I liked the whole gig.
At first, I thought it would just be a way to make some extra money, but I find myself wishing I was doing Uber Eats during my real job – because going out, exercising, and releasing endorphins is a way better way to make money than sitting behind a computer screen!
Is DoorDash Or Uber Eats Better To Work For?
I think this decision depends on where you live and what your preferences are. Both companies have enough demand for drivers to make extra money, and the job itself is very simple.
However, there are a few differences between each app and platform that you might make life easier for you depending on your preferences.
For example, one difference between DoorDash and Uber Eats is that DoorDash lets you schedule yourself for a Dash, so you can choose specific times you work at.
In busy cities with a lot of couriers, this means you can guarantee some work for yourself, and DoorDash does a better job at making sure couriers/drivers get orders with this system.
But, like I said, I get more orders with Uber Eats than DoorDash right now in Toronto, so everything varies by market.
The DoorDash driver app and Uber Eats driver app are both super similar and easy to use…you just go online, accept orders as they come in, and then complete the deliveries.
Ultimately, I think the order stacking system and ability to schedule yourself are the main differences.
Other than that, I think people should try working for both companies to see if DoorDash pays more than Uber Eats or not in their city.
Extra Reading – How To DoorDash For The First Time.
Uber Eats vs DoorDash Pay – What The Data Says
Now that we've heard from my friend about his experience with delivering for both companies, let's take a look at what the data says for if DoorDash or Uber Eats pays more.
Uber Eats Driver Pay
According to various salary reveiw websites, Uber Eats drives earn anywhere from around $14 to $20 per hour.
This is pretty in-line with my friends experience with making money with Uber Eats.
The important part is to follow some Uber Eats tips and tricks like driving at the best times, working on custome service, and knowing which parts of town to deliver in.
With these tips, it's reasonable to expect making at least $12 to $15 per hour with Uber Eats if you're in a busy market.
DoorDash Pay
According to DoorDash, drivers earn $23 per hour while out on deliveries. This is the national average the company reports drivers earn.
According to this data, DoorDash pays more than Uber Eats and is therefore a better gig job if you want to make as much money as possible.
It's also worth noting that DoorDash is the most popular food delivery app in North America, so it has more market share than Uber Eats.
However, many gig drivers use both apps to maximize how many orders they get per hour.
Many gig drivers also make money with Instacart and other delivery jobs like Amazon Flex in addition to food delivery.
It's also worth noting it's difficult to make a living off DoorDash or Uber Eats, so think of these as high-paying side hustles and not full-time jobs.
But the bottom line is that on average, DoorDash pays more than Uber Eats in most markets according to the data.
Extra Reading – The Best DoorDash Hacks To Make More Money.
Uber Eats vs. DoorDash – Signing Up & Requirements
I was surprised at just how different the signup process is between Uber Eats and DoorDash, but this is certainly an important difference to note for each platform!
Signing Up For Uber Eats
Becoming an Uber Eats driver is fairly simple if you already drive for Uber because all you have to do is accept Uber Eats delivery terms to be eligible to receive food delivery requests.
If you aren't an Uber Drive, you will have to make a free Uber account and then begin filling out your application to complete the signup process.
Uber Eats Requirements – For Vehicles
There are a few critical requirements that you should be aware of if you want to drive for Uber Eats.
The requirements include:
Being 19 years of age or older.
Possessing a valid driver's license.
Having car insurance and at least one year of driving experience.
You must drive a vehicle with 2 or 4 doors.
Your vehicle can't be older than 1998.
Note, these are just general requirements that are true of most countries/states, but there can be variance.
For example, in Canada, you need to be 21 years or older to drive Uber, so keep this in mind and check the Uber website for a country-specific list of requirements.
Uber Eats Requirements – For Bikes & Scooters
If you want to deliver food on a bike or scooter with Uber Eats, the requirements are sightly different.
As a bike or scooter courier, you must:
Only drive a vehicle with 2 wheels.
Not have a vehicle that is faster than 30mph.
In the United States you only have to be 18 to deliver food by bike with Uber Eats, but you will still need to provide some sort of government ID.
You should also note that Uber Eats bike delivery is not available in every region.
Once you've completed your application and are accepted into Uber Eats, you are ready to take on deliveries!
Now, let's see how Uber Eats compares to DoorDash for requirements.
Signing Up To Be A DoorDash Driver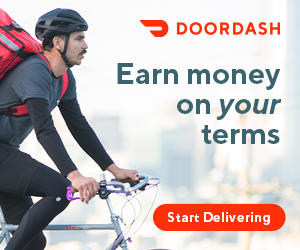 To start the process to drive with DoorDash, you just need to download the app and begin the registration process.
However, as with Uber Eats, there are plenty of rules and requirements to take note of.
DoorDash Driver Requirements & Driver Orientation
Most countries/states require DoorDash drivers to be 18 years or older, although various places will require drivers to be 21 years or older. Again, check your specific region to find the requirements.
DoorDash also requires that:
You pass a background check (no DUI, assault, reckless driving, driving with an expired/suspended license, or a few other offenses within the last 7 years).
You must be eligible to work in the country you are applying for.
You cannot have more than 3 minor driving violations (like speeding) within the last 3 years.
You must provide proof of a valid license and insurance.
You must have at least one year of driving experience.
Note that DoorDash is much more lenient on which vehicles or bikes are acceptable; if it runs, you are good to go!
If you meet all of DoorDash's requirements, there is one final step: the orientation.
If DoorDash approves your application, you sometimes to attend an in-person orientation meeting at a specific DoorDash location nearest you.
The orientation is designed to familiarize new drivers with the app, delivery system, and to get them ready to start making money.
Note: you will have to fill out tax forms and other information at the DoorDash orientation.
You should bring:
Your license and ID.
Your phone (make sure the app is installed and charge your phone!)
A credit or debit card.
Some DoorDash drivers complete everything online, so your orientation might be done that way depending on where you live.
Uber Eats vs DoorDash Pros & Cons
I think this DoorDash vs Uber eats pay debate could also benefit from a list of pros and cons of each company.
The reality is that each delivery gig is fairly similar and lets you ake extra money on the side, all on your own schedule.
However, some unique differences between both companies lead to a few pros and cons you should consider
Pros Of DoorDash
DoorDash pays more than Uber Eats on average
Slightly easier driver and vehicle requirements than Uber Eats
Can schedule shifts or simple Dash Now to start working
Cons Of DoorDash
Not as global as Uber Eats
You can't always drive if there are too many drivers on the road
Pros Of Uber Eats
You can drive for Uber Eats if you already drive for Uber
Available in over 6,000 cities in dozens of countries
Can work whenever you want
Cons Of Uber Eats
Driver and vehicle requirements are a bit tougher
Ultimately, market coverage and the scheduling systems are the two most notable differences between both delivery jobs.
Frequently Asked Questions
If you're still wondering if working for DoorDash vs Uber eats is right for you, I hope this list of answers to some common questions help you make the right decision.
1. When Do Both Companies Pay Drivers?
Both companies are pretty similar in terms of when and how they pay drivers:
DoorDash: Drivers get paid every week through direct deposit for deliveries completed between the previous Monday to Sunday. You can cash out instantly through Fast Pay but pay a $1.99 fee.
Uber Eats: You also get paid each week with direct deposit for the deliveries you completed the previous week. You can also withdraw earnings immediately with Instant Pay for a $0.50 fee.
It's worth noting both payments can take a few days to process, so you normally get your funds around Wednesday or Thursday.
Uber Eats has a slight edge here with a cheaper instant cash out fee, but it's pretty small.
2. Is DoorDash Or Uber Eats Better For Drivers?
This largely comes down to preference and how the apps perform in your specific city.
Many drivers use both apps at once to maximize how many order requests they get, and this is an effective way to boost your overall hourly earnings as a delivery courier.
Grant found more success with Uber Eats than DoorDash in Toronto, but he still uses and enjoys both delivery apps.
3. What Expenses Do Both Gigs Have?
Another important thing to consider with both delivery jobs is your expenses.
For both Uber Eats and DoorDash, these include:
Gas
Vehicle depreciation
Potential tolls or tickets if you make a mistake
Working as a bike courier is the best way to limit your expenses, although this isn't viable in every area.
At the very least, use a mileage tracking app like Hurdlr if you drive to track your total mileage. You might be able to claim some as a deduction when filing taxes to save some money.
Extra Reading – Does DoorDash Pay You For Gas?
Uber Eats Or DoorDash Driver? – Picking The Right Gig Job
I think it's best to sign up for both companies to test what works best in your market.
But, if you're wondering which company to start with, here's a bit more info to help you pick a winner in the DoorDash driver vs Uber Eats driver decision.
Drive For DoorDash If
I think DoorDash is your best choice if:
You want to earn slightly more per hour
You like the idea of scheduling shifts
You don't really care about cashing out with Fast Pay too often
Update: You can checkout our post is DoorDash worth it for more info on how to make money with DoorDash!
Drive For Uber Eats If
In contrast, I think working for Uber Eats is better than DoorDash if:
You already drive for Uber
Uber Eats is the only company in your market, which is common outside of North America
You want to use Instant Pay a lot
You don't care about scheduling
Both Companies Are Great If
At the end of the day, if you're looking for a delivery gig that lets you make extra money each month on your own schedule, both companies are worth working for.
It's ultimately very difficult to pick a winner since how the apps work and pay can be similar for both companies.
Really, scheduling and the order stacking system are the two major differences.
If you want a real answer for DoorDash vs Uber eats pay and what's best, you have to test both apps in your specific area to find out how much you can make!
Extra Reading – How Much Can You Make A Week With DoorDash?
Final Thoughts
Well, there you have it!
The world of food delivery companies is certainly competitive, but it seems that in Toronto, Uber Eats has the volume over DoorDash.
However, I want to reiterate what my friend said about optimization; you should never take one opinion or experience as gospel. Rather, you should get your boots on the ground and test what works for you!
Toronto is a busy, bustling city, so these results and figures might not be indicative of what you will experience. But, don't let this discourage you from trying out this side hustle!
The gig economy is a lucrative, fascinating thing, and with some hard work and perseverance, there are plenty of great and honest ways to make some extra money.
If you want to support my friend and start a new side hustle today, consider signing up to drive with DoorDash or Uber Eats with these links!
And remember, you can try out other delivery gigs like Instacart too to explore more ways to make extra money.
Catch you guys in the next one!
Extra Reading:
DoorDash disclaimer: Actual earnings may differ and depend on factors like number of deliveries completed, time of day, location, and expenses. Hourly pay is calculated using average Dasher payouts while on a delivery (from the time you accept an order until the time you drop it off) over a 90 day period and includes compensation from peak pay, tips, and other incentives.
Tom is a full-time blogger and freelance writer with a passion for side hustling, passive income, and the gig economy. His work has appeared on dozens of personal finance websites like Money Crashers, The College Investor, Investor Junkie, and more. This Online World is all about providing people with honest ways to make and save more money by using technology. To learn more about Tom, read his About Page!
If you're interested in freelance writing services or want to partner with This Online World, please use our contact page to get in touch!