I thoroughly enjoy reading income reports or success stories from bloggers who have 'made it.'
I mean, the thought of making thousands of dollars a month from a blog (or other online ventures) and working from home is enough to make me start daydreaming.
Additionally, I think that in every field, it helps to study the greats.
If you want to become an excellent writer, you should read Mark Twain.
If you want to become a better blogger…read some fantastic blogs.
By reading income reports and case studies by bloggers or entrepreneurs who consistently make 6 figures a year in online income, you can learn a few things, such as:
And many more nuggets of valuable information.
Anyway, the other day I was reading the blog Millennial Money, and stumbled across this awesome post: My $1 Million Dollar Side Hustles.
For those of you who don't know, Millennial Money is operated by blogger Grant Sabatier.
Grant is the author of Financial Freedom, a self-made millionaire who reached financial independence by the age of 30, and a pretty interesting fellow.
I've been reading Grant's blog for a while, but his post on his $1 million dollar side hustles is my favorite post by far.
Essentially, Grant outlines his successful ventures and side hustles that have netted him over 1 million dollars in income.
That's a lot of dough.
In his post (I encourage you to read it) Grant mentions side hustles like:
SEO consulting.
Domain flipping.
Ticket flipping.
White paper writing (I never even realized this could be a side hustle)
And a few more interesting ways to make money.
While some of Grant's side hustles require more technical skill and knowledge (like SEO consulting), the side hustles he lists are all actionable, calculated, and definable.
It's not like he just said: "start moonlighting," or some vague suggestion that doesn't help anyone.
He actually outlines his successful side hustles.
As you know, I'm also a fan of starting your own side hustle and making money online.
While I'm definitely nowhere near the $1 million dollar mark in terms of my results, I like the idea of sharing some success stories or ways to make money because it can ultimately help people accomplish the same thing.
I've been trying to make money online or side hustle my way throughout college with some mild success, and I've thankfully been able to pay a large chunk of my tuition by doing so.
Additionally, some of my side hustle ideas are just plain fun if you ask me, so I am writing this post to outline 6 ways I have made money with side hustles.
Hopefully, fellow college students or people looking to make some extra money may find this post helpful!
Let's get to it!
Side Hustle #1 – Selling Textbook PDFs:
Ah, nothing like starting a side hustle list off with some intellectual property infringement.
Now, for the most part, I agree with taking the moral high ground. After all, 2 wrongs (usually) don't make a right.
But here's the thing: textbook companies are absolute crooks.
They create terrible content, revise textbook editions annually with insignificant changes, overprice their horrendous products, partner with professors so that students are forced into buying hardcover books every year at extortionate prices.
Plus, since the textbook you purchased 1 semester ago will be revised in 4 months, you'll probably end up doing this with your used books: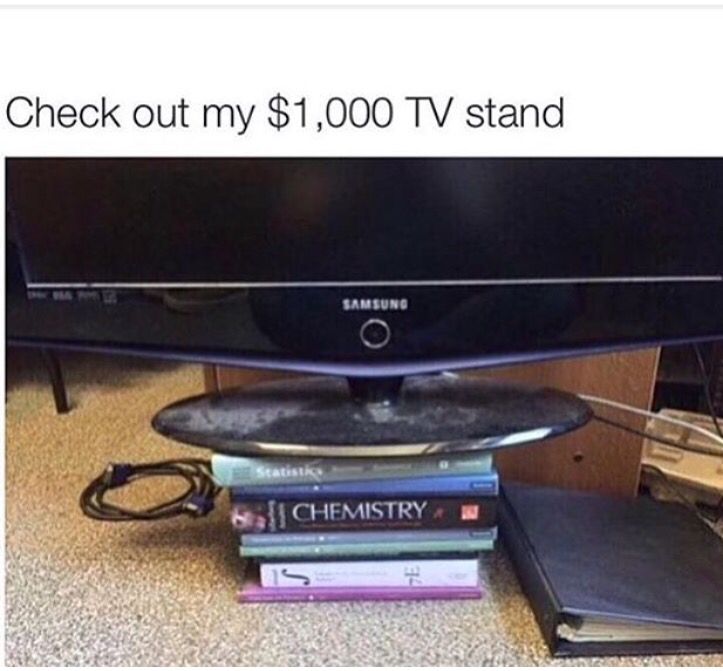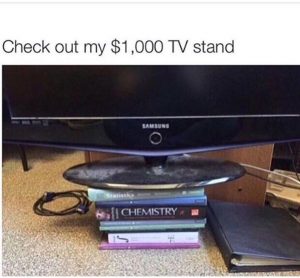 If you are currently a student never buy a brand new textbook.
In my first year of college, I made the foolish mistake of listening to my professor, and marched down to the book store to buy a $80 economics textbook (that my professor conveniently co-authored) that attempted to explain economic theory through dinner party themed analogies.
Needless to say, I didn't open the book once. Wikipedia was of much more use.
Additionally, never buy a physical copy of a textbook.
PDFs or online versions are your best friend.
Here's why:
Textbook PDFs are cheap. Most colleges have a standard selling price of $10 on the PDF 'black market.'
You can torrent PDF textbooks. I mention how you can do this in my post on actually useful money saving hacks for students.
You can resell PDF textbooks an unlimited number of times (and profit).
Control + F is also a game changer for online quizzes or studying.
So, if you can find an available PDF textbook from your college's online marketplace, Reddit, or some sketchy Russian torrent sites, jump on it.
You don't even need to get the correct edition: textbook companies almost never make meaningful changes over the course of a few years (unless you're in a science based field).
Once you've acquired a PDF, post offerings on your college buy and sell social media groups or marketplace.
A single sale at $10/PDF will allow you to break even. Any additional sales will result in profit.
Plus, PDF textbooks can be resold for several consecutive semesters until curriculum drastically changes. This brings some longevity to your textbook flipping operation.
How were my results?
Well…if I theoretically sold textbook PDFs in college (wink wink, nudge nudge) I would have netted about $300 in sales without putting much effort in.
Total side hustle income: $300.
Ripping off textbook publishing companies and reducing the cost of textbooks for fellow students: priceless.
Side Hustle #2 – SEO Consulting:
Grant from Millennial Money has made $500,000+ dollars from his SEO consulting work. Some of his projects have even had $100,000+ dollar payouts.
The importance of SEO, content marketing, and overall more effective digital marketing practices is only growing as the world becomes a more competitive place.
A few years ago (pre-Panda update) you could rank well on Google with hastily constructed web pages, some 500 word articles, keyword stuffing, and some backlinking.
These days, SEO has become a lot more complex, white hat oriented, and important.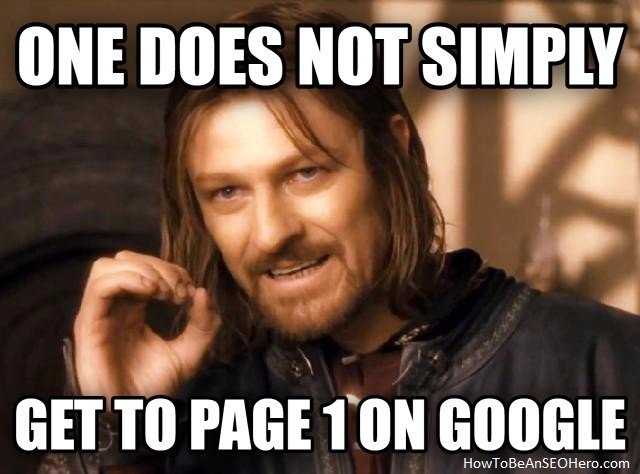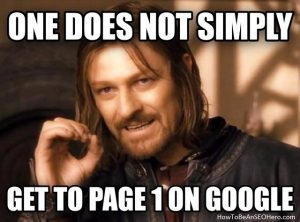 Considering this importance, I don't find it hard to believe that Grant has found such success by offering his services to clients and companies.
I've also started to dabble with SEO consulting, social media management, and the world of digital marketing.
A few months ago, I started KB Consulting with a business partner.
KB Consulting offers SEO consulting, content writing services, social media management, and paid advertising management:


To date, we've booked some consulting work with a single client and spent time improving their local SEO profile, integrating analytics to the website, getting the website indexed, and improving the overall website speed/performance.
It's a single gig, but hey, we're 2 college kids who need to under-price our services and over perform upon our promises to make up for our lack of industry experience.
I'm hopeful that down the line (and with more experience under our belts), KB Consulting can turn into a profitable side hustle in which we serve a number of clients and have a month-to-month pricing model.
In the meantime, it's still been a fun and educational experience that has also bumped up my resume a notch.
I think this particular side hustle proves that you shouldn't be afraid to start your own business/provide a service, even when in school.
Cut lawns, manage social media accounts, paint houses, edit assignments…choose something and run with it!
SEO consulting income: $250
Total side hustle income: $550.
Side Hustle #3 – Phone Farming:
I won't go too in-depth on how I use phone farming to generate passive income because I've covered the topics extensively in these posts:
I've been phone farming since September of last year, and my operation began with a humble start: 2 cheap LG phones.
During my first 2 months of phone farming, I spent time learning which phone farming apps paid the best, what data collection apps earned passive income, and how Canadian phone farming even worked.
I barely earned anything during this period, but it was a fun project to start and I enjoyed the process of meticulously tracking my earnings and comparing phone farming apps.
Over the next few months I slowly gathered phones from friends or purchased phones from Amazon with my accumulated earnings.
Currently, I am running 7-9 phones (some of them are finicky, on occasion) and pulling in between $30-$50/month.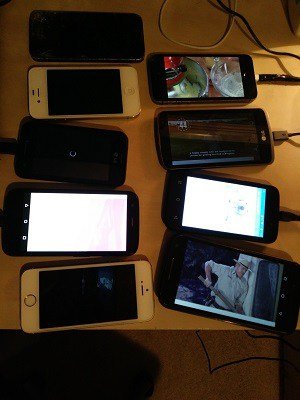 Since September 2017, I've earned roughly $300 from my phone farming project, and I hope to generate another $200-$250 by the end of this year.
Phone farming income: $300.
Total side hustle income: $850.
Side Hustle #4: Placing in a Marketing Competition:
During one of my marketing lectures, my Professor mentioned that there was a competition called Canada's Next Top Ad Exec that was open to Canadian university students.
He also mentioned that the competition awarded prizes to top competitors, networking opportunities, and the chance to land some rather impressive internships or full-time jobs.
Upon heading home, I decided to look into the contest.
Canada's Next Top Ad Exec is actually an annual competition in which a major company will present students with a marketing challenge.
This year, Canada's Next Top Ad Exec partnered primarily with Canadian Tire.
For the marketing challenge, we were to create a marketing proposal that outlined the roll-out of a new rewards card they were planning that would integrate CTC banner locations and Canadian Tire Retail into a single rewards platform.
The competition was segmented into 3 phases.
In phase 1, participants were required to submit their marketing proposal: a 2 page document that outlined the general concept and strategy of their marketing plan.
The top 25 teams would then make it to phase 2, and have the opportunity to expand their marketing proposal into a more elaborate document for the judges to critique.
The top 25 teams also earned $1,000 in Canadian Tire gift cards.
In phase 3, the top 15 teams pitched their ideas to a panel of judges and industry members in Toronto for a chance to win $30,000.
Surprisingly, fewer than 200 teams seem to enter the competition annually.
So, as I sat there reading the competition requirements, it soon dawned on me that to make it to the top 25 teams, I would only have to place in the top 10%-25% percent depending on how many teams entered.
Considering I'm a decent writer and not a half-wit, that didn't seem too complicated.
Anyway, I spent 2 hours working on my marketing proposal after some brainstorming and submitted it without a team member.
Weeks later, I got a phone call saying I had made it to the next round and had earned $1,000.
Unfortunately, my final marketing proposal didn't make the cut for top 15, but overall, the competition was enjoyable.
Plus, I was able to earn a handy sum in gift cards, which have allowed me to actually furnish my apartment and not subsist in squalor like some Neanderthal.
Canadian Tire has since come out with Triangle, their final version of the new rewards platform, so it's also cool to see the real world application of a project we pitched our thoughts towards.
Here is the main take away from this side hustle: seek out competitions or scholarships you are eligible for.
Everyone knows about scholarships or the chance to win prize money, but very few people are actually willing to put in the time and effort to apply.
Additionally, people miss deadlines, forget, or aren't qualified for everything…competition pools can be incredibly small.
If you're a student, actively look for opportunities to show off your skills or knowledge to win money.
Even if you don't win money, you'll gain some new experiences, expand your network, and learn.
Marketing competition side hustle income: $1,000
Total side hustle income: $1,850.
Side Hustle #5 – Content Writing and Making Money on Medium:
I've preached about the benefits of content writing or freelance writing many times on This Online World.
Personally, I enjoy writing, and making money online as a freelance writer has been a way I've supplemented my income throughout college.
I've written blog posts for people, edited articles, and created my own content on Medium to accomplish this, and while the income hasn't changed my life, every bit counts.
If you want to learn more about how to make money online as a freelance writer, check out my latest post on freelance writing.
Additionally, if you want to try your hand at writing on Medium, you can read my guide on how to make money on Medium.
I highly recommend both side hustles.
Freelance writing gigs have netted me roughly $500 over my college career, and Medium is set to cross the $200 this upcoming month:

Freelance writing + writing on Medium side hustling: Roughly $725
Total side hustle income: $2,575.
Side Hustle #6: Search Engine Marketing Contracting:
2 summers ago, I landed an internship at a digital marketing agency.
Following my internship term, I was able to work remotely for the same company while completing my degree.
No in office work or meetings; a laptop and a cup of coffee were the only things I needed to complete my contract work in the early mornings before lectures.
I am definitely fortunate to have been able to work remotely while remaining in school, and ultimately, search engine marketing has been my most successful 'side hustle.'
By working remotely, I have been able to pay for my tuition.
Granted, this is over the course of 2 years of contract work, but as a student it was a great way to pay for school, gain experience, and make some connections.
I definitely had my share of stressful times balancing contract work, school, and everyday life.
However, by juggling a myriad of projects, you do learn to prioritize, work efficiently, and tackle what actually matters.
In fact, I eventually quit my job at a local coffee shop because working there was actually costing me money (since I couldn't check my advertisement campaigns while I was at work).
I also let my grades dip dramatically, trading marks for real world experience, money, and time (which I've used to start this blog and other side hustles).
Personally, I think having actual content on your resume rather than a few shiny numbers is more meaningful.
Anyway, I think the main message behind this side hustle is as follows:
Don't be afraid to reach out to employers for part-time work or 'soft starts.'
Financially, soft starts or contract work actually make a lot of sense.
Businesses don't want to waste money on training and on-boarding, only to realize you don't quite fit the company vibe or expectations.
Instead, many businesses like to hire interns or part-time employees so that if/when they go full time, they can hit the ground running.
Even if you're in school, don't be afraid to apply for internships or seek part-time/remote work with companies!
Besides, working remotely sure does beat working at a coffee shop.
Search Engine Marketing Work: Tuition.
Total side hustle income: $2,575 + tuition.
Other Sources of Income + Side Hustles I Wish I Expanded:
There were 2 other side hustle ideas I experienced in college, and I wish I had known about them sooner or pushed them further.
The first was becoming a 'real estate agent' for a day and showing my landlord's house for new tenants.
See, I lived with a group of friends in college in the greasiest of student houses.
Unsurprisingly, when we decided to all move out, our landlord realized he would be in for a headache when it came to finding new tenants.
He also lived 2 hours away from our house…he'd have a lot of driving on his hands in addition to the frustrating task of spurring interest in the property.
So, I simply offered to be a middleman: I posted advertisements that the unit was available for lease, and then I showed the house to groups of prospective students.
Thankfully the second group of students signed for the place, and I had earned the easiest $100 of my life.
Extrapolating on the concept of student housing related side hustles, I realize I could have done more.
There are so many awful student houses in need of repair, so I'm sure I could have found part-time, lucrative work helping landlords with menial tasks like painting or flooring.
If you're a student in need of cash, just look around for some distressed landlords (there are plenty of them).
The second idea I should have done more of: throwing keggers.
We threw one kegger in college, and with some poor planning, a lack of a dedicated door bouncer, and overall mess of a night, we made about $80 of profit on a $250 keg.
However, I know of plenty of people who have thrown keggers and walked away with a few hundred bucks in profit following the aftermath.
If you factor in risk of property damage or bylaw tickets into the mix, I'm sure throwing keggers isn't a long-term money maker.
Regardless, I really do wish we had thrown a few more. They're a blast, and you can make money!
If you're a student, monopolize on your market and have some fun.
Some Final Thoughts on Side Hustles:
There's a common trend among many successful people (or individuals who reach financial independence at a younger than average age): they all have a few irons in the fire.
Side hustling is really more than just income supplementation. It's a way to test your skills, throw a bunch of ideas against a wall, and see what sticks.
I've chosen a few side hustles to start throughout college.
Most of them won't go further than adding a few hundred bucks to my bank account or paying some bills…I'm not going to phone farm full time or throw keggers for a living.
However, I'd like to think that some of my side hustle ideas have some potential.
For example, blogging, writing on Medium, or consulting work are projects I hope to grow into lucrative endeavors down the line.
This is the beauty of side hustling: you can get paid to create something you are proud of or even start your own business that offers value to others.
More importantly, you can also create a scale-able business or side hustle that doesn't leave you working for someone else or stuck with freelance gigs for the rest of your life.
So, start that dropshipping store you've been thinking about, or that mobile app, or an Amazon FBA Business.
Or, hone your skills as a freelance writer, developer, or consultant and start a business in that field.
As long as you start taking actionable steps towards you goals and stick to your plan, you can succeed.
Thanks for reading!
Be sure to subscribe to my email list if you want to receive updates when I publish new posts 🙂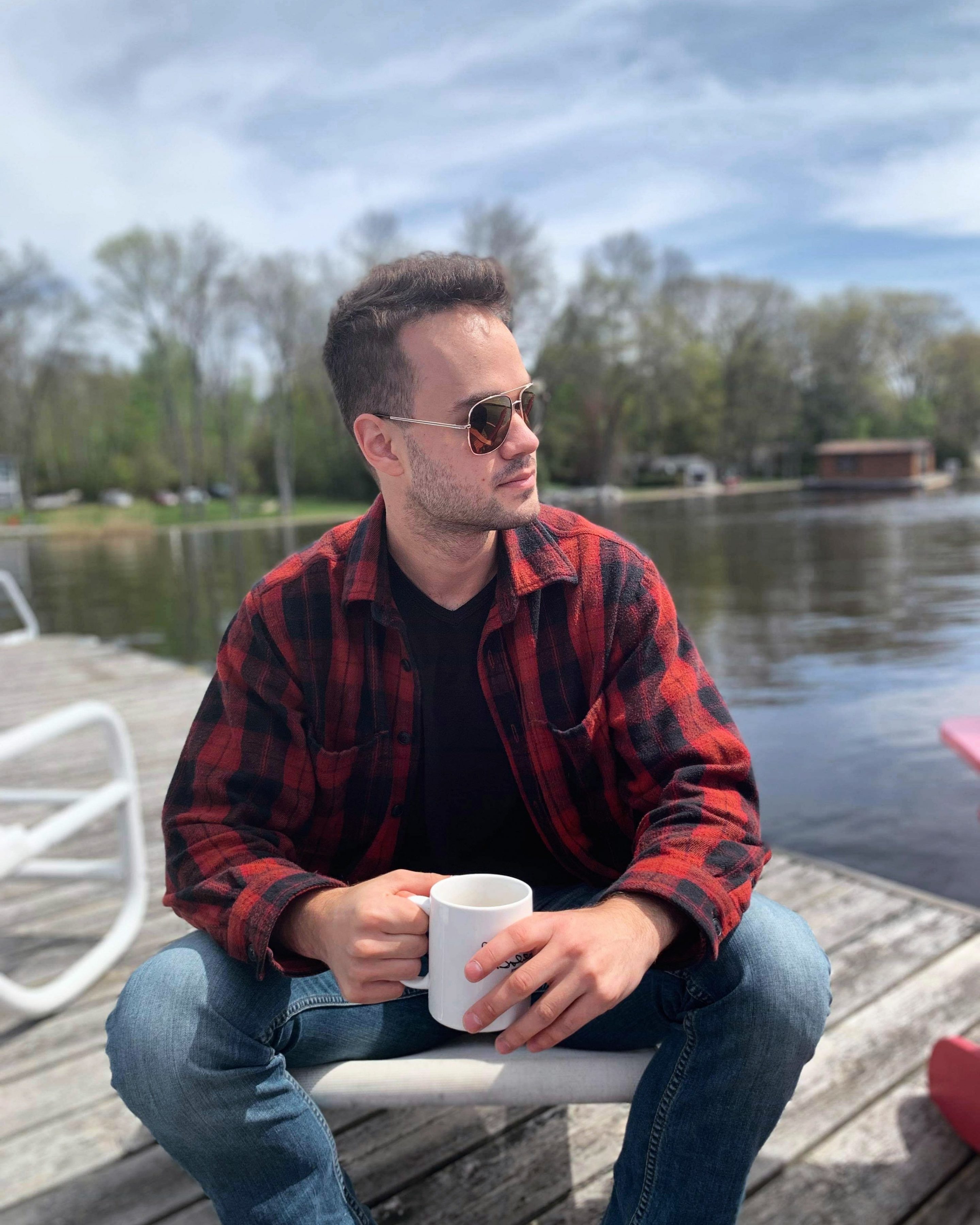 Tom is a 22 year old recent college graduate from Canada with a passion for side hustling, passive income, and marketing. This Online World is all about providing people with honest ways to make and save more money by using technology. To learn more about Tom, read his About Page!