When I started blogging on This Online World back in January of this year, I had 2 goals: to make money, and to teach other people along the way.
I've also made an effort to remain as transparent as possible throughout this entire process, and I think this is the real benefit behind my posts on how to make money, or my monthly blogging income reports.
Why is maintaining transparency important?
Well, the world (and internet in particular) is filled with a wealth of information.
However, it's also filled with misinformation, misrepresentations of the truth, and flat out lies. It seems like no matter what you search for, you have to do an incredible amount of digging to actually get a sense of what is accurate.
There are countless blogs, forums, or advocates out there who preach about the benefits of making money online or blogging for passive income without accurately describing the whole picture. Additionally, there will always be people who misconstrue the truth in order to push a marketing eBook or blogging course down your throat, but I digress.
So, that brings me to the purpose of this post.
I want to cover everything I have done so far to create a blog that generates $100/month in profit.
Now, in this post i'm only including display advertising revenue, Amazon Affiliate income, and making money on Medium (because my Medium content in syndicated directly from this blog) in my revenue calculation.
No phone farming income, referral program bonuses, or side hustling.
For anyone out there who is looking to make money online by blogging, I think this is the post for you!
This post will cover:
Some fundamental stats about This Online World.
The ways I have decided to monetize my blog, and why.
Blogging successes, failures, and lessons.
My tips on how to generate income from a blog/what you should expect.
Let's get to it.
Also: don't forget to check out part 2 in this series, The Road to a $500/Month Blog!
Making Money With A Blog – Some Quick Stats:
Before diving into the minutia behind all of this, I think it is important to have a quick rundown of the bigger picture.
In a nutshell, this is how my blogging journey has progressed from the beginning:
I started blogging in January, 2018. My first blog post was published on the 15th of January.
I spent roughly $140 between 1 year of SiteGround Web Hosting and the blogging theme TheBlogger.
To date, I have written 34 posts and 92,309 words (excluding this post) on this blog. My average word count per post is 2,429 words.
I have also written 6 guest posts.
In terms of traffic, Jetpack and Google Analytics will always give different values, but I'll stick with Google Analytics since it is more accurate.
This is the trend of my blogging growth:

And here is how the traffic breaks down:

As you can see, organic search, direct search, and social traffic are the most significant portions of my traffic.
I have never run an email campaign, my referral traffic is negligible, and I do not pay for advertising.
So, in the eyes of Google, This Online World is currently a 7,000-8,000 view/month blog, and for me, this is what translates into $100 of income a month.
Here are some screenshots from my earnings after 1 year of blogging for some proof:




How I Have Monetized My Blog + My Reasoning:
As I mentioned in the intro, the 3 forms of income generated by this blog and it's content include:
Google AdSense revenue.
Amazon Affiliate income.
Monthly payments from the Medium Partner Program (where I have republished content from This Online World).
These 3 methods of making money with a blog are very straightforward, and the amount they return correlates with the amount of traffic you drive to your landing pages.
In other words, with these 3 monetization methods, the more traffic I receive, the more money I make.
I also don't have to put in any effort to promote affiliate programs or push products onto my readers, and these 2 reasons are mainly why I have taken this route.
Now, what are some common ways other bloggers generate income from a blog?
A few come to mind:
Offering sponsored posts.
Selling coaching.
Selling a course/eBook.
I'm going to quickly discuss why I haven't used any of these income generation methods, as well as why I think beginner bloggers should shy away from them.
Offering Sponsored Posts:
Let me start off by saying that receiving offers to promote a company or service isn't really that hard.
As the saying goes, 'build it, and they shall come.'
Sponsored posts/influencer marketing is a growing component of branding and content marketing strategies, and as soon as you have some decent traffic flowing through your blog, you'll probably get some offers for sponsored posts or collaborations.
To date, I've received about 6 offers.
2 were direct 'post a positive review and get paid' sort of shindig, and the other 4 were a mixture of selling backlinks or gaining access to a premium service in exchange for mentioning it on my blog.
I was actually going to write 1 sponsored post about a company I respect, but the process fell through in negotiations due to both a strict budget and my requirement that I disclose the post as being sponsored.
Anyway, I don't recommend writing sponsored posts as a main income source for beginner bloggers because:
The frequency of offers can be somewhat niche specific (a food/lifestyle blog will obviously have more opportunity for sponsored posts that a blog that covers taxidermy).
You have no guarantee these offers will come, and working to secure them will take up a lot of your time.
If you over-do sponsored posts, I argue you are diluting your brand image and reputation.
Selling Blog Coaching:
Beginner bloggers should not sell coaching or blogging related services because they are beginners.
End of story.
I am a beginner, and I have enough on my plate with digital marketing consulting and paid advertising to offer blog coaching.
If you're a beginner like me, stick to what you know, and don't sell a service you aren't willing or able to deliver.
Selling Courses/eBooks:
If you want to establish a steady, passive income stream, implementing some regularity into your blogging revenue is pretty nice.
It's also simple: you slap some ads and relevant affiliate links onto a landing page, and you'll have a relatively steady percentage of your visitors convert and consistent ad revenue.
In contrast, you can take the route of selling eBooks or courses.
You might have months where you double your monthly revenue goal, but you may also have some months of famine where no one buys your content.
Additionally, you have to wage a war on multiple fronts.
Your course content will be locked, so it can't help you in your SEO efforts, and then you also have to work to promote your blog/all of the courses or services you offer.
And then there's the process of writing the damn thing and making sure it actually provides value (which I imagine most of them do not).
For a beginner blogger, this sounds like a nightmare.
If you already have an outstanding eBook or course that is actually useful for your readers, maybe, just maybe consider adding it to your blog.
However, if you are new to blogging and want to keep things simple like me, I'd say stick to the basics.
I chose to strictly use display ads, affiliate links, and content syndication because this requires the least amount of effort on my part.
I'm not very skilled at promotion my blog through social media, and SEO/organic search is my weapon of choice. This also means I'd rather focus on increasing volume to my website than spend my energy creating marketing material for my course or coaching services.
Additionally, content syndication via Medium can make money as well as drive referral traffic back to my blog.
If you want to dabble in other sources of income generation, just be sure to not spread yourself too thinly!
Blogging Successes:
Compared to a lot of other blogs out there, This Online World is still in its infancy.
However, I think I have learned some useful bits of information along the way that other beginner bloggers might find useful.
In terms of my greatest blogging successes, I think they boil down to these 3 aspects:
I have developed a steady stream of referral traffic from Quora.
I have aggressively attacked 2 niches/keywords and ranked at the #1 spot on Google.
My website is simple, user-friendly, and is geared for SEO.
Let's take a minute to break each of these down.
Quora Marketing for Blogs: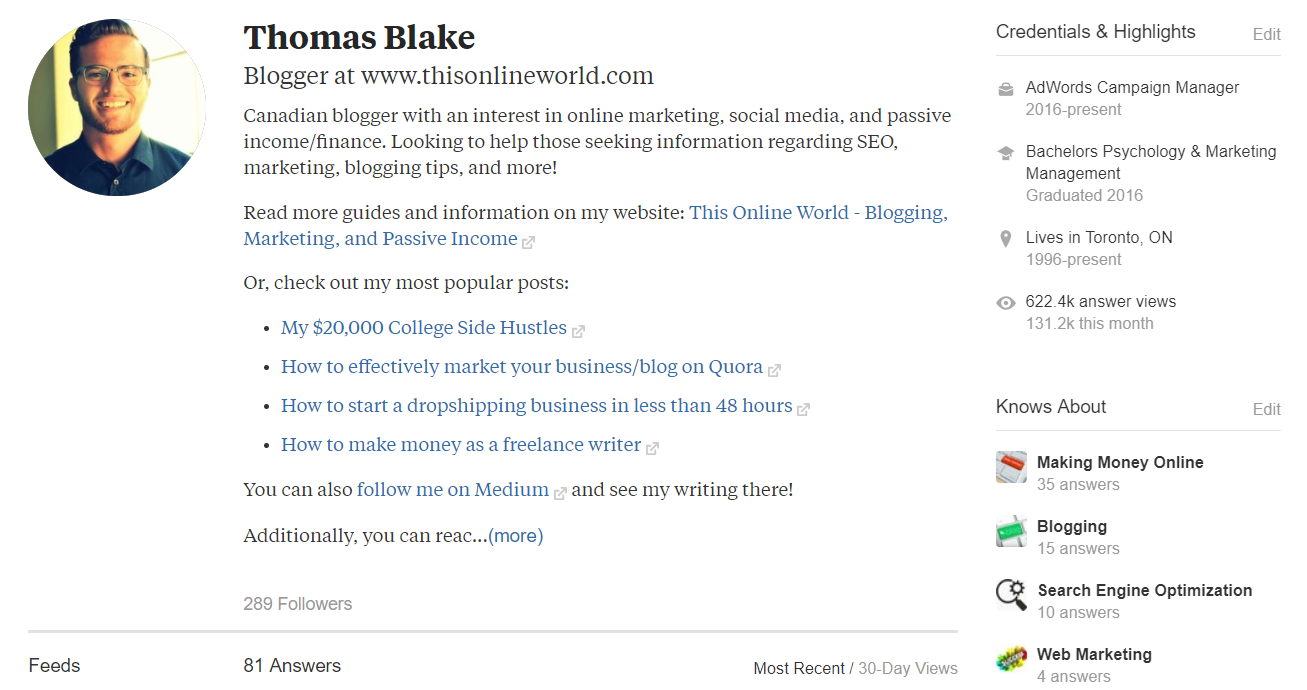 To date, I have answered 81 Quora questions, received 622,000 views on the platform, and been featured in the Quora Digest 7-8 times.
I've also gained 289 followers on the platform, and have used Quora to drive almost 5,000 people back to This Online World.
I've covered the basics of how to use Quora to promote your blog/business before, but I can't underplay how vital Quora marketing has been for the progression of this blog.
Quora drives traffic every single day regardless of if I answer a question or not.
Building foundational sources of referral traffic like this is how you force a blog to grow.
Attacking Keywords:
I rank extremely well in 2 niches: phone farming and making money on Medium.
I'm not scared to disclose these niches because anyone with a spy tool can discover this, but ranking highly on keywords related to these topics is not a mistake.
My phone farming guide was the first post I ever wrote, but it wasn't the last time I mentioned my phone farming side hustle.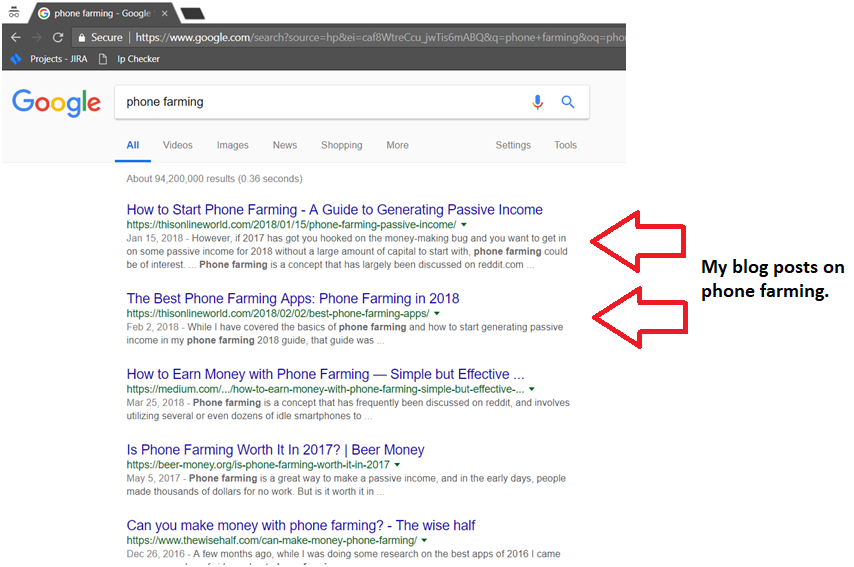 I'll admit, I initially wrote about phone farming because it amused me, was a great source of passive income, and was hard to find accurate information on.
However, when something is 'hard to find accurate information on,' that also means no one in the industry is doing a good job at explaining the subject matter.
Phone farming has some great YouTube content, but the written content is abysmal.
After realizing this, I expanded my content on phone farming to include the best phone farming apps, farming devices, and other passive income websites and apps.
The lesson behind all of this is to step on the gas the moment you start making progress.
SEO is a contest. When you start to rank well on something, you need to remember that there are other people out there trying to outrank you.
In this sense, gaining positions on Google search is about creating quality content and defending it.
Don't just write 1 article that looks at one particular angle.
Write a bunch of articles, each with their own set of keywords you want to rank for, and cover every scrap of information you can on the subject matter to build your mighty SEO fortress!
Now, my article on how to make money on Medium took me by surprise with how well it has ranked, but the concept was the same.
I identified a less competitive niche and wrote what I believe is the best content on the subject matter.
In this instance, Google rewarded me.
Ultimately, when you smell blood in the water, you need to push out high quality content and work to expand your authority on the subject matter.
Leveraging SEO Fundamentals:
I mentioned how I hired a Fiverr WordPress developer to improve the speed of my website back in my June income report, but I like to think This Online World has always maintained a decent SEO profile.
I've covered the basics and used some handy SEO themes WordPress plugins, such as:
SEO Yoast.
Image Smush.
WP Fastest Cache.
Auto Optimizer
Additionally, I also paid for a premium WordPress theme, and I argue that SiteGround hosting is the best hosting out there.
Aside from website speed, I believe that having an average word count of 2,429 words per post has assisted me in ranking better on Google over time.
Just check out this graph from Neil Patel on the average content length for the first 10 results on Google: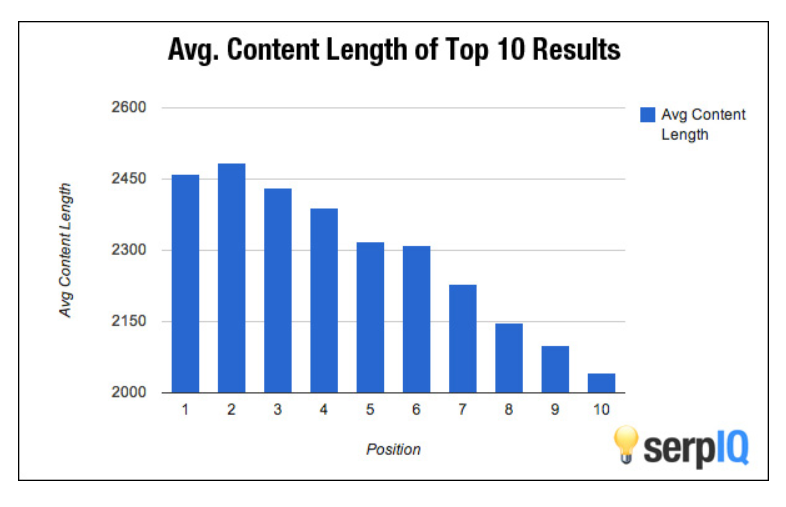 Longer content simply ranks better.
With longer content, a blogger can share more information, attack more keywords, and ultimately provide more value to their readers, especially if they are discussing a very complex topic.
If you are struggling to grow your organic traffic, I recommend writing some evergreen, long form content and letting Google do their thing.
Blogging Failures & Lessons:
After about 8 months of blogging, I've identified my greatest blogging mistakes, opportunities, and the lessons I have learned.
In short, they are:
Ineffective social media promotion.
Starting a blog with a brand new domain name.
Delaying my backlinking efforts.
Social Media Blog Promotion:
The lack of my social media promotion has certainly hindered the pace at which my blog grows.
On the bright side it leaves more room for content creation, but still…my social media numbers aren't great.
In hindsight, I probably didn't need a Facebook/Twitter/Pinterest/LinkedIn for ThisOnlineWorld at the very start of it all.
If you're a beginner blogger or someone who doesn't have a lot of spare time, I'd highly suggest picking 1-2 social media platforms to actually use, securing the remaining ones, and taking things slowly.
Blogging On A Fresh Domain:
In terms of blogging on a fresh domain, I simply hadn't realized the benefits of using an aged, authoritative domain to my advantage.
I cover the uses of expired domains in my post on domain flipping, and starting a blog on an expired domain is one of them.
Expired domains can have useful backlinks, more domain authority, and are generally able to get off the ground faster than a domain name that has never seen the light of day.
While expired domain names can be pricey, many of them are around the same price as a regular domain.
If you are considering starting your own blog, I'd suggest buying an expired domain name to kick start the process.
Waiting to Backlink:
I don't think bloggers should stress over backlinking, guest posting, or aggressively promoting their blog before they have a decent amount of content on their website.
However, I was about 6 months in and already around 25-30 articles before I actually gave backlinking some thought.
According to SerpStat, here are my current backlink metrics:


 For an 8 month old blog, I don't think this is too stellar.
On the bright side, the speed at which I am gaining backlinks is continuing to increase, as well as my overall backlink quality (other blogs are starting to reference my content, not just forums!)


In the first few months of starting your own blog, don't stress about backlinks.
Build up some content, make sure your website is operational, and gradually include guest posting, forum commenting, and joining high quality directories into your marketing agenda.
Is it Easy To Make Money Blogging?
I've done a lot of thinking regarding this question, and I still have some mixed ideas.
However, let me start off by saying that you can make $100/month by blogging in less than 8 months.
In fact, I'm pretty confident a lot of beginner bloggers could achieve this point with enough work within 3-5 months.
If you read other income reports, there are plenty of bloggers who actually make $100 in their first month or 2.
But, from what I've read, a lot of these bloggers go viral on Pinterest/aggressively use affiliate marketing to achieve this. Ultimately, this lack of diversity in blog traffic leaves these bloggers at the mercy of Pinterest and requires them to never stop their marketing campaigns.
I'm not saying I'm the most diverse blogger out there in terms of my traffic composition, and if Google didn't like my blog I'd be toast.
However, I argue that developing organic traffic alongside your social media following is what will give your blog longevity and sustainable growth.
So, for the average blogger who isn't a Pinterest/affiliate marketing pro (and for the sake of this post), I'm going to assume your traffic is a mixture of organic/social/referral visitors and that you primarily use display advertisements and some afiliate sales/referral programs to monetize your blog.
How Many Page Views Will You Need To Make $100/Month?
On the low end, I would say you would require roughly 2,000-3,000 monthly blog visitors and to heavily push an affiliate program in order to make $100/month by blogging.
Many bloggers who take this route start their own 'how to start a blog' course/post and ram Bluehost down your throat, but hey, I guess it gets the job done.
I mean, I might even be overestimating this number seeing as a single web hosting referral usually pays $50-$60, but take this as a conservative number.
On the high end (and for bloggers who barely use affiliate programs), your blog is similar to mine, and would probably require 5,000-8,000 monthly visitors to reach the $100/month goal.
These are completely speculative numbers, and metrics like display advertising RPMs or what affiliate programs you can use largely depend on your niche, the countries you target, and other factor, so keep this in mind!
How Long Does It Take To Make Money By Blogging?
Since starting This Online World, I estimate I've put in between 10-15 hours every week into blogging.
Granted, some weeks were busier with work/school and allowed less time for this side hustle, but I most likely offset this with other, more intense weeks.
Between content creation, marketing, and learning how to blog in the first place, there's quite a bit of work to be done!
Ultimately, I estimate my total blogging work hours as being around 320 hours.
Since I started making $100/month by blogging in June, it took about 200 hours to reach that point for me.
I'm sure everyone will have a different pace of work, ability to write content, or disposable time, but you definitely can't create a money making blog at a whim.
Should I Use Google Adsense, Media.net, or another advertising network?
Many beginner bloggers can feel overwhelmed when it comes to implementing display advertising networks or other forms of monetization on their blogs.
Trust me, I've been there. There are tonnes of options out there, and a lot of these options seem lucrative.
However, for bloggers who are starting out, I definitely recommend keeping things simple when it comes to choosing an advertising network.
Personally, I have used both Google AdSense and Media.net on This Online World, and I like different aspects about both networks.
Google AdSense is nice because you can implement responsive ad units very easily, and the advertisements generally look pretty sleek.
Media.net is the world's second largest contextual advertising network, which means that the advertisements on your blog will actually match your content (rather than user interest/previous browsing history).
Media.net also has some handy levels of customization, and you can make your ad units match the style of your website fairly easily.
The main difference between the two platforms is that AdSense pulls advertisements from a Google pool of advertisers, whereas Media.net is a Yahoo feed.
Both advertising networks have their share of pros and cons, but I suggest applying to both advertisement networks to keep your options open.
Just note, since Media.net advertisements match your blog content, the RPMs can be higher than Google AdSense ads for particular niches, such as technology or finance.
The reason the RPM can be higher is because the network is contextual; if some of your keywords/content result in more expensive advertisers being shown/a more expensive advertisement auction, you can earn more.
Conversely, if you don't have a lot of U.S. traffic or lucrative keywords, Media.net might not be the right platform for you.
Once again, I suggest applying to both advertisement networks, and trying both out to see what works best for you!
Sign up for Media.net with my link and receive a 10% bonus on your earnings for the next 3 months (and help me out!)
Sign up for Google AdSense here.
Making Money With A Blog – My Final Tips/Steps:
For the sake of brevity, I'm going to throw a massive list of steps at you that cover my suggestions for starting a blog that makes money:
Buy an expired domain name that already has backlinks and some domain authority.
Use a solid hosting provider, WordPress (not Wix or anything else), and purchase a premium theme. WordPress and a premium theme will save you time in the long run versus doing things yourself, trust me.
Identify a low-competition topic in your chosen niche and attack it while mixing in other relevant articles. It doesn't matter if it only receives 1,000 searches per month, just go after it.
Spend 80% of your time creating content (or more), and around 10%-20% of your time marketing it in the first few months of blogging.
Write long form content that utilizes SEO best practices, and stick to evergreen content (topics that people will always search for, not seasonal/singular events).
Gradually incorporate display advertising and affiliate programs into your blog. Develop traffic first, then monetize it. I recommend starting with AdSense or Media.net or some combination of the two.
Start backlinking and reaching out to other bloggers once you have 10-15 posts and your blog doesn't seem so skeletal.
Don't overwhelm yourself with options: keep your marketing, niche, monetization strategies, and everything else at a manageable level.
Work smart, not hard. It would have taken me 10 hours to figure out what the WordPress developer did for my website for $30…use your time wisely, stick to what you know, and feel free to invest your blog earnings back into your website.
Finally, respect your readers. They are the people who will make your side hustle enjoyable and possible, and you should never deceive them or push products/programs down their throat.
I hope this post has proved useful or inspiring for anyone out there who is looking to make money through blogging!
I've always wanted to develop a blog that makes money, and I also started this whole project to help others with their online money making ventures.
While $100/month might seem irrelevant to some, I look at this number as the start of a nice passive income stream, a way to invest more money on the side, or something that takes the sting away from monthly bills.
Blogging certainly requires a lot of work and dedication, but I think the rewards are worth it.
Hopefully, I'll be writing a guide on how to make a $300 or $500/month blog in the near future.
Edit: don't forget to check out part 2 in this series, The Road to a $500/Month Blog!
Thank you all for your readership.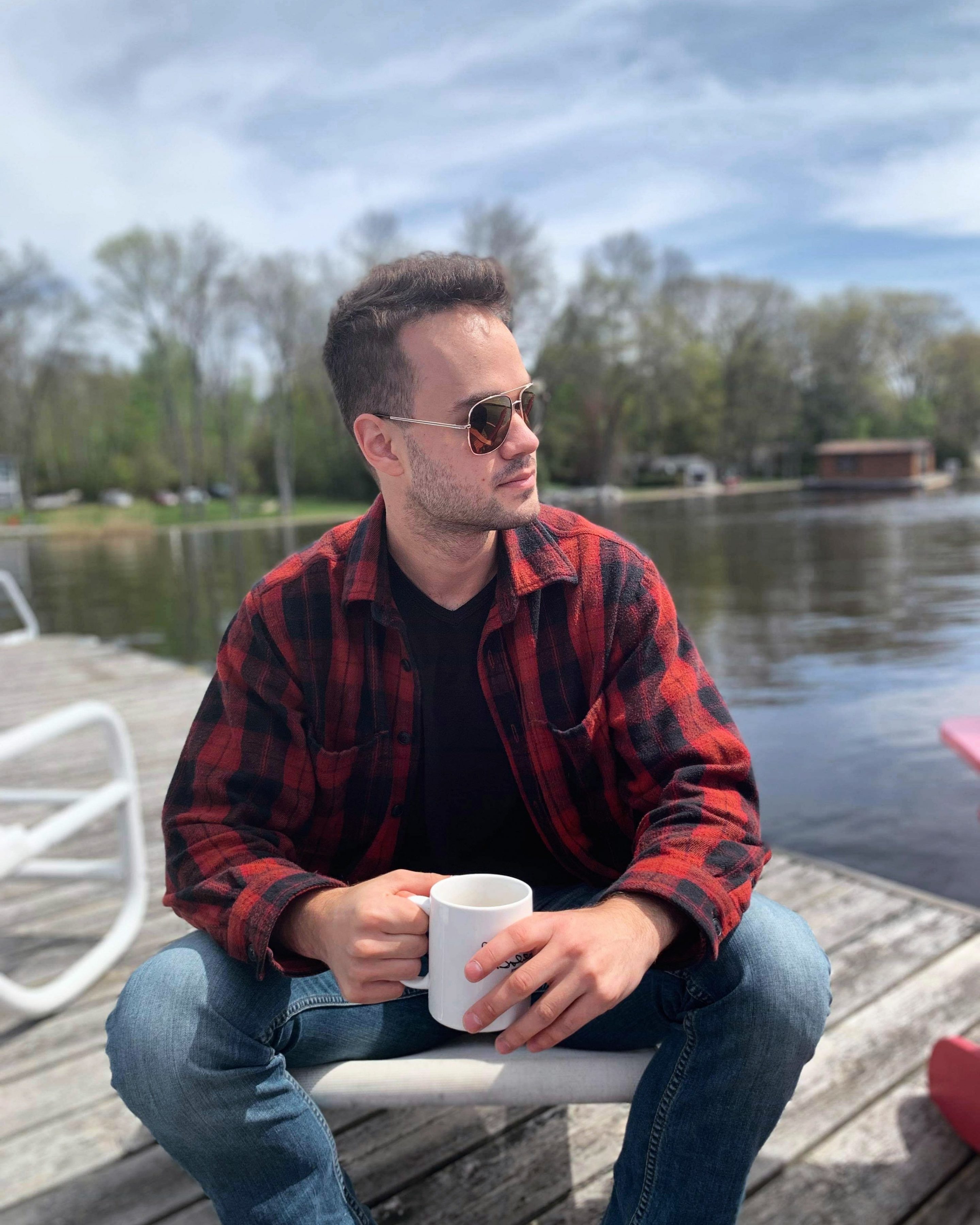 Tom is a 22 year old recent college graduate from Canada with a passion for side hustling, passive income, and marketing. This Online World is all about providing people with honest ways to make and save more money by using technology. To learn more about Tom, read his About Page!