I've been trying to crack the Pinterest marketing code ever since I started blogging and have been trying to grow my monthly traffic.
I spent a lot of time manually pinning resources from my blog, joining group boards, following other people in my niche, and creating eye-catching graphics that have the potential (I hope) to go viral.
For the longest time, all of my efforts Pinterest marketing efforts resulted in this level of blog traffic:
After putting a lot of effort into a lackluster social media strategy that wasn't panning out, I finally decided to purchase Tailwind, a useful Pinterest marketing tool, in late December.
This is how my Pinterest blog traffic has developed so far:

In just a few weeks I've gone from barely receiving any Pinterest traffic to getting between 20-75 visitors a day, and the traffic seems to be growing steadily (or at least remaining stable, some days).
However, there are a few important things I think bloggers should know about Tailwind, and this software is not for everyone. 
Contrary to what a lot of other bloggers in the space might promise (for the sake of a juicy Tailwind referral bonus), I believe Tailwind is a tool that should only be used in specific scenarios.
So, consider this my Tailwind review!
This post will cover:
What is Tailwind?
How do bloggers use Tailwind?
Tailwind pricing + why bloggers promote it.
Who should use Tailwind
My Tailwind results after 30 days and tips
What is Tailwind?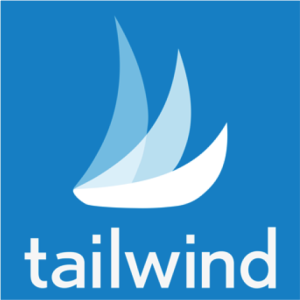 Tailwind is a marketing tool for Pinterest (and recently Instagram) that allows users to manage their Pinterest account from a centralized platform that aims to save Pinners time and increase their reach.
With Tailwind, it is incredible easy to schedule Pins to be published throughout the day, create an automatic 'Smartloop' that continually publishes evergreen content, and to bulk upload new Pinterest graphics/captions.
In other words, it's a way to automate the manual process of creating Pins and posting them to your various boards.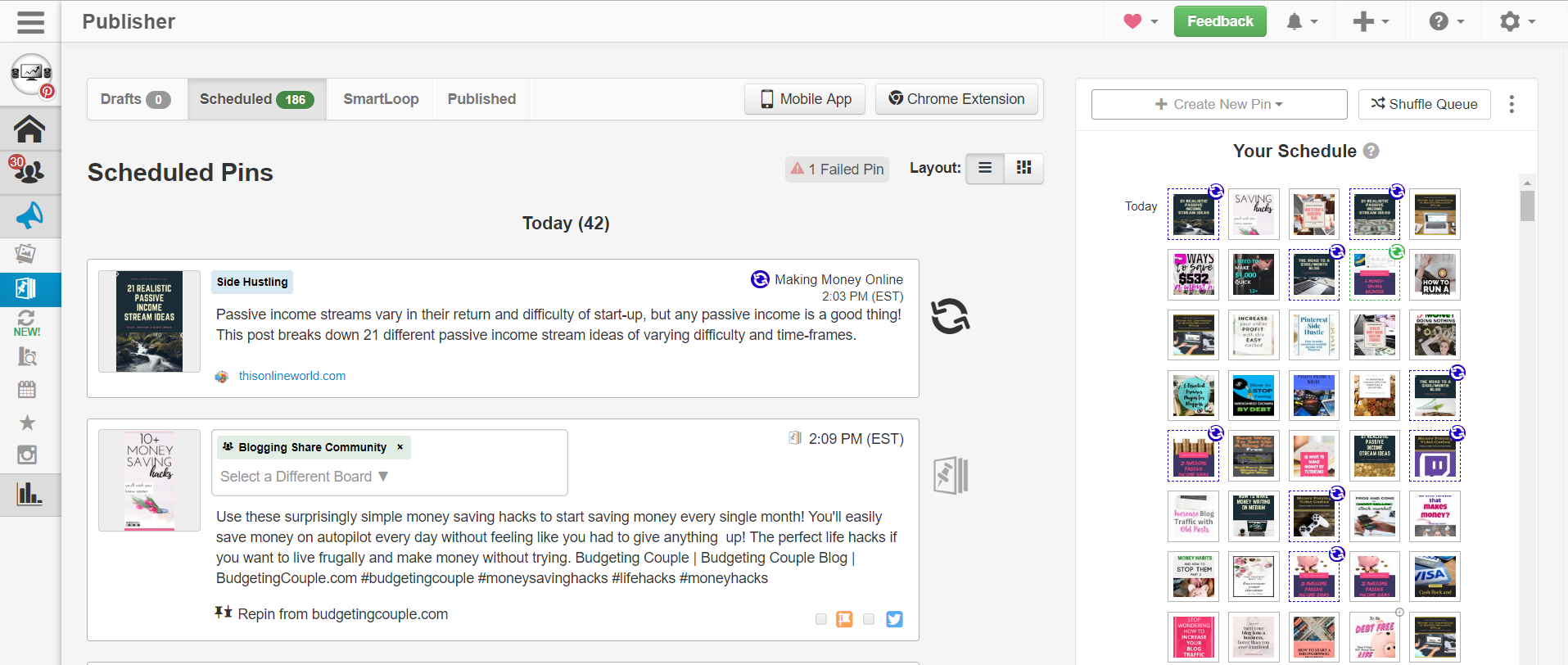 As you can see, I have 186 pins currently queued in my schedule, and my pins consist of evergreen content I systematically re-pin throughout the month and new content I add or create.
Theoretically, by consistently pinning every day and at optimal times, Tailwind will allow me to steadily grow my reach on Pinterest while driving traffic back to my blog.
Most of the Pins I schedule with Tailwind are my own content and direct people back to This Online World, but many of the pins also come from some of the Tailwind Tribes I have joined.
What are Tailwind Tribes and how do Bloggers use Tailwind?
Tailwind Tribes are the most powerful feature of using Tailwind in your Pinterest marketing efforts, and this is also how bloggers can successfully use Tailwind to drive traffic to their blog in a matter of days or weeks.
Tailwind Tribes are essentially groups of Pinterest members who create or Pin content in similar niches and have agreed to help one another expand their reach and grow.
On Tailwind, Tribes are basically pools of Pins where people upload their Pins and select other ones to share.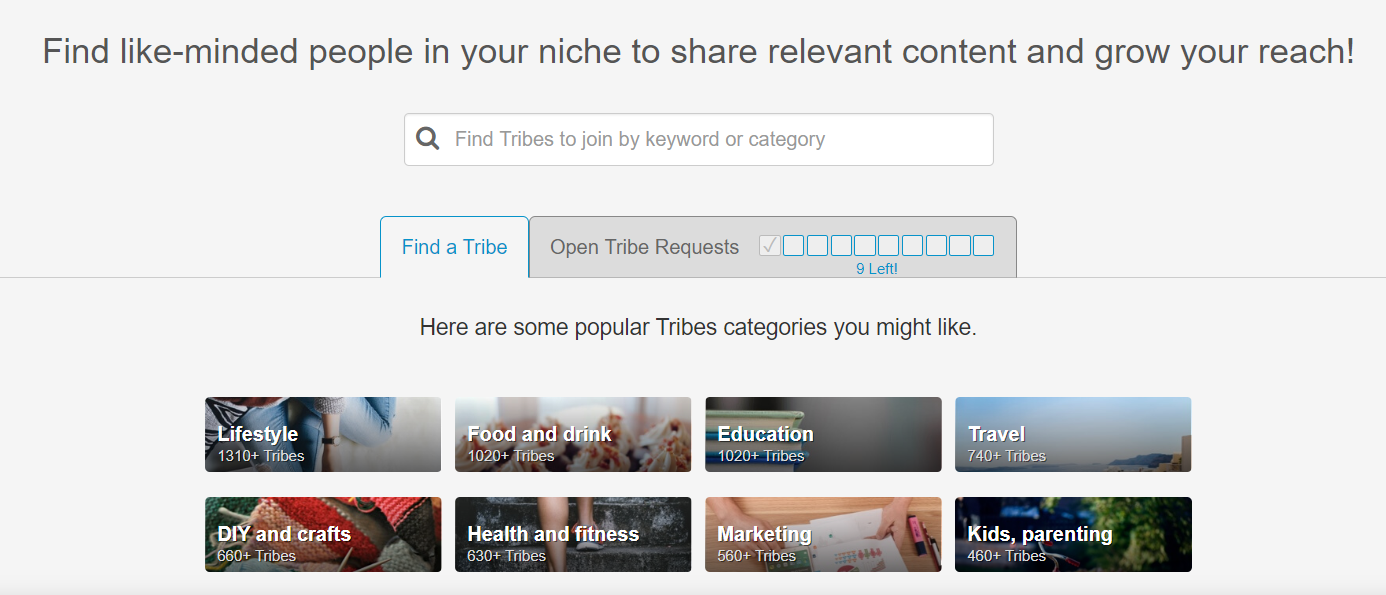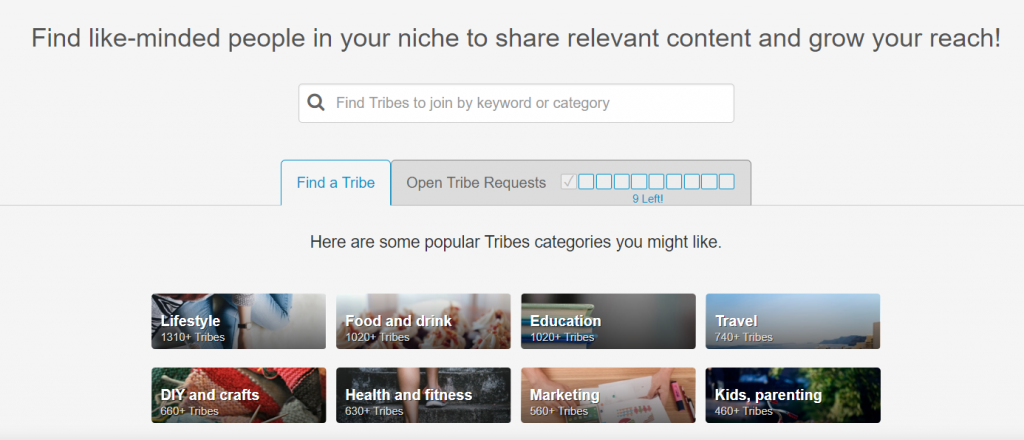 Most Tailwind Tribes have a 'scratch my back, and I'll scratch yours' approach in which Tribe members are expected to maintain a 1:1 ratio in terms of the content they upload to the Tribe (seeking shares) and the Tribe content they add to their Pinterest scheduler (giving out shares).
This mutual agreement to grow alongside one another is how bloggers effectively use Tailwind to market their blogs on Pinterest.
Here is a small data set from my Tailwind results after using the platform for about a month and a half:


You can also breakdown Tailwind Tribe effectiveness on a per-Tribe basis, which I recommend doing to keep track of which Tribes are the most effective for your Pinterest marketing efforts: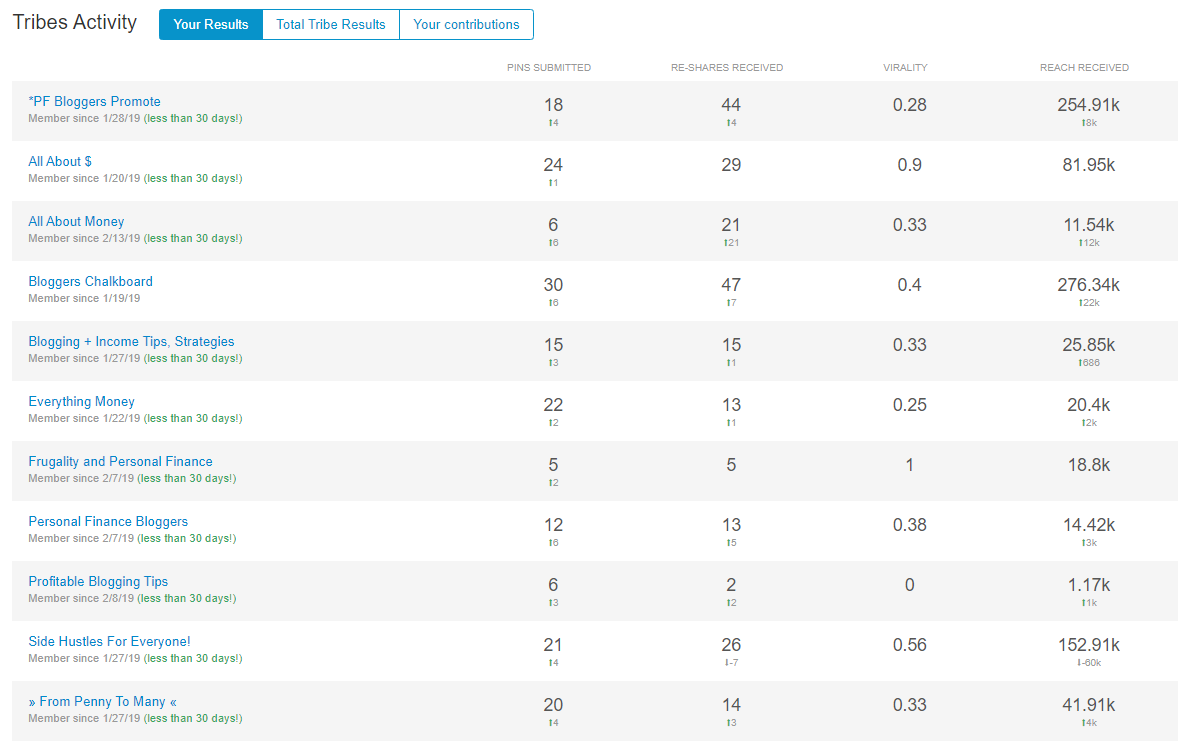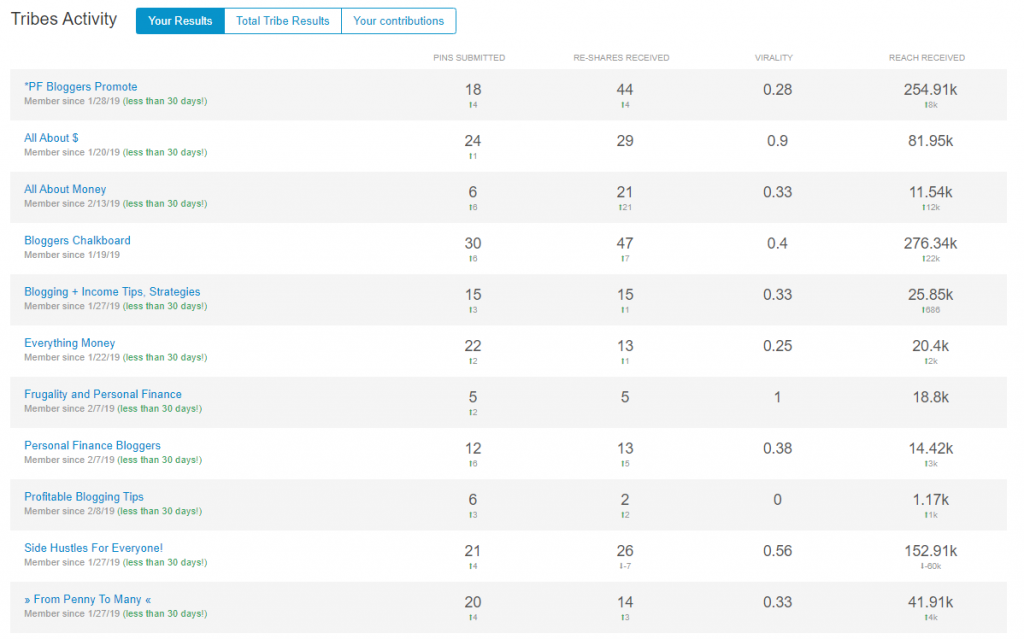 What I find interesting is that in almost every single Tribe, I receive more reach than I return even with share/upload ratios of 2:1 or 3:1.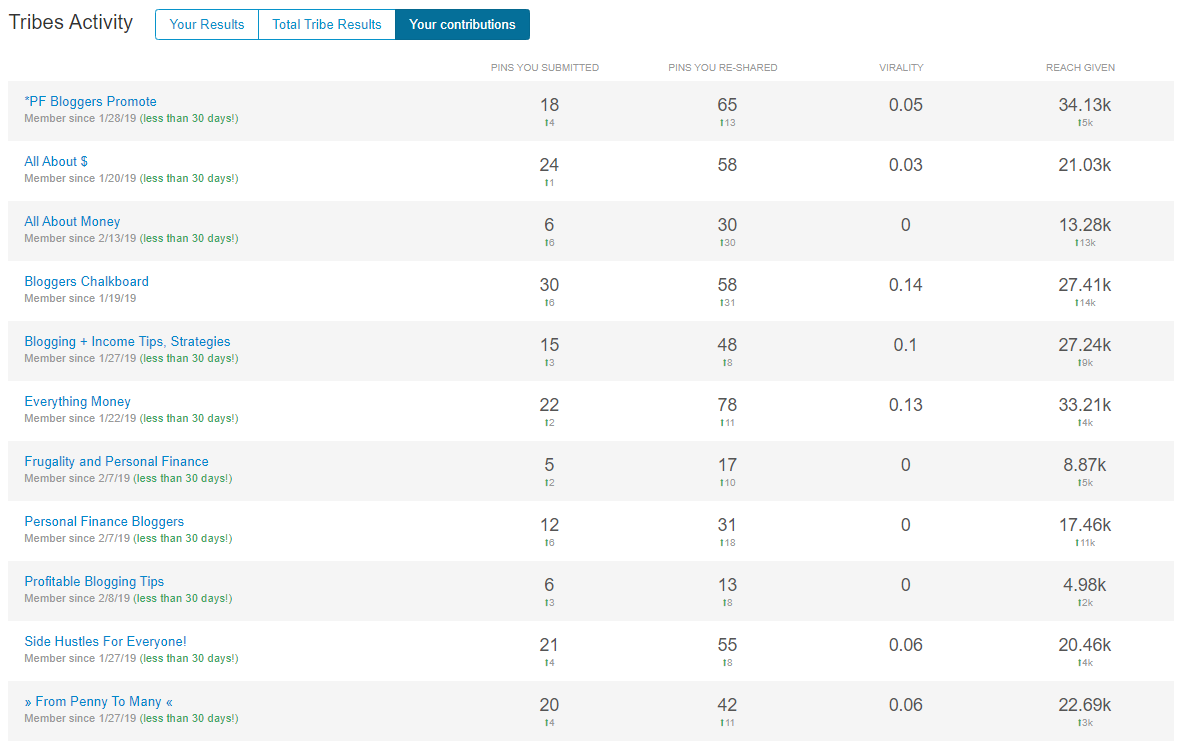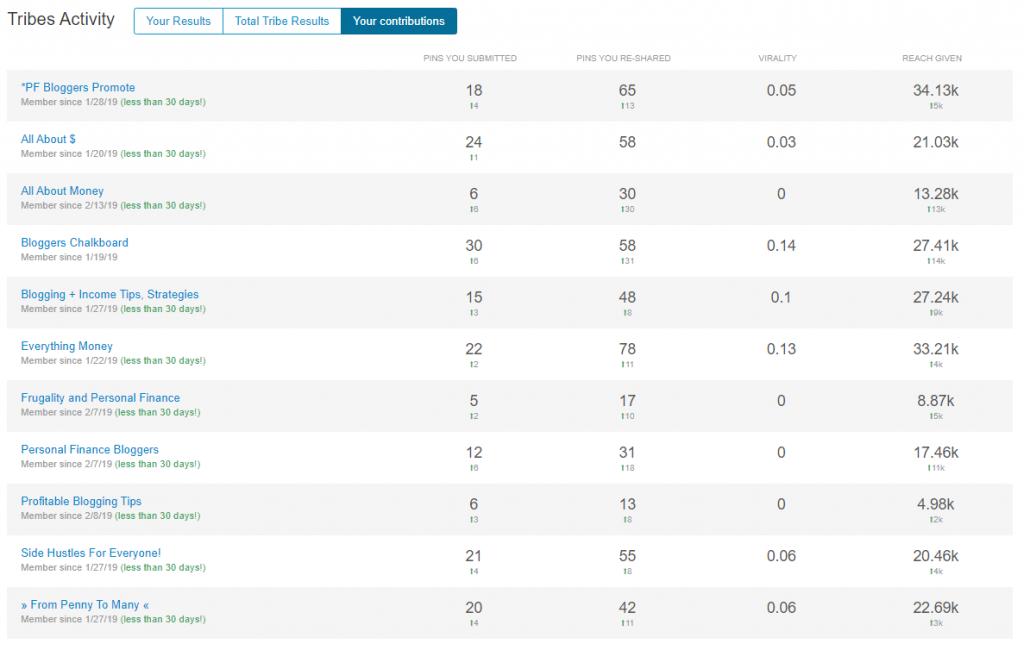 As you can see, I've received as much as 275K in reach from the Tribe 'Bloggers Chalkboard', yet I have only contributed 27.4k in reach despite sharing almost 4x as much content as I have contributed.
What does this mean?
Well, I think it indicates that small players have the most to gain from using Tailwind Tribes, and this is most likely due to the fact that Tailwind Tribes allow small Pinterest accounts to gain shares from some massive and already established Pinners.


It's not uncommon for a pin to be shared by multiple people after you upload it to a Tribe, and many of the Tribe members you will encounter on Tailwind already have 1K+ followers on Pinterest and can instantly give you reach.
Currently, I only have 561 Pinterest followers and an estimated monthly reach of 144.4k, so I really am a little fish in a big pond.
However, this is alright because it means I have a lot to gain from these symbiotic relationships with more established Pinners and almost nothing to lose.
Tailwind Pricing + Why Bloggers Promote it:
So far this Tailwind review has basically consisted of me rambling off the reasons Tailwind is incredible and the best tool for Pinterest marketing.
However, there is a reason Tailwind gets almost 100% positive reviews, and that's because bloggers can get $15 or more for having someone signup for Tailwind through their referral code.
So, how much does Tailwind cost?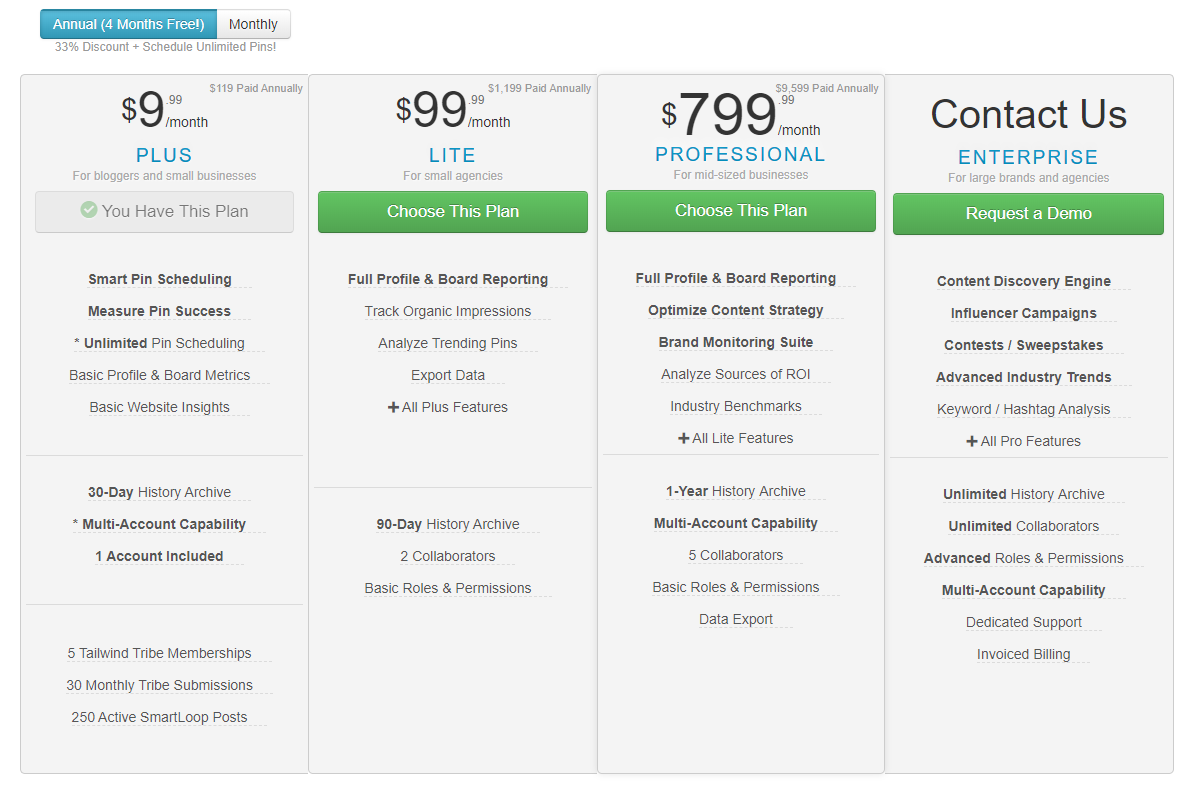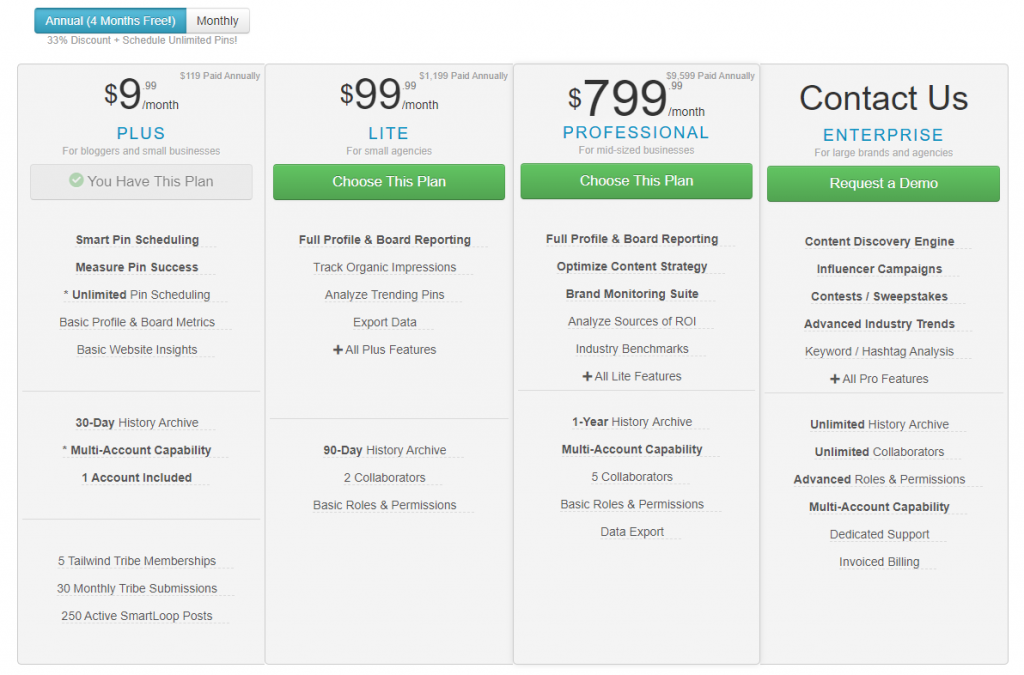 Well, at first glance Tailwind only costs $9.99/month, and unless you operate a very large blog or have multiple team members, you don't need to venture beyond the Tailwind Plus plan.
However, where Tailwind gets you with an up-sell is with their Tribe Powerups.
Tailwind Plus only gives members the opportunity to share 30 pieces of content to Tribes in a 30 day period, and since Tailwind Tribes are the main way bloggers can actually see results with Tailwind, this is simply not enough.
I realized this fact pretty quickly, and pretty soon I elected for the $9.99/month plan plus a $119.88/year Tribes Max powerup, which provides me with unlimited Tribe memberships and 200 submissions per month:

There are plenty of other powerup levels as well where bloggers can gain even more Tribe submission slots or expand their Smartloop automatic pinning system: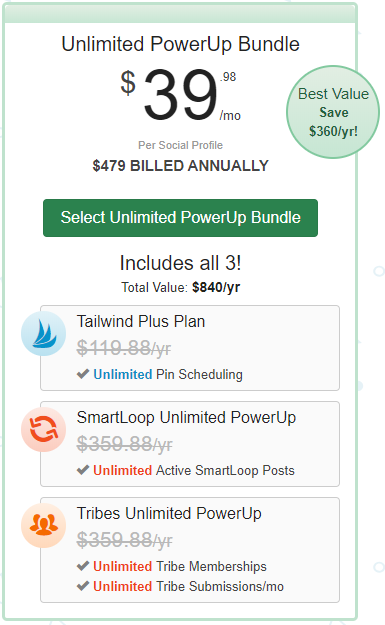 Ultimately, this means the true price of Tailwind is a minimum of $238.88/year + tax.
And trust me, you absolutely need the Tribes Max power up at the very least if you are going to see progress with your Pinterest marketing efforts.
Who Should use Tailwind?
Time to get to the main point of this Tailwind review and to dispel some of the bullshit advice that is passed around on seemingly every blogging forum or group.
If you've ever seen a thread that covers ways to generate blog traffic, you've probably seen some advice like this: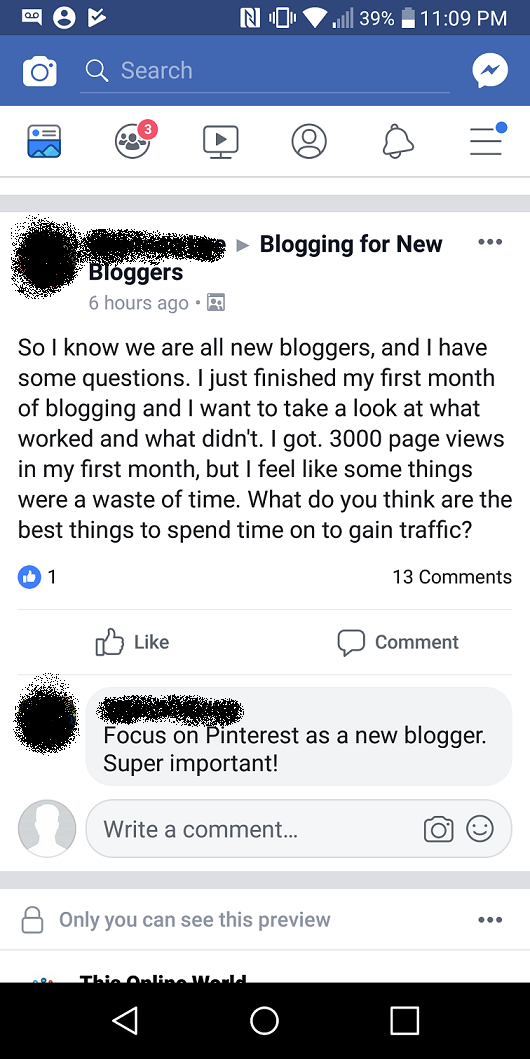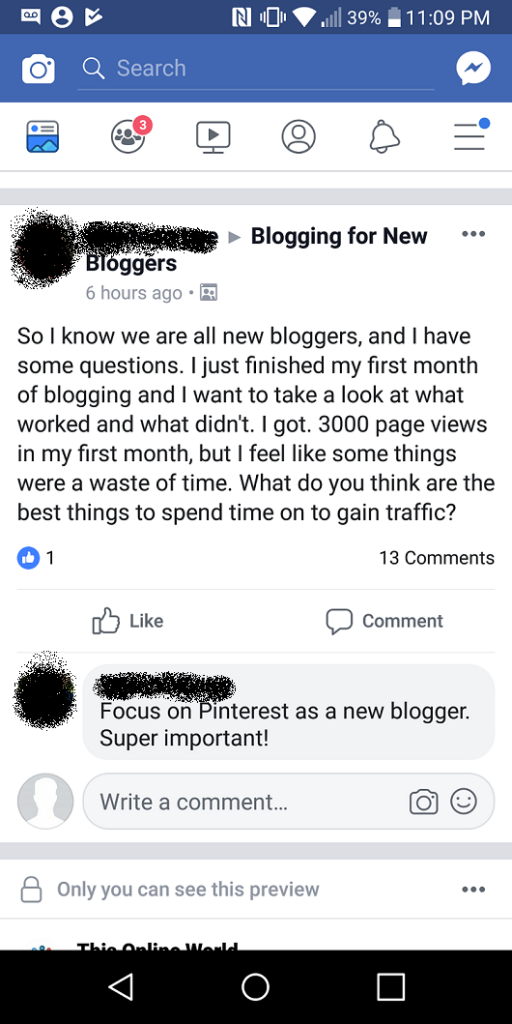 Now, this advice is terrible for a few reasons.
Firstly, pinning 200 or even 30 pieces of content to Tailwind Tribes requires you to actually have some content depth, and new bloggers simply lack the article variety to take advantage of everything Tailwind (or Pinterest) have to offer.
Secondly, getting results with Tailwind or Pinterest require time and effort, and the second you stop putting in work, you will stop receiving traffic.
Bloggers who are just starting out should focus on SEO basics and growing a foundation of organic traffic because this is the backbone of developing a successful blog.
I mean, consider if you put all your eggs in the Pinterest traffic basket, and an algorithm change or the growing state of competitiveness on Pinterest made all of your traffic disappear overnight…This happened to Facebook organic traffic and pages with thousands of likes, and I'm betting Pinterest will become pay to play in the next 2-3 years anyway.
Finally, paying $200+ dollars a year on software when you are starting out as a blogger does not make sense.
If you are willing to spend the money and want to use social media as your primary traffic source then I say go for it, but otherwise, run a cost analysis to see if it is worth it.
In order to judge if you can afford Tailwind or if you should buy it, I think you should consider if your blog is in a position to pay off the cost of Tailwind (and make a profit) within one year.
Personally, I decided to buy Tailwind because:
I'm trying to push towards 25,000 monthly sessions to join Mediavine.
I am confident Tailwind will actually net a profit within 365 days between the extra AdSense/affiliate revenue I gain from the extra traffic (I'm already seeing AdSense revenue increase and more affiliate sales).
You can approach this decision making process in a few ways, really.
If you blog has advertisements, look at your page RPM (revenue per 1000 views) and see how many Pinterest visitors you would need from Tailwind to recoup some of your cost. Also consider the fact that within one year, you can probably generate some affiliate sales from Pinterest if you send people to the right sort of article.
If the math works out, buy Tailwind. If it's too steep or you lack content depth, don's waste your money.
My Tips for Effectively Using Tailwind:
I'm going to finish off this Tailwind review with a few of the tips and tricks I have started to use in order to save time, increase efficiency, and gradually develop more reach on Pinterest.
Have 'Canva' Sessions and Create Pin Images in Bulk:
Canva is a free tool that makes it easy to create eye-catching graphics for social media posts or other forms of media.
Canva also has a nifty tool that lets you create vertical images that are the perfect size for Pinterest, as well as a decent bank of layout themes and images.
When creating Pins for Tailwind, Canva is your best friend because you can bang out 5-10 designs within a few minutes and repeat the process for multiple articles on your blog.
Once you've found a layout you like with Canva and have created your first graphic, simply use the Canva image search function to find several relevant images per design. By shuffling in a few images for each post of yours, you can have some variety in your Pinterest content and share more of the same content without looking spammy.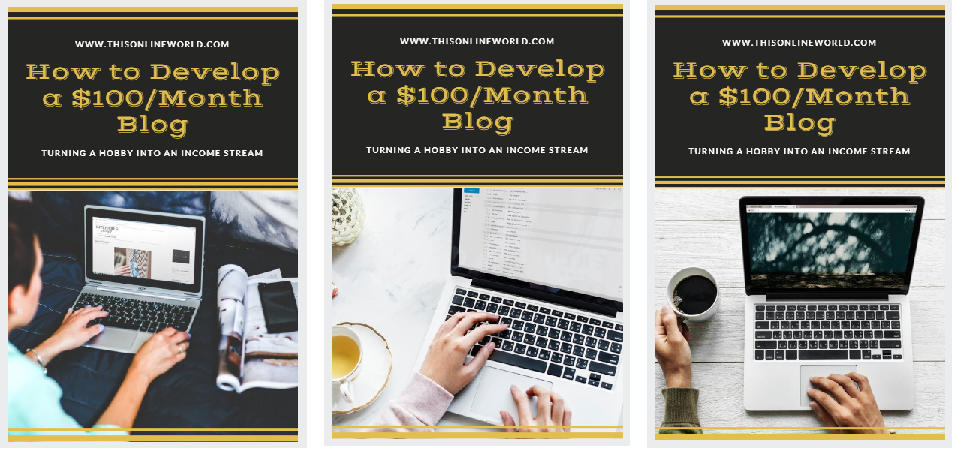 As you can see, I simply changed the image for these 3 pins, but that gives enough variety for me to share each one of these to a Tailwind Tribe or through my scheduler without spamming the same graphic.
Plus, you could also quickly swap out the text and images to use the same layout for some other related articles.
Just remember, speed and efficiency are the name of the game! Bang out 30-45 graphic at a time for a few articles and then get those graphics scheduled!
Join Pinterest Group Boards:
Pinterest group boards are collective boards in which many members can share their content, and it is a good idea to join these sorts of boards if you use Tailwind.
Many group boards are niche specific, and scheduling your content (or content from Tribes) is a nice way to expand your reach and mix up the boards you save to.
When you're pinning several hundred pins a month (or more), it will be helpful to have some extra boards to spread your content to.
Monitor the Performance of your Tribes:
The Tailwind Tribes Max power up gives access to an unlimited number of Tribes, but you should still be selective with where your 200 Pins a month are shared.
Tailwind sends out weekly emails that summarize the reach you have gained from all of your Tribes, and you can also view this data in the Tribes Insight tab on Tailwind. Check this tab every 1-2 weeks to see if there are some clear winners in your Pinterest marketing efforts.
Always Return the Favor:
I try to maintain a 2:1 or higher ratio in terms of shares to uploads for my Tribes, but go one step further and make sure you share content from the people who have shared yours.
When you receive a re-share in a Tailwind Tribe, you will see the notification under your Pins in the 'Yours' section of a Tribe: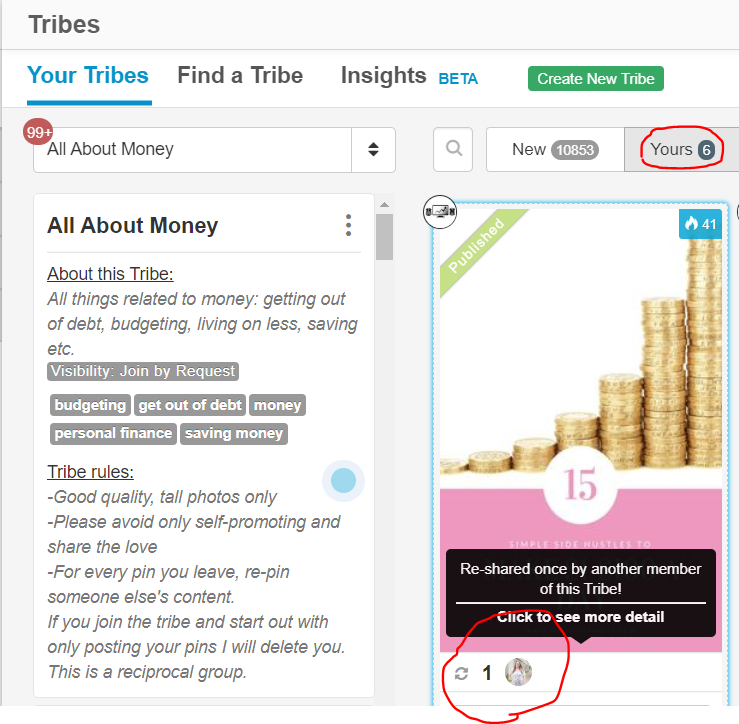 If you click on the icon of the person who shared your content, you will also be able to quickly filter the Tribe content to only show things they have uploaded:


You can also click their highlighted name to visit their Pinterest account (which you can then follow), but the main goal is to repin more of their content than they did for you.
I've tried to do this for all Tribe members who share my content, and you can actually end up in a sharing contest with people where you just try to one-up each other on shares…everyone wins!
Mix up Tribe Share Times:
I'm still working out this theory and am waiting for more data, but I'm fairly certain that sharing content to Tribes in the morning, lunchtime, and right after dinner is more effective than randomly adding content to Tribes at random points in the day.
This is just a hunch, but I figure if you can time your Tribe shares to when people are more likely to be checking Tailwind and doing some work, you can get to the top of the Tribe queue at the opportune time.
Don't Spam:
This one is a fairly simple one, really.
It can be easy to get lost on Tailwind, but you should always try to pin a variety of your own content and the content of others. Additionally, I wouldn't recommend pinning more than 40-50 times a day, especially right out of the gate with a fresh account.
Take some time to build a schedule that works for you, use your Smartloop wisely, and monitor traffic to see what works.
Use the 'Shuffle Queue' Feature:
I like to bulk upload at least 50 pins at a time to my Tailwind Scheduler, but this often leaves the end of my queue with many similar or identical graphics.
After you do a massive upload to Tailwind, use the Shuffle Queue feature to automatically rearrange your queue.

This will reduce how spammy your Pinterest marketing efforts might seem, so take advantage!
Pin Manually, Sometimes:
Tailwind is great because it saves time and Pins your content as if you were pinning it manually, but I think there is value in actually hopping on Pinterest sometimes to Pin, comment, and follow people.
The Pinterest algorithm is weird, and part of me even wonders if they like this sort of manual action every so often. Better safe than sorry, anyways!
Send Traffic to High Value Posts:
One of the great things about social media marketing is that you can drive traffic to articles or topics where you can never hope to compete organically.
If you have articles with affiliate offers, lead magnets, or valuable resources you want to promote you should prioritize this content on Tailwind.
Let your articles that generate organic traffic do their thing, and focus on sending people to articles that don't do well on Google.
Final Thoughts:
Well, there you have it!
I hope you have found this Tailwind review and set of Pinterest marketing tips to be somewhat helpful!
As a new blogger Pinterest can seem like the answers to all of your problems, but trust me, Tailwind and Pinterest have a specific time and place and you shouldn't spend money on resources you aren't ready to use.
Focus on developing organic traffic first, and use Pinterest/Tailwind as a way to diversify your blog traffic and grow!
If you would like to try out Tailwind while supporting This Online World, you can signup with my link!
Tailwind offers a free trial as well where you can schedule up to 100 Pins, so this could be a great way to see if the platform is the right fit for you. Just keep in mind 100 pins is not enough to gather sufficient data.
Additionally, if you want to really step up your Pinterest marketing game, I recommend checking out this Pinterest Traffic Explosion course.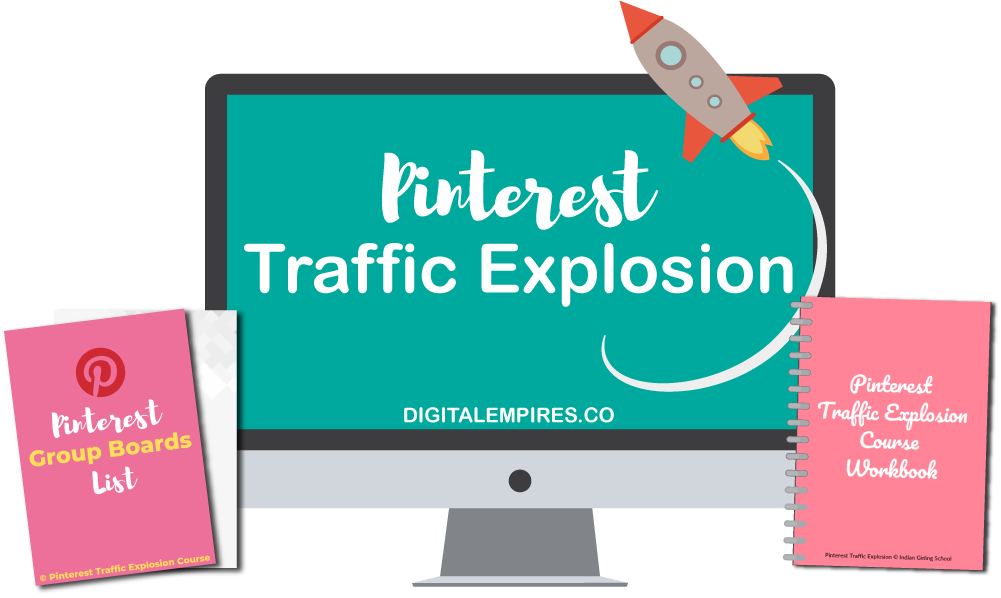 This course was created by my friend Shruti from Indian Girling, and she is truly a master of utilizing Pinterest to grow blog traffic (she's in Mediavine, after all, and her Pinterest account is stellar).
The course breaks down Pinterest strategies, graphic design tips, scheduling/algorithm information, and plenty of optimization/SEO tips!
Hopefully, the tips I have provided plus Shruti's course can get your Pinterest marketing efforts back on track!
Catch you guys in the next post!
Tom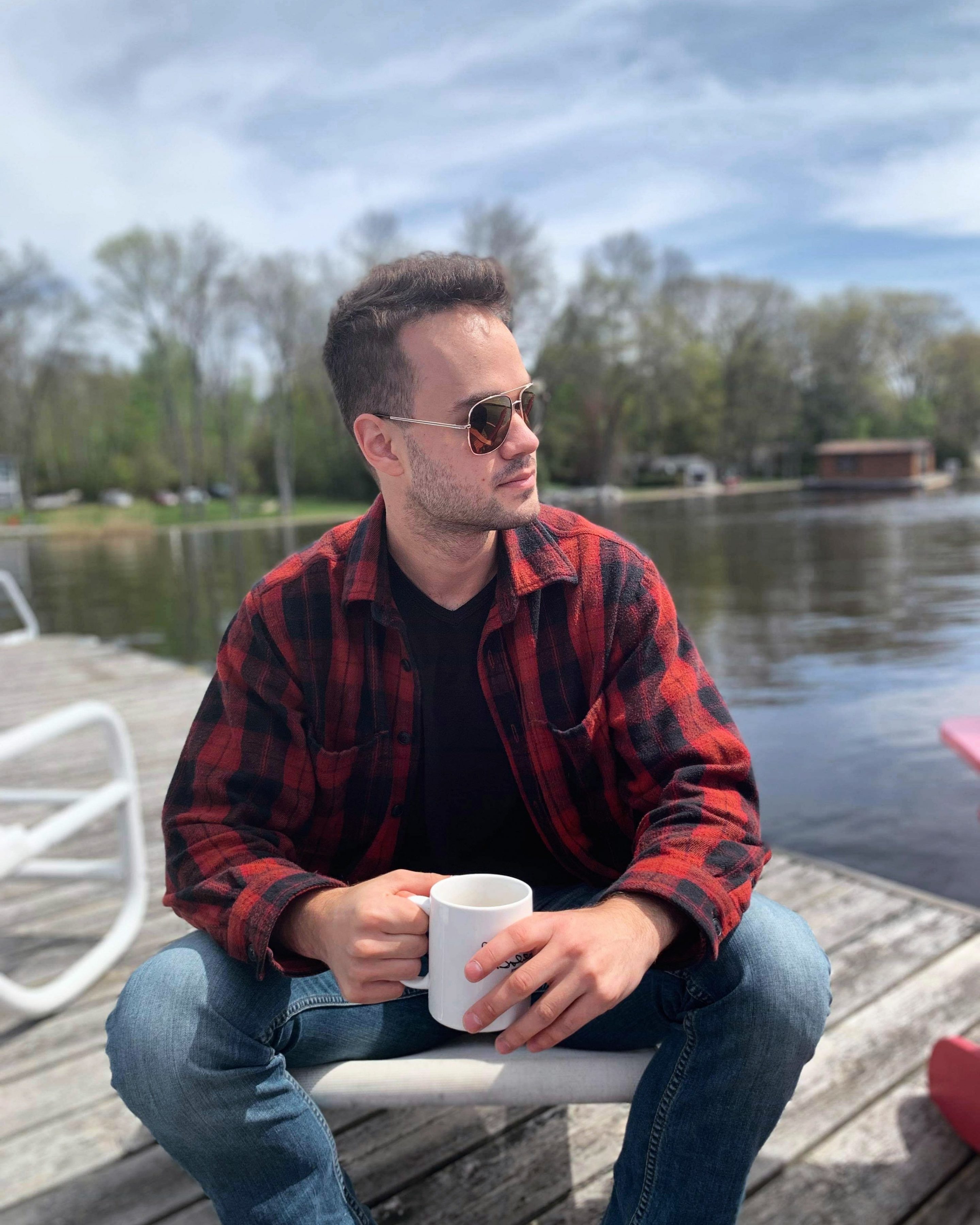 Tom is a 22 year old recent college graduate from Canada with a passion for side hustling, passive income, and marketing. This Online World is all about providing people with honest ways to make and save more money by using technology. To learn more about Tom, read his About Page!
Summary
Reviewer
Review Date
Reviewed Item
Author Rating