One of the pillars of This Online World is finding fun, interesting, or weird ways to make money.
My entire blog started out because I learned about phone farming, and I've dabbled with a bunch of other creative ways to make money like opening a POD Etsy shop or other online money making ideas in general.
The most popular gig economy platforms can also be a great way to bring in additional income, but perhaps driving for Uber, delivering packages, or completing tasks in similar jobs isn't your cup of tea.
So, in order to appropriately show my appreciation for some more out-of-the-box ways to make more money and mix things up, I decided to compile a list of weird ways to make money.
Let's get to it!
Weird Ways to Make Money:
Some of the most unusual 'hustles' involve selling or offering a variety of products/services that you might not normally think of when brainstorming creative ways to make money.
I just want to state: I wouldn't use most of these ideas myself, but hey, here they are!
Sell Plasma:
Selling your plasma is actually a money making idea that is referenced pretty frequently on Reddit, and the process is quite simple.
Generally, selling your plasma pays out between $30-$50 per visit depending on how much you weigh (because this influences how much plasma you can give). Sessions also take roughly 1-1.5 hours, and the entire process is not very pleasant judging by what I've read on Reddit.
However, if you are looking for a weird way to make some money and don't mind medical procedures, donating plasma might be an easy way to net an extra $100-$200/month after a few visits (or possibly more, since some private clinics allow for 2 donations within a 7 day time period).
Keep in mind, you generally have to be 18 years or older to donate plasma and various health conditions or even tattoos/piercings might void your eligibility.
Sell Hair:


While donating long amounts of hair to charities is pretty common, you can also sell your hair online to make extra money!
On websites like HairSellon.com, if your are willing to cut and sell 6 inches of your hair or more, you might be able to make some easy money.
Judging by the current marketplace listings, long amounts of healthy hair can easily fetch over $200. If you're planning to have a drastic change in hairstyle in the near future, this might be a nifty way to make some extra money.
Most sales come from women, obviously, but there are some listings from men with longer hair styles on HairSellon as well. As long as your hair is healthy you should have some chance to sell!
Sell Sperm:
Sperm donors aren't compensated in Canada, but in the United States, being a sperm donor is definitely a weird albeit effective way to make money.
Ethics or personal opinions aside, here's the thing about donating sperm for money from my understanding: the chances of being accepted as a donor are incredibly slim.
In short, donors basically need to have stellar genes, which makes sense. Height, weight, looks, smarts, and a variety of other factors all matter. The online application process for many donation centers are quite extensive, and you will also have to provide proof of education and a bunch of other personal information.
This Reddit thread breaks down the process of becoming a donor, but in short, this is an unlikely but odd way to make some extra cash if you're comfortable with the ethics of all this.
Rent out your Friendship: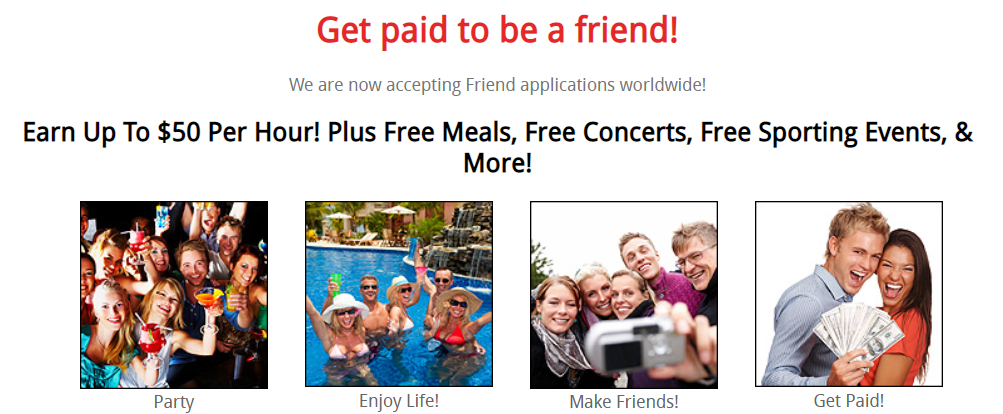 This one really isn't my cup of tea, but hey, there's no way I couldn't include this idea for my list of weird ways to make money.
It is actually possible to make money by renting out your friendship/time on websites like RentAFriend.com.
Rent A Friend connects people with people for the purpose of 'platonic friendships,' and friends can earn $10-$20 per hour while enjoying some (hopefully) decent company and whatever else is entailed in the hangout session (dinner, movies, weddings, etc.)
I was skeptical that people actually use services like this, but a quick search of the friends available in Toronto actually returned a surprising amount of results. I imagine it's hard to consistently earn from websites like Rent A Friend unless there's a lack of 'inventory' in your city (or unless you really stand out from the crowd), but perhaps it is possible.
Personally the thought of forcing niceties for several hours with a complete stranger (who might be rather odd) isn't for me, but I welcome all kinds of side hustle ideas on This Online World!
Flip 'Freebies' from Local Classifieds:

No one likes taking things to the dump.
It's expensive, moving furniture or bulky items is irritating, and taking time to sell off your assets can be difficult if you're in the middle of a move.
Because getting rid of things can be so frustrating, there is always a plethora of free stuff available on local classifieds or buy and sell groups. A quick search in my area brought up a bunch of free patio furniture, sports equipment, sofas, dining sets, and other odds and ends mostly in pretty good shape.
As you can tell by this Reddit thread, this is really more of a fun side hustle idea if you're into fixing things up or the whole flipping process in general rather than a major money maker.
However, you never know when you'll strike it big and find a decent piece of furniture or some other find than sells quickly for a simple $50 or $100.
Just remember: be selective.
A housemate of mine once brought back some free golf clubs he found on Kijiji and needless to say, they sat in our garage for the next year and a half. Just because something is free doesn't mean you can flip it!
Literally Just Stand in Line: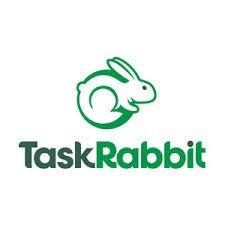 The internet blows my mind sometimes. Did you know that with platforms like Task Rabbit, you can actually make money by just standing in line for someone? I certainly didn't.
If a new iPhone is dropping or tickets for a special event are going on sale, human hordes are bound to crowd the streets in busy cities, and some people are willing to pay a decent hourly wage to avoid the trouble of waiting around.
If you have nothing better to do and need some easy money, I'd suggest taking a look at Task Rabbit!
Embrace the Weird World of Fiverr:
When it comes to weird ways to make money, nothing really comes close to the world of Fiverr.
Fiverr is a gig marketplace where freelancers can offer a variety of services for as low as $5USD, and the platform is definitely a quick and simple way to buy services without having to go through more professional websites like Upwork.
Some of the most popular gigs on Fiverr include marketing work, programming, graphic design, or other services businesses might outsource, but Fiverr also has plenty of weird offers as well.
Just check out a few of the ones I found after a quick bit of searching: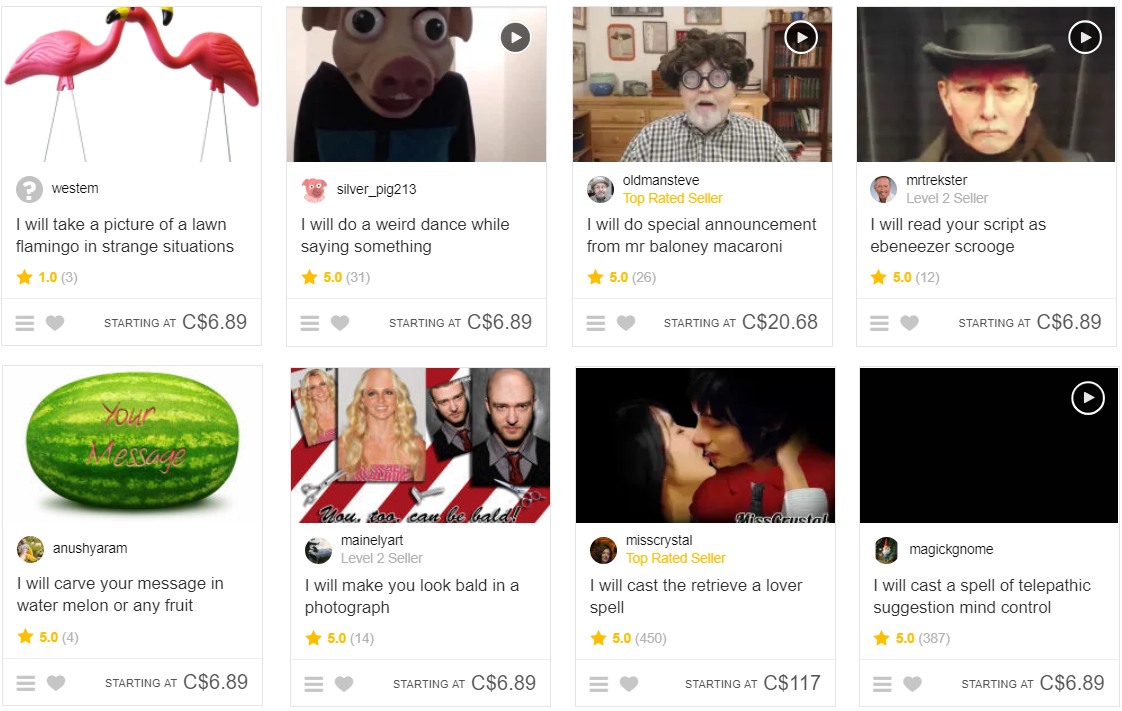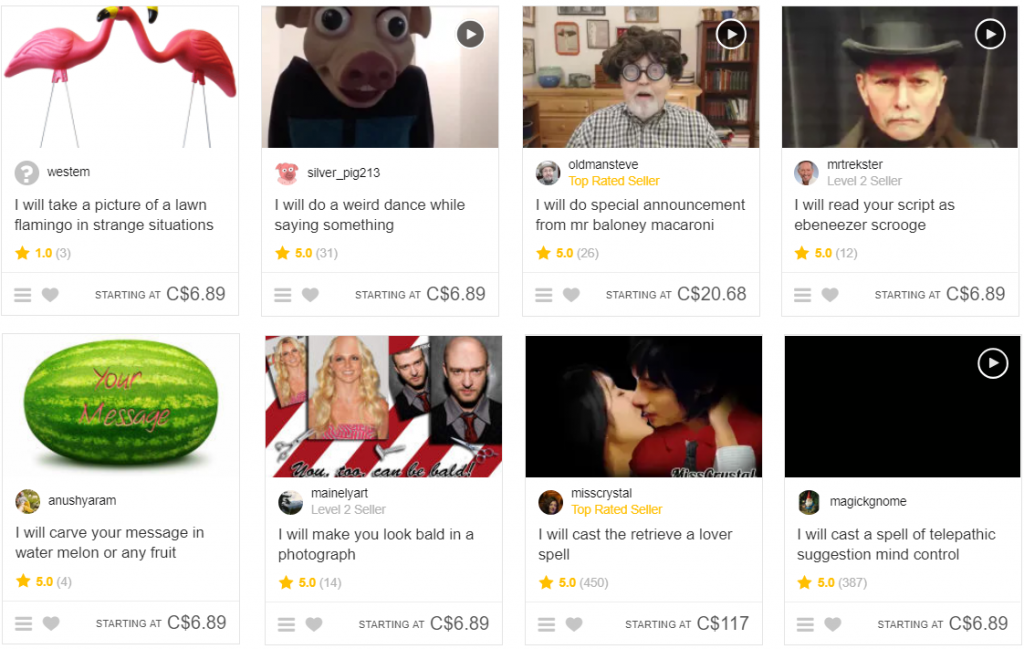 Yes, there are actually people on the internet making money by carving messages into fruit or reading announcements as Ebeneezer Scrooge.
Or, even more mind boggling, there are people making money by selling 'love spells' for $117 a pop! And they have more than 450 star reviews, which means they have made thousands of dollars!
Pretty incredible (albeit shady).
Sell Niche Courses on Udemy: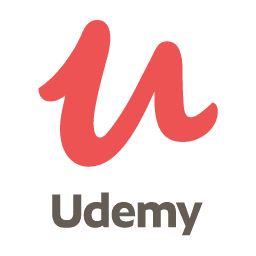 Udemy is a popular website where users can learn practically any skill by purchasing course material, and the platform also allows for educators to profit from creating and selling their content.
Udemy is very popular for learning skills like coding, SEO, mathematics, website design, or other useful skills, and courses are often as cheap at $14.99.
However, while some of the most popular Udemy courses are saturated with material and have more than enough educators to go around, some creative Udemy teachers have found their own niche content to promote and have made a killing.
Just take a look at these Udemy courses on witchcraft:


While I think buying educational resources on how to become a witch is an absurd way to spend your money, other people clearly don't share my opinion.
At the end of the day every niche will have an audience size, and if you can get creative and find an under-served market, you can successfully make money online.
Voice-Over Work & Script Reading:
While it might be difficult to land a job as a professional voice over artist, websites like Fiverr once again provide people with some rather creative ways to make money.
If you have an accent, an interesting voice, or can create your own persona (like the Ebeneezer Scrooge guy), you might be able to market your services and record sound clips for money.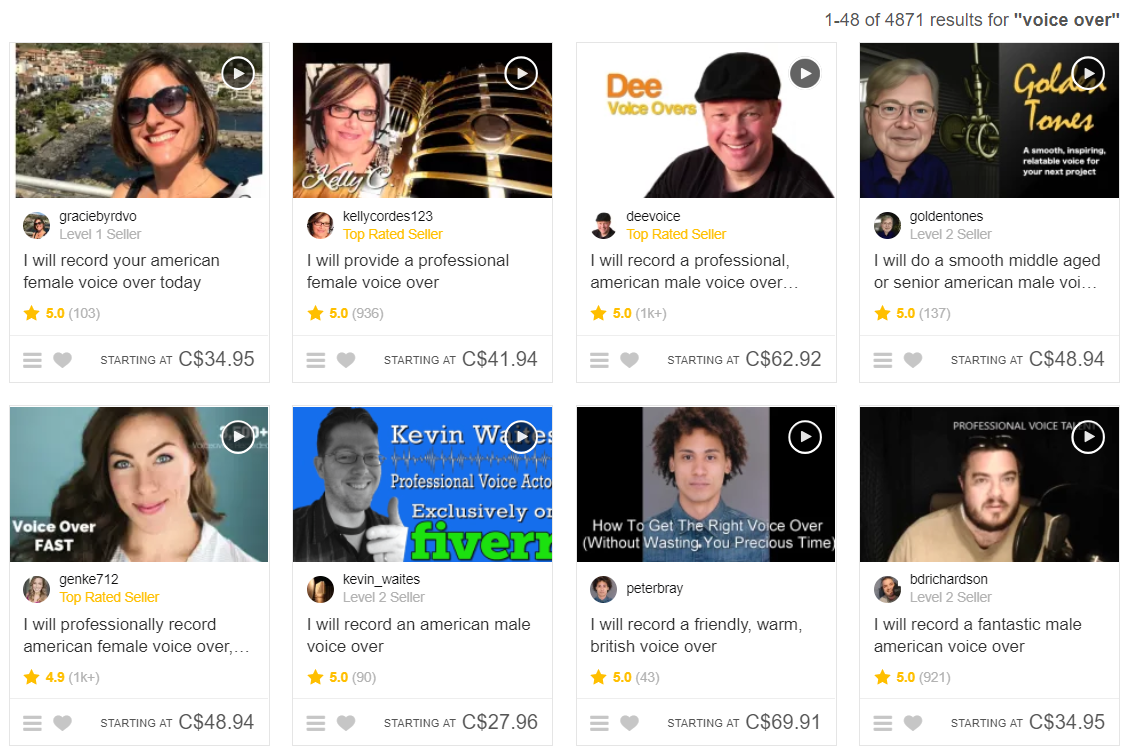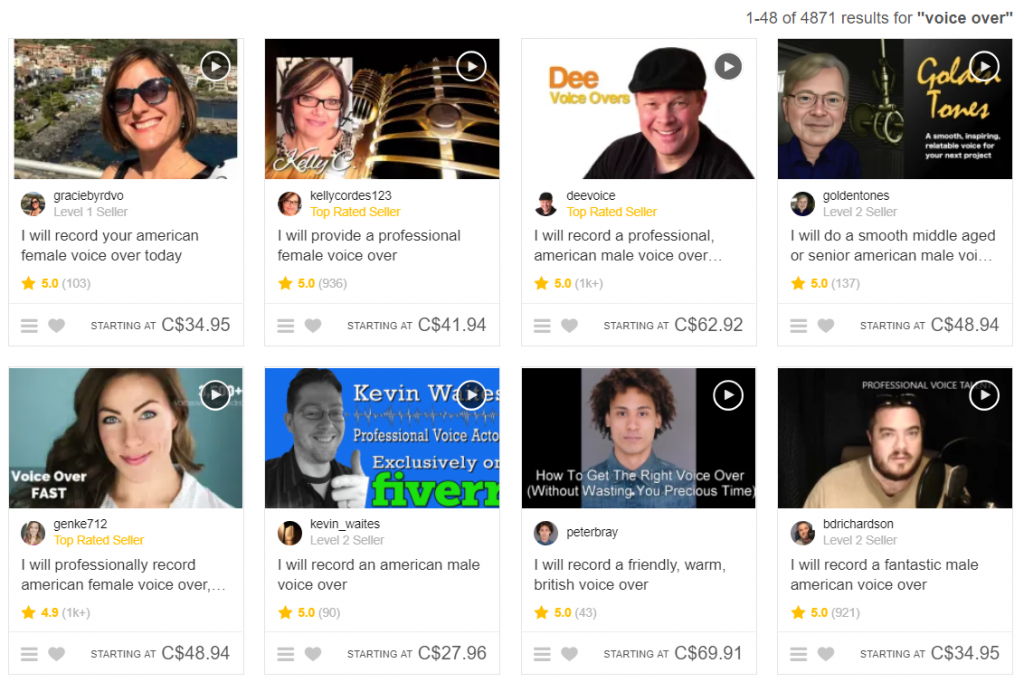 I find the idea of the 'pay me $5 and I'll record 30 seconds of me saying something' concept to be pretty appealing, because if you have enough business, your hourly rate would actually be quite impressive. Besides, even if business isn't booming, gigs like these are the easiest $5 I've ever heard of.
Join Medical Studies or Survey Groups:
I remember there was a medical research request going around my campus for a while that required participants to literally just eat 2 apples a day and do some blood work every once in a while.
The gig paid well, too. For 2 months of eating fruit and giving some blood, I think they were paying out $300 (plus, who doesn't want free fruit?)
I didn't qualify for the study, but if you live in a major city, chances are there are multiple medical studies occurring at this very moment. If you qualify for them and consent to whatever they require, being part of a study could be a great option to earn some extra cash.
You can checkout Clinical Trials to search a database of thousands of ongoing research studies across the world!
Write Fake Reviews for Money: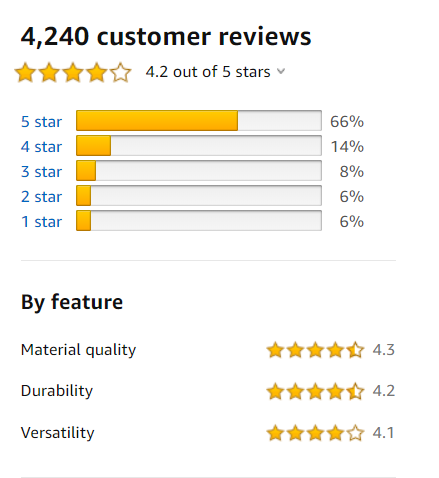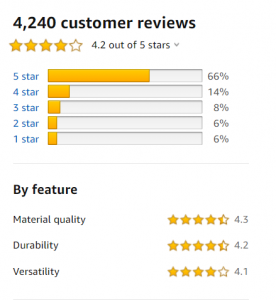 While I have some ethical qualms about this money making idea, the practice is actually more common than you might think and a significant problem for ecommerce and review integrity in general.
From Amazon listings to local businesses on Google My Business, fake reviews are everywhere. Hell, this guy even became the number 1 rated restaurant in all of London according to Yelp and he didn't even own a restaurant.
Businesses are willing to pay to beat their competition, and there are plenty of ways to offer review writing services for cash.
You can turn to markets like Fiverr once again, conduct your own cold-calling or emailing, or even write things like software reviews for websites like Capterra in exchange for gift cards (this one requires some decent writing/paraphrasing abilities).
Additional Weird Money Makers – Illegal Side Hustles:
Once again, while I don't support many of the hustles in this list of odd money making ideas, I do find them fascinating nevertheless and I enjoy researching them/writing about them.
Some of the weirdest money making ideas I have heard of also happen to be illegal, and I can certainly see why.
Click Farms:
While I've made money through advertisement fraud with phone farming for more than a year, phone farming isn't illegal and I never broke any terms and services of the reward apps…it's just a system where advertisers are willing to pay for the lowest quality of mobile traffic for whatever reason.
Click farms, in contrast, are definitely not kosher.
Click farms are essentially collections of devices that can spoof sessions to generate thousands of clicks that appear authentic, when in reality the clicks are all coming from the same network and not a real user.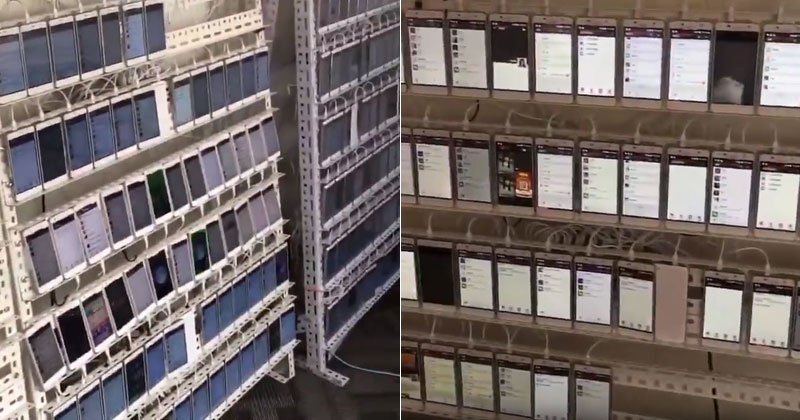 Click farms make money by selling their click volumes to people for various purposes. There are fake Instagram farms that boost follow counts and likes, bot networks that attempt to defraud advertising networks to make money, and even click/view bots that boost video views on Twitch or YouTube.
I imagine you'd have to have some pretty serious tech knowledge to actually develop a click farm that could go undetected, but individual users can easily add their devices to auto surfing websites/apps that effectively integrate their computer or phone into a network of faked clicks/impressions.
Very peculiar from a tech side of things, but definitely illegal.
Video Game Gold Farming: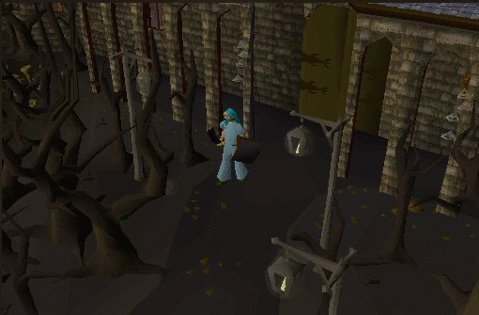 I've covered ways to make money by playing video games before, and even touched upon the concept of virtual gold farming very briefly.
Farming gold in online video games in exchange for real world currencies has been around since video games have been competitive. From Runescape to World of Warcraft, people have consistently sold virtual currency to make money, especially in countries where the value of a few U.S. dollars means there can be food on the table.
Gold farming isn't the most overtly illegal side hustle idea, but selling virtual game currency for real world money generally breaks the terms of services of every game. Additionally, gold farming has also been linked to activities like money laundering, which is most certainly illegal.
Part of me actually appreciates and respects this side hustle idea. Recently, there has been an influx of Venezuelan gold farmers in the online multiplayer game Runescape, who are turning to gold farming in order to make money amidst their broken economy.
I think this just goes to show that humans are certainly a resourceful bunch, especially when survival is on the line.
Crypto-Jacking:
I'm not a huge proponent of cryptocurrency or Bitcoin, but the crypto-craze over the past year definitely presented a variety of creative ways to make some extra money.
While day trading crypto or using bots for arbitrage purposes might have been 2 methods people used to make money during the crypto surge, hackers also made money by infecting browsers with mining software that stole computer resources to mine various coins.
Computers usually become infected through phishing emails that download a mining code or when a user visits a website that causes the browser to act as a miner in the background. An infected computer will then proceed to use resources to mine cryptocurrency in the background completely unbeknownst to the owner.
I highly recommend reading this article on what cryptojacking is and how to prevent it to keep your computer safe!
Romance Scams:
Income lost from romance related scams reached surpassed $24 million in 2018 according to ScamWatch.gov,  and with the prevalence of online dating and adoption of technology, I fully expect this number to continue to increase in 2019.
Romance scams are a dime a dozen these days; I practically get a Facebook/Instagram friend request from attractive stock photo models every other day at this point.
While the platform or approach many of these scammers use vary, the end game is more or less the same: make the victim feel wanted, establish a connection, and then invariably ask for monetary assistance at some point or find out enough personal details to commit some sort of fraud.
Frankly, I find this sort of scam to be absolutely fascinating because of how much they prey on human emotion, and also quite hilarious. I mean, who would have thought that the stunning Svetlana from Sweden was actually some greasy dude living in a basement in Somalia (why Svetlana, why!?)
Anyway, definitely an illegal money making industry, and a considerable one at that!
Final Thoughts:
Personally, I like making money using some fairly established methods.
A 9-5 job, starting a blog to make money, or developing passive income streams have taken most of my time over the past year.
However, I recognize the fact that sometimes money is tight and people have to think outside of the box to make ends meet.
If you are ever strapped for cash and looking for some creative ways to make additional income, I hope that some of the ideas on this list (except the illegal ones) provide some inspiration!
Catch you guys in the next post,
Tom.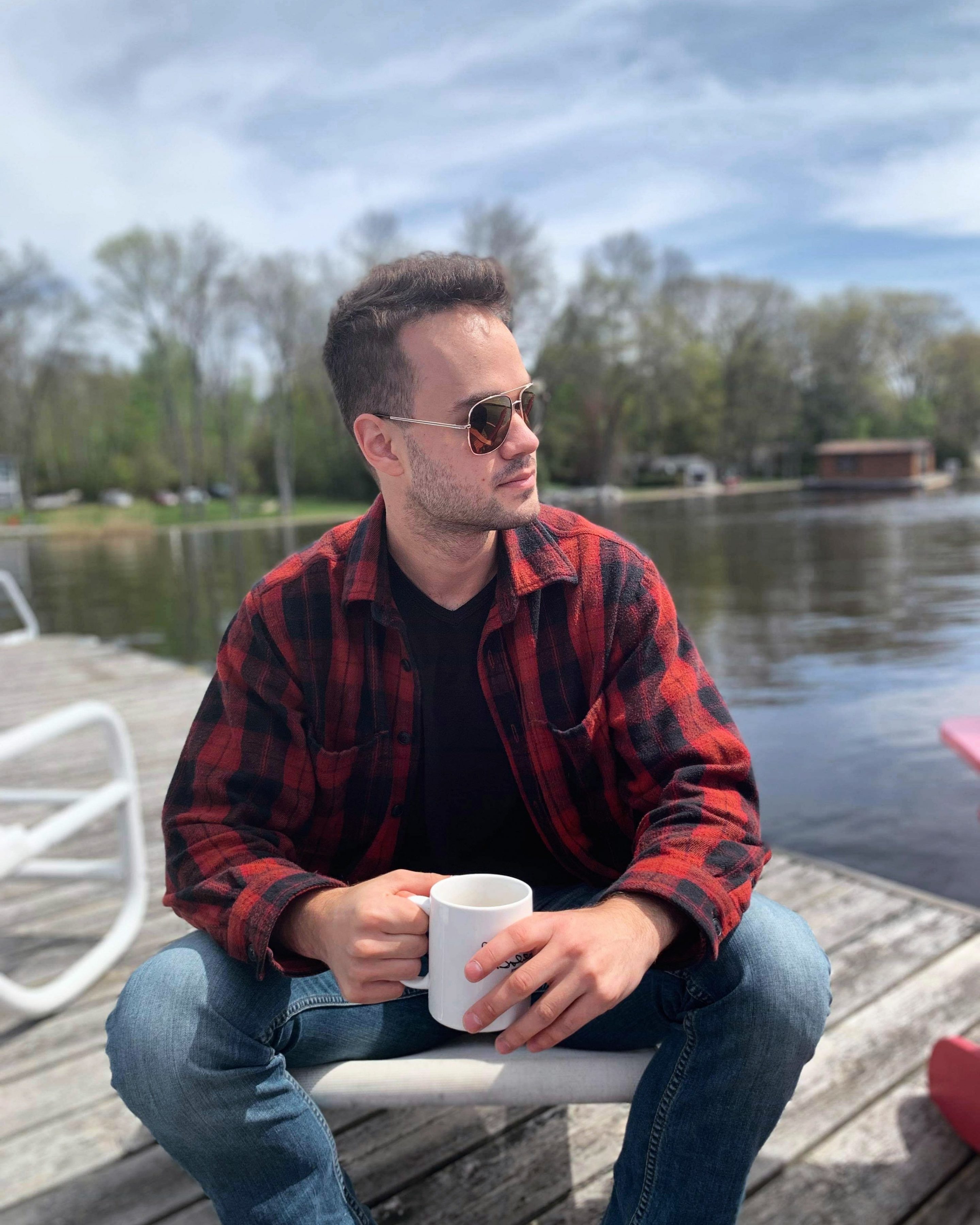 Tom is a 22 year old recent college graduate from Canada with a passion for side hustling, passive income, and marketing. This Online World is all about providing people with honest ways to make and save more money by using technology. To learn more about Tom, read his About Page!