I've always been a fan of receipt scanning apps or cash back apps because they provide relatively straightforward ways to save money.
I've been using apps like Drop for ages to receive cashback on a few select stores, and I have even covered popular cash back apps before on This Online World.
However, while there are cash back titans like Dosh that have a valuation of $300M and have paid their users more than $50M since inception, a lot of reward platforms fall short due to one critical problem: it can sometimes be impossible to ever redeem rewards.
Sure, reaching a $20 cashout threshold might seem easy at first, but I've come to find most apps make it immensely hard to earn the final few dollars to reap the benefits of your work.
Seeing as I have finally been able to cashout with Caddle, one of the newer rewards platforms out there, I thought I would write a quick Caddle app review to share this nifty app with all of my Canadian readers! Besides, everyone loves free money and the chance to save!
Let's get to it!
What Is Caddle?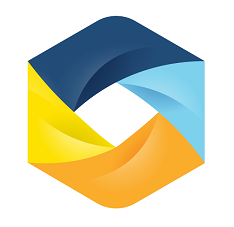 Caddle is a free app that is available on IOS and Android where users can earn cash back rewards for purchasing specific products, answering surveys, writing reviews, and completing an assortment of other offers.
Caddle is only available in Canada right now, so keep this in mind.
The Caddle App actually appeared on Dragon's Den, the Canadian equivalent of Shark Tank, where the company received $125,000 for 28% of the company from a group of 4 investors. Pretty neat!
Like other cash back apps, Caddle is designed to help brands effectively market to consumers and to understand their purchasing behavior, while simultaneously rewarding consumers for selling their data.
It's a win-win scenario, but how does Caddle actually fare in practice?
How Does Caddle Work?
The Caddle App is very straightforward. Simply download and signup for the app, and then browse a selection of offers or surveys within the main interface of the app.


When you complete an in-store offer, you can use the Caddle app to take a picture of your receipt which can then be uploaded into the system for proof of purchase.
Once your receipt is uploaded, your cashback reward amount will be held until the purchase is verified/reviewed. This process doesn't take very long, and I've generally had money approved for my account balance within 24-48 hours or less.
For survey offers, the rewards (generally $0.05-$1) are almost always instantly approved, and you will find that Caddle puts out a decent number of surveys every week.
Some Caddle offers will require a bit more work, like screenshotting an email confirmation or that you have followed a specific brand on social media, but these offers also get approved fairly quickly from my experience.
What Offers Are On Caddle & How Much Can You Make?
One of the things I dislike about many receipt scanning apps is the lack of earning opportunity.
Apps might start out by offering cashback on everyday purchases, but over time I've always found the necessities drop out and the only offers left are junk food or medications.
The one thing I like most about Caddle is that there are always new offers and they actually include a fairly decent range of normal products: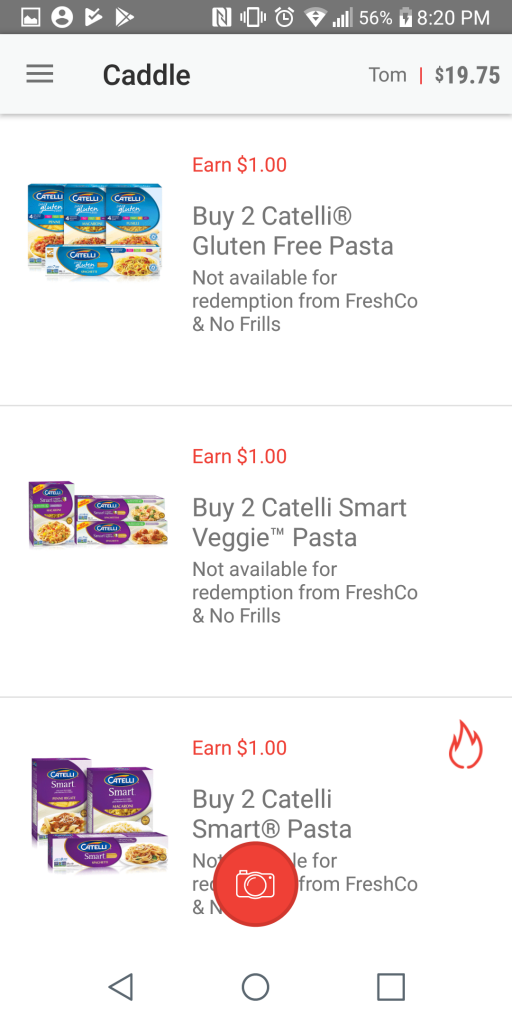 You'll find that many cash back rewards are for $1 or more, which is actually quite decent since many of the items aren't even that expensive (i.e. frozen pizza, pasta, etc.)
Additionally, the Caddle app also lists plenty of online offers or offers that payout in higher amounts, like $5 or even $10 cashback.
Coffee supplies, vitamins, baby products, toiletries, cleaning supplies, or special product promotions on Amazon or other marketplaces tend to pop up with some pretty awesome rewards.
I recently saw a Caddle offer for something like $15 cashback on a 12 pack of Beef Jerky from Amazon or something like that. These kinds of offers are great because if you get about halfway to cashing out, you can probably redeem an offer like this and boom, you just got yourself free jerky, more or less.
There are even beer and wine offers on Caddle on occasion, and overall, I find the variety of offers to suit my needs better than apps like Checkout 51.
So, how much money can you make?
Well, I installed Caddled almost a year ago at this point, but I've been fairly inconsistent with redeeming offers or answering surveys.
If you use a Caddle referral code (you can use TOM43988) you earn a $1 bonus, and answering the first few Caddle surveys to build a consumer profile can give you a few extra dollars as well right off the bat.
Sprinkle in some surveys and 1-2 larger offers and you will probably hit $20 to be able to cashout. Plus you can always refer some friends and family so each user earns $1.
I plan to be more diligent with using Caddle now that I've actually cashed out, and I think it is reasonable that the primary grocery shopper in a household can cashout between 1-4 times per year by using this app!
Extra reading – checkout these 15 free passive income apps for even more ways to save!
How Do You Get Paid?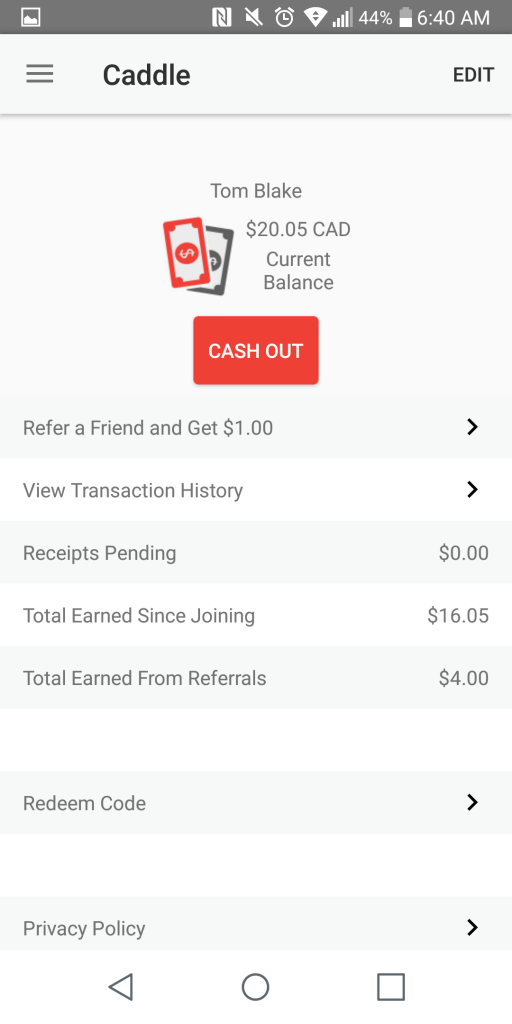 Caddle pays via check, and checks are said to be mailed within 5-15 business days.
Just remember, you need to have $20 or more to cashout!
Caddle Payment Proof
As mentioned, once you cash out with Caddle, you should expect a payment to come in the mail within 2-3 weeks.
I can confirm that Caddle does pay on time, and this app is certainly not a scam: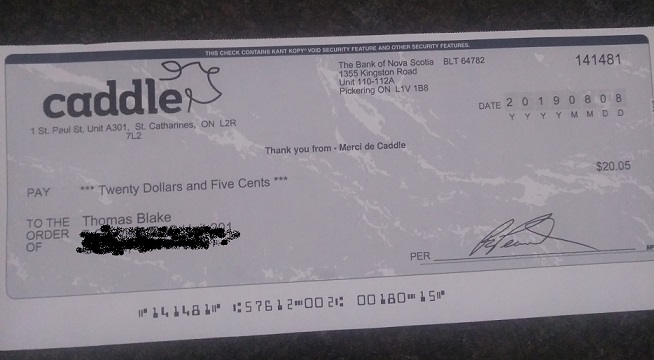 You won't get rich by using Caddle or any other cash back app for that matter, but at least this is a decent way to save some money every year with minimal effort.
Caddle Pros, Cons & Alternatives
Caddle is definitely my favorite cashback app, and there are quite a few pros to using this app, including:
A wide variety of offers (with staple products as well, like pastas, cooking sauces, cooking oil, etc.)
Frequent and high paying online or in-store offers.
Frequent surveys that take under 1 minute to complete.
A decent referral system.
Other opportunities to earn besides buying food (i.e. following brands on social media, subscribing to online streaming services, food delivery deals, etc.)
As for cons, there are only a few I can think of:
Caddle is only available in Canada.
While Caddle has a variety of offers and refreshes them regularly, the actual depth isn't always there.
As for apps like Caddle you can also use to save money, I would probably suggest using Ibotta or Checkout 51, especially if you live in the United States.
Ibotta isn't available in Canada unfortunately, but I also use Checkout 51 and I'm about halfway to cashing out now thanks to some larger medication rewards. Still not my absolute favorite app, but it does the job I suppose.
Anyway, I hope my Canadian readers have enjoyed my brief review of Caddle!
Hopefully you end up saving $20-$80 over the course of the year by trying out this app! No promises, but I think you guys will find this is one of the better cashback/receipt scanning apps out there!
If you want to help me out and earn an extra buck, don't forget to use my Caddle promo code TOM43988 when registering!
You can also checkout my post on extra ways to save money for even more easy ways to save money!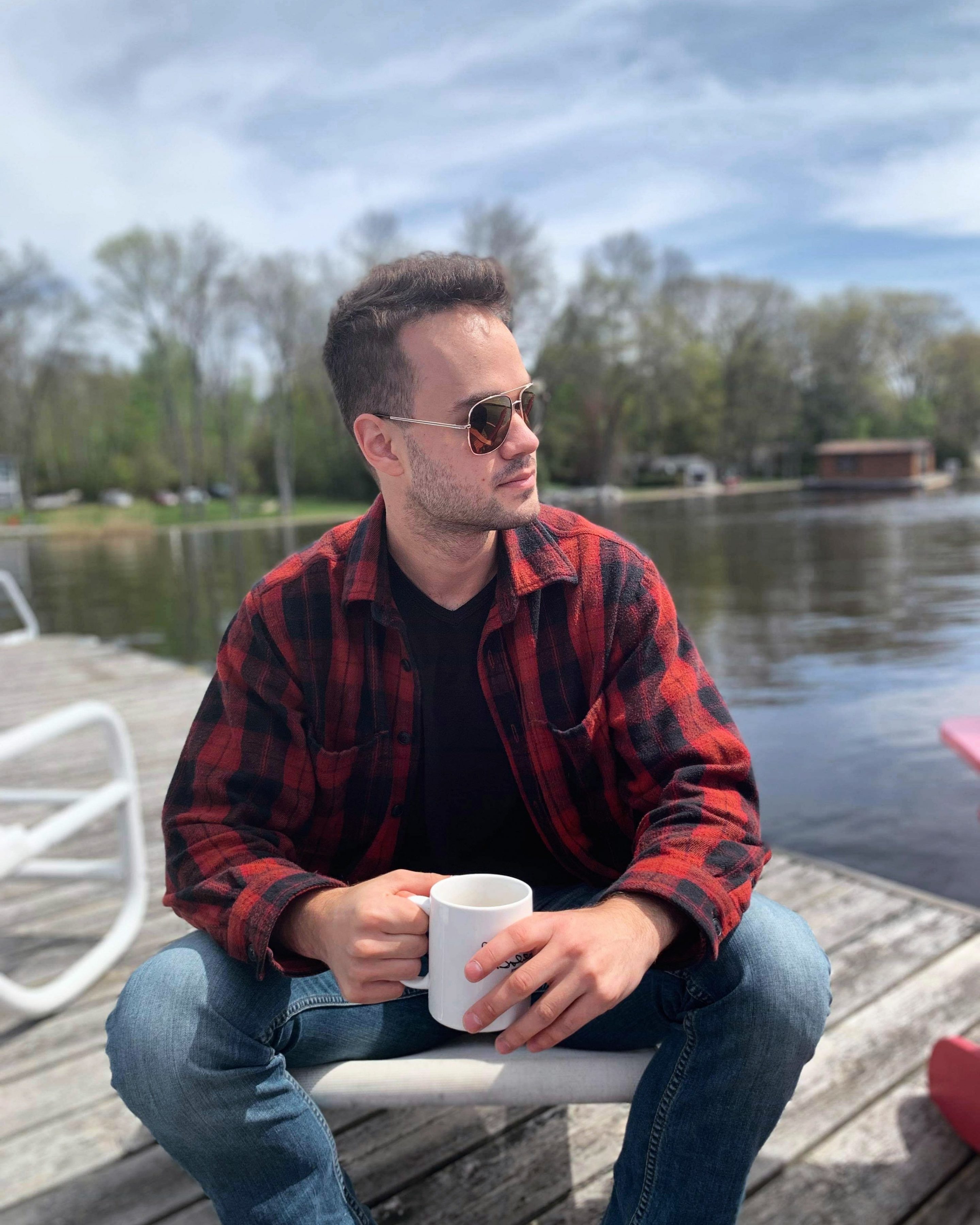 Tom is a 23 year old recent college graduate from Canada with a passion for side hustling, passive income, and marketing. This Online World is all about providing people with honest ways to make and save more money by using technology. To learn more about Tom, read his About Page!
If you're interested in freelance writing services or want to partner with This Online World, please visit Tom Blake Digital to get in touch!
Summary
Reviewer
Review Date
Reviewed Item
Author Rating





Software Name
Software Name
Software Category