Organic traffic has always been my main goal.
Since starting This Online World, content promotion via social media or driving referral traffic has been a significant weakness of mine.
I can write content, Google/Quora do a decent job at driving people to it, but I definitely struggle to effectively use social media to promote my blog.
Considering this weakness of mine, I am incredibly excited to now share a guest post by Shruti Pangtey from Indian Girling that tackles the issue of how to actually use social media if you're a blogger or business owner.
So, if you're looking to learn some awesome social media tips and strategies that you can use to promote your blog and grow an audience, this is the post for you (I'll definitely be taking some notes)!
Extra reading – see how Shruti recently became a full-time travel blogger!
Effective Social Media Tips To Grow Your Blog's Presence & Engagement:
By Shruti Pangtey from Indian Girling
As a rookie blogger or content marketer, many of us make the mistake of not cultivating and building a strong social media presence or going about this process the wrong way.
A year after casual blogging on a free non self-hosted platform (another rookie mistake), I realized I needed to have another channel to communicate with my blog's readers.
This made me finally launch my official facebook page, which has in roughly 8 months grown to 1850 followers. I also changed my personal Instagram account to a business one and now have roughly the same following there as on Facebook. Pinterest alone now accounts for close to 25% of my total monthly traffic in just a few short months.
Social media now accounts for about 70% of my blog's traffic.
Now, I'm going to tell you how you can build an audience using the same growth strategies and social media tips that worked for me.
1. Create an Official Facebook Page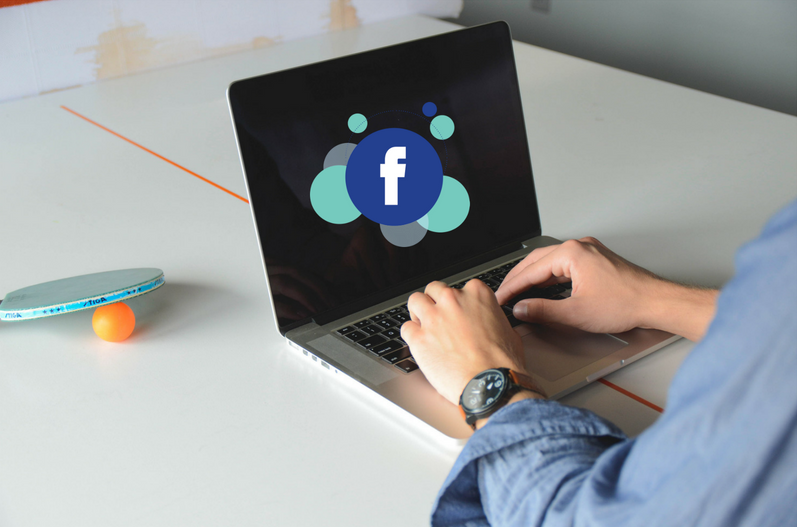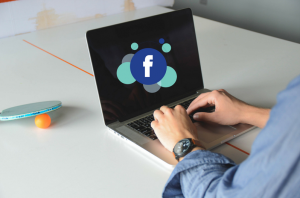 Facebook is not only the world's largest social media platform, it is also a very effective advertising tool. Depending on your blog niche, you will eventually need to have a dedicated audience on Facebook to help you either grow your traffic or sell your products or services.
At some point, you have to start thinking of your blog as a business. And what business in today's world and age, doesn't have a page on Facebook? Let alone an online blog that may directly or indirectly one day sell content, products or services.
Here's what an official Facebook page can do for you-
Show social proof

– If 100 people like the same post, chances are it will show up in a lot of these people's feeds, thus spreading your page and blog to an audience you may not necessarily be reaching.

Get your content to go viral

– Every blogger's dream. How will your content go viral if its not visible? And how will it go viral if its visible but not shareable? Think about it, how many times will you open a blog, copy the URL and then share it on your wall on Facebook. Instead, you'll share something that's already present on Facebook. Why? 'Cause it's easy. And we all love easy shit.

Help you to regularly engage in your audience

– It's easier to make announcements or share your latest posts with people who already have shown an interest in liking your content and have liked your Facebook page. Not to mention, it keeps you fresh in the mind's of your most loyal readers and followers.

Get you hired for a job or land a side gig

– Many marketers will first stalk you on social media, contact you to assess your response and only then go on to a full proposal via email. Whether this be a sponsored post, a social media collaboration, a give away or even a contest, you need to develop an official Facebook presence to start expanding your network.
2. Start a Facebook/LinkedIn/Pinterest Group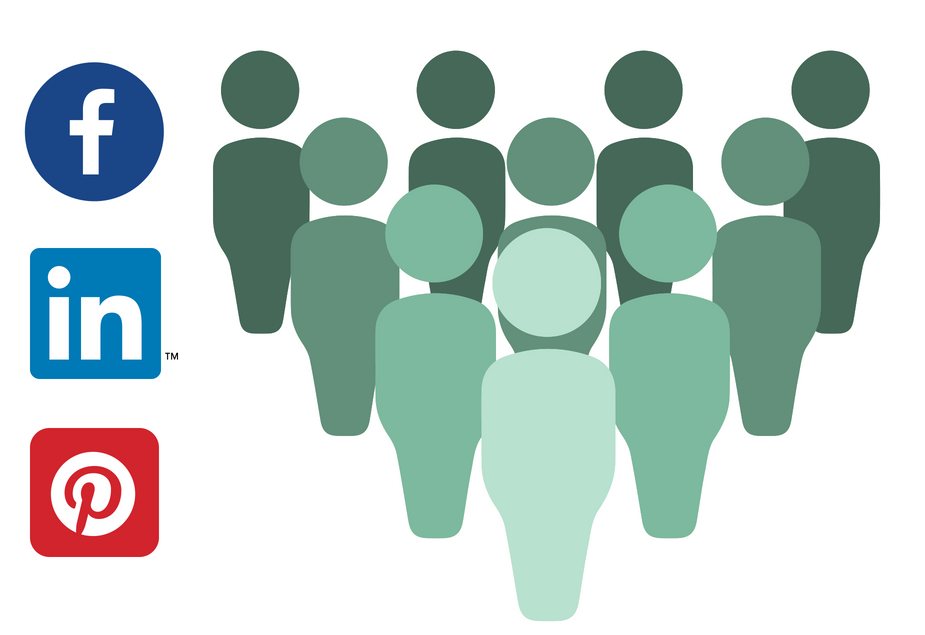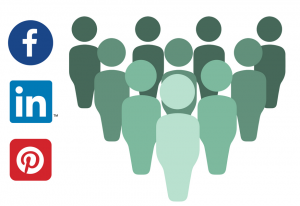 After creating basic social media pages, you can go one step ahead to actually start and run a focused group on at least one platform where the majority of your audience is active.
If you are a travel, lifestyle, fashion, education, finance or technology blogger, you could do well to run a group that is related to your official Facebook or Pinterest page. If you're a business blogger, start-up company, or a business, you'd likely benefit from having a group on LinkedIn.
I started with my own Facebook group spun off from my Facebook page and even though it's small it has provided me with so many ideas and much needed engagement.
Why should you run a social media group?
Better Engagement

– To have a platform to talk directly to your most engaged and reliable audience. People can post their own worries or questions giving you plenty of ideas on what to write about next. Additionally, this is a great place to drop a relevant link.

To convert visitors to subscribers

– If you have a plain Facebook page, there is only so much you can do to convert your visitors into email subscribers. If you have a group, you can ask invited members to fill relevant questions, one of them being if they would like to receive your tips. 5 times out of 10, they will say yes. Voila! You've gained new email subscribers, and with minimal effort.

To get followers or trade blog shares– A group is a safe and generally reliable place of like-minded people. Let's assume you run a group for content marketers. They all probably have a website they want to promote. Once your group is large enough, you can run special promo days for following each other, trading comments, blog-shares, feedback or even just talking about mutual goals.
3. Use Pinterest Like a Pro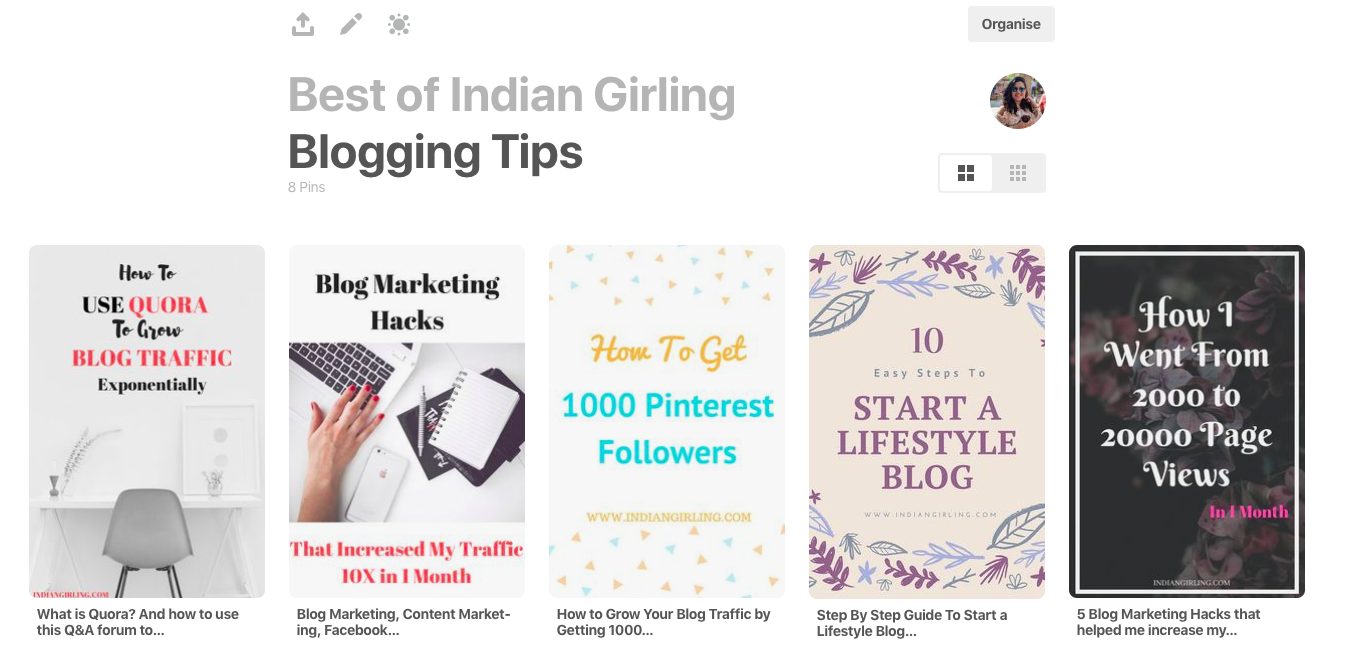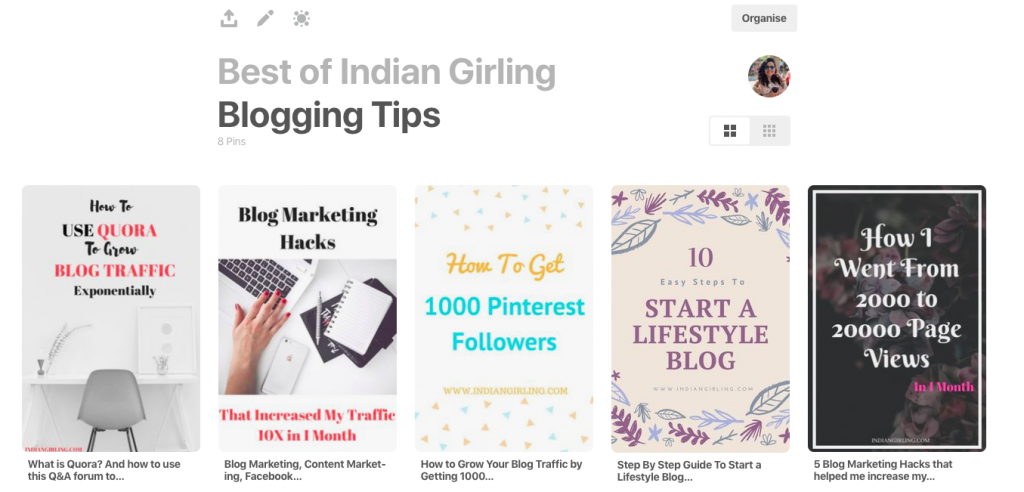 Pinterest is an incredibly valued tools by many bloggers and marketers across the globe.
Additionally, Pinterest is also one the most underrated social media discovery tools.
On Facebook, the primary motive of users is to connect with their friends or family. On Twitter, the primary motive is to connect with local news or trending events. On LinkedIn, you're there to hire or get hired.
On Pinterest and Pinterest alone, you're there to look for content or blog posts that solve your specific problems or cater to your interests. You find a pin that looks like it's worth clicking, and you directly end up on the blogger's website.
You also get suggestions in your feed and content based on the kind of pins you interact with and the people you follow.
What more could a content marketer dream of?
Some of the ways in which you can benefit from Pinterest are by:
Creating a business profile

– Do not commit the rookie mistake of creating a personal profile. With a business profile, you can access your pin analytics, activate rich pins (includes post title and description), join group boards and track which of your posts perform the best!

Joining group boards-

If you have 1000 followers and a group board has 50,000 followers, guess where you should be present to get maximum re-pins? Joining group boards can be hard, but you can send a few requests each week hoping for a 25% chance of acceptance. Joining group boards that had 1 million followers, skyrocketed my pin's impressions dramatically. You can imagine why.

Designing stellar images and Pinning your best content-

No one wants to click ugly pins. Pinterest is still a heavily visual platform and will continue to be in the near future. This means designing clear and catchy pins with a solid link to your blog post as well as a SEO optimized description will have you win half the battle already. You can use

Canva

to design Pinterest graphics for free.
Extra Social Media Tips:
Now that you've created all these social media accounts and groups, how do you go about making sure you don't drive yourself crazy and actually get the maximum return on your social media strategy?
Here's how:
Invest in the platforms that work the best for you and drive results:
It's safe to say that you are one person with 24 hours in a day. You cannot do it all.
But you don't have to.
If you focus on creating content, followers and converting them on subscribers on 1 or maximum 2 channels, you'll be much better off.
It's better to have 5000 followers on 1 platform, than to have 1000 each on 5 platforms. Why? It saves you time and allows you to develop a truly strong presence on 1 platform rather than diluting your reach.  
At an advanced stage, when you can afford to hire a social media manager (which if you can you probably don't need to read this article), you can worry about expanding your presence in every new social media channel possible. Until then, stick to the big guns that are most relevant to your blog or brand and that bring maximum engagement.
I'm a travel and lifestyle blogger so my order of preference is somewhat like this:
Pinterest – Content ideas, traffic generation | Post Schedule: Daily
Facebook– Automated posting, contests and group engagement for support | Post Schedule: Daily
Instagram– Pictures only to build the visual side of my blogging presence. | Post Schedule- Weekly
I also have Google+, Twitter and LinkedIn accounts, but for the life of me, I can't do it all. So i focus on my top channels and choose to devote time based on the return I get for the same.
Optimize the time you post depending on the platform:
An official or business social media account will let you know where your audience is from, their demographics and even what is the best time and kind of posts. This is pure gold. Use it.
Do not go about randomly posting at any time of the day whenever the mood strikes. By all means you can, but this will not help you get the best traction.
I personally post on Pinterest based on Los Angeles time, because 30% of my audience comes from this city alone, and the majority sits in North America. Makes sense right?
On Facebook, where the majority of my fans are from India or Asia, I prefer to post on an Indian Standard Time.
This is easy to find and optimize once you have run a few posts or pins to see what works best for you. Be diligent, and check your social media page stats!
You will be surprised to see how much this very little piece of information can contribute to growing your blog's presence, traffic and engagement over a short period of time.
Quick Recap:
Step #1: Create and official FB Page- You need to be where everyone's already at.
Step #2: Create a support or engagement group- You need to push your blog to truly loyal readers and interact with real followers.
Step #3: Use Pinterest like a pro- Connect on a platform that was meant for blog posts sharing and visual marketing.
Step #4: Focus on platforms that drive maximum traffic or engagement for you, leave the rest on auto-pilot mode.
Step #5- Optimize your posting time, schedule and content based on the platform you are posting on and where your audience lives.
With these social media tips, you are sure to sky-rocket your blog or brand's presence and growth over time!
Thanks for reading!
Author Bio: Shruti, marketer and hustle-lover, moved from India to Germany to chase her dream of living and building her best life from the ground up. On her blog, she shares tips on how to have a global career and blog filled with plenty of bucket list travel in between. You can follow her daily growth hacks and travel adventures on Instagram or Facebook.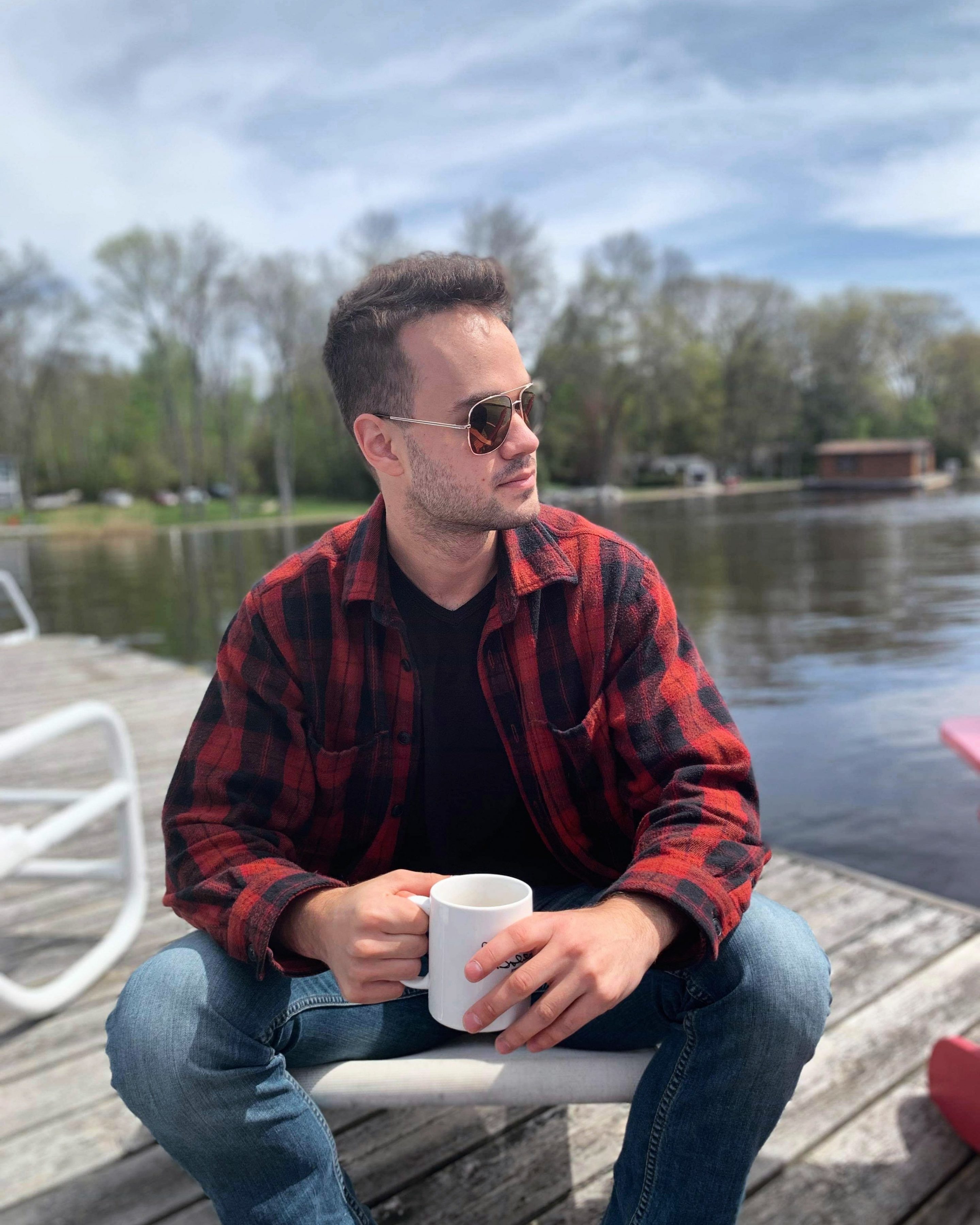 Tom is a 23 year old recent college graduate from Canada with a passion for side hustling, passive income, and marketing. This Online World is all about providing people with honest ways to make and save more money by using technology. To learn more about Tom, read his About Page!
If you're interested in freelance writing services or want to partner with This Online World, please visit Tom Blake Digital to get in touch!