At This Online World, I love finding easy ways to save money or earn passive income.
Recently, I've really gotten into using cashback programs and receipt scanning apps to save money on groceries and other items, and I've decided to expand my content on money saving tips and tricks.
I don't think most personal finance apps or money saving programs will ever make or break someone's finances, but I still think it is valuable for people to make the most of their hard earned money.
Even if a handful of programs can save someone $100-$200 a year, that can be the start of a modest investment portfolio or savings fund.
So, in this post, I want to look at some easy ways to save money when shopping online.
Online shopping is already a great way to find deals and save time, and I think online shopping will continue to grow as consumers become more used to the concept of ordering groceries online or from other historically 'retail' categories. If we're all shopping online, we might as well make the most of our money!
Besides, Black Friday, Cyber Monday, and the Christmas shopping season are upon us! Might as well save some money on online shopping during this hectic time of the year.
Time to break down some of the best chrome extensions and tools for quickly saving money when shopping.
The Best Chrome Extensions to Save Money:
A quick thing to note: many of the extensions I am about to mention are also available on other browsers. However, I only use Google Chrome, and if you aren't currently using chrome you can always download it for free and try it out! Apologies if any of the extensions on this post are not available on your browser!
Onto the money saving extensions!
Honey: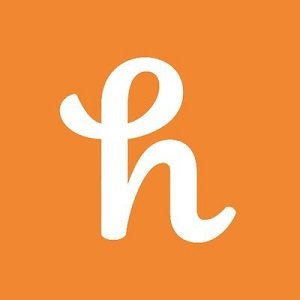 When it comes to lists of money saving chrome extensions, Honey is usually at the top. This is for good reason.
Honey's main service is to automatically apply coupons before shoppers checkout during online shopping, and this extension has saved users more than $170 million dollars since its inception.
If you've ever searched for coupon codes before purchasing something online, you'll undoubtedly know how frustrating the experience is. Some coupon codes you find will have already expired, while some are simply invalid.
Honey automates this process at a massive scale, saving users time and money. While the Honey extension doesn't always find coupons, it's an easy way to save money and requires almost no effort.
When shopping, the Honey extension will light up if there are available coupons that might save you money, and the extension will list available codes in a sidebar: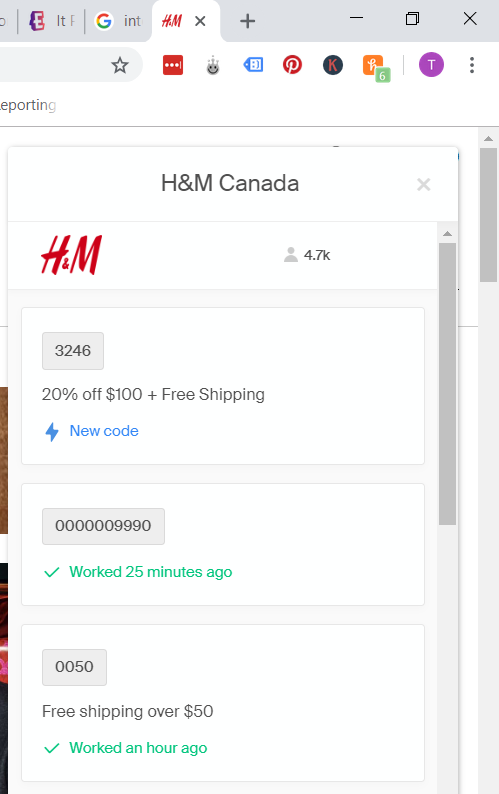 However, what makes Honey one of the best chrome extensions is the fact that Honey offers additional ways for users to save money.
Firstly, the Honey extension also works with Amazon, and can direct shoppers to cheaper Amazon suppliers or deals for the same product they are about to purchase. Pretty neat for anyone who is a frequent Amazon shopper.
Secondly, the Honey app also has a program called Honey Gold, which is the cashback side of the extension.
Honey Gold works similarly to Ebates or other cashback apps. When you shop through your Hone Gold portal at select stores, you can earn cashback rewards. Honey is compensated for this as well, but you still earn a reward at no extra cost.
Currently, these are the stores that are listed under my Honey Gold section: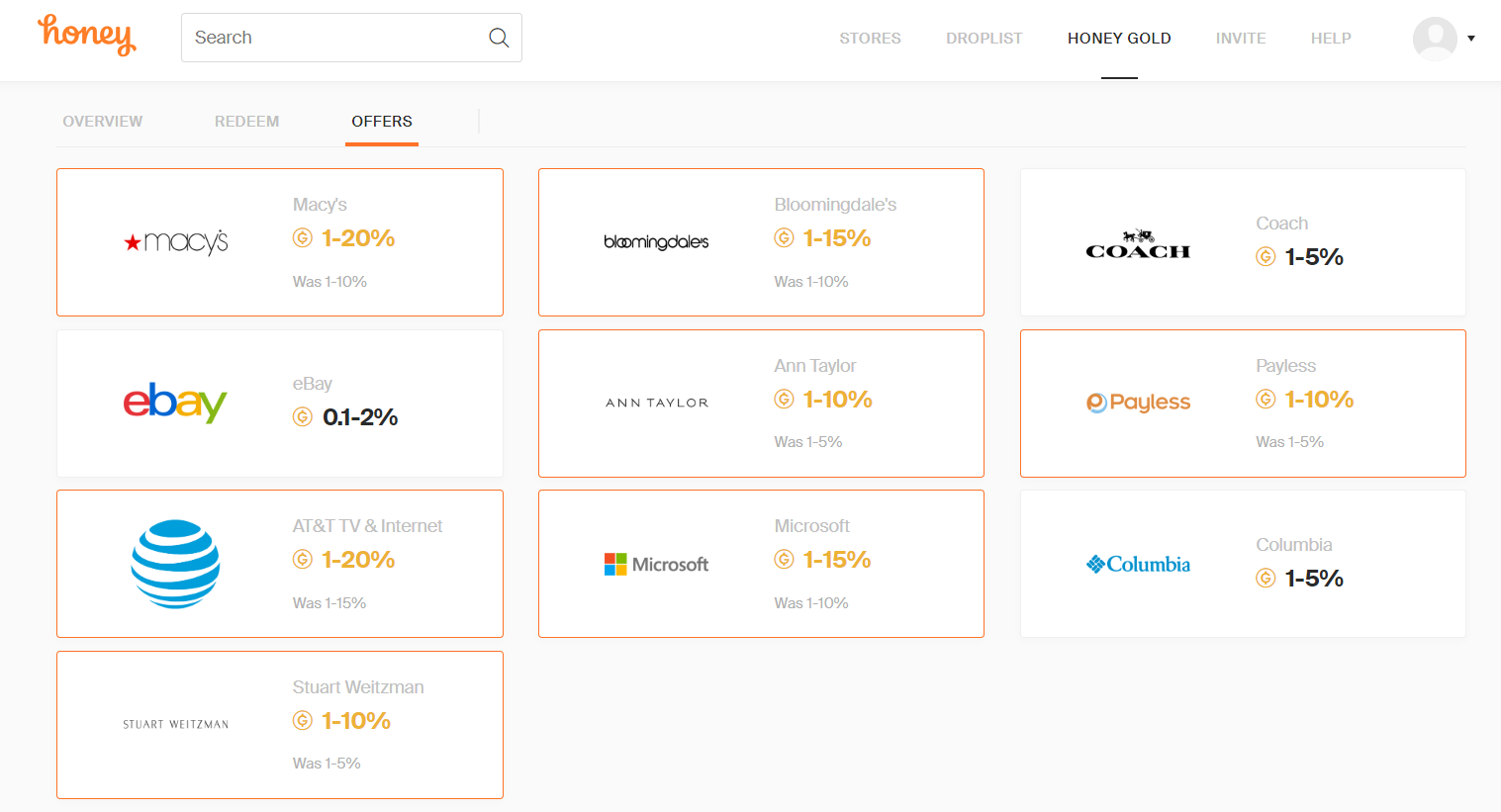 As you shop with Honey Gold, you'll earn coins (aptly named Honey Gold). Once you reach 1,000 coins, you can redeem a $10 gift card at stores like Amazon, Walmart, Ebay, Groupon, and more.
I still use Ebates as my primary cashback shopping portal, but you can alternate between Honey Gold and Ebates depending on which platform has the best deal.
One final feature Honey offers is their Drop List.
With the Honey Drop List, users can add items they are considering to a price tracking list for 30, 60, or 90 days. If the item drops in price, Honey will send notify them that their item has dropped in price.
Personally, I've been using Honey for 1 month, and so far, the extension hasn't actually found any coupons/deals that have worked. However, I have only purchased a single product online in the past month, and that was from Amazon.
Realistically, Honey is a great chrome extension for frequent online shoppers who shop at a variety of stores.
Many negative Honey reviews come from people who only shop at 1-2 stores, whereas a lot of the praise seems to be coming from online shopping fanatics who purchase from a wider variety of merchants.
Take your own shopping habits into account before deciding to try out Honey.
Ultimately, Honey is a great browser extension that can save online shoppers a decent amount of money every year.
Additionally, Honey is available on Explorer, Firefox, Safari, and Internet Explorer in addition to Chrome.
The Honey extension is best for: Frequent online shoppers who purchase from a variety of stores.
Score: 3/5.
Create an account with Honey and start saving today!
Ebates: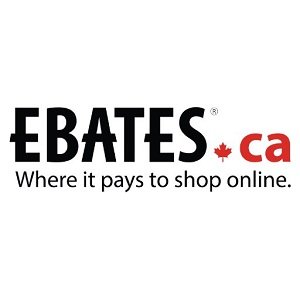 I've mentioned Ebates numerous times on This Online World, and Ebates is hands down my go-to shopping portal whenever I'm buying something online.
Ebates is an online platform where users can receive cashback for shopping. Ebates partners with merchants and is compensated whenever people shop through their links, and they split the revenue they generate with their users.
However, since Ebates has an extensive list of partnered merchants and stores, it's sometimes easy to forget to activate an Ebates cashback offer before you checkout.
Thankfully, the Ebates chrome extension is a free extension that makes it incredibly easy for Ebates users to receive cashback
With the Ebates extension, you will be notified whenever you are shopping with an Ebates partnered merchant so you don't forget to use the Ebates portal to earn rewards.
The extension simply turns red to catch your attention, and clicking the extension will reload the page you are on after being redirected from Ebates (to qualify you for cashback).
That's all there is to it.
I never remember to actually use the Ebates website, so this extension has allowed me to start receiving cashback without much thought.


The Ebates extension is best for: Anyone who online shops regularly and doesn't remember to use Ebates.
Score: 4/5.
Create an Ebates account here, or download the Ebates extension if you already have one!
Invisible Hand: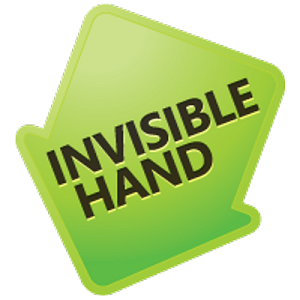 Invisible Hand is another great browser extension that is also one of the easiest ways to save money when shopping online.
Invisible Hand is a straightforward extension. When you shop online, Invisible Hand will notify you if the product/service you are considering is currently available at a different retailer at a cheaper price. It's really the most basic form of money-saving automation.
Invisible Hand draws data from hundreds of retailers, so you are bound to catch a price discrepancy if one is available.
Additionally, Invisible Hand also utilizes an extensive network of airline websites and trip planners to help users automatically find the best deals on flights, hotels, and rental cars.
According to their website, Invisible Hand has 'found' over $1 billion in savings since its inception, and the average user saves $7.55 when Invisible Hand spots a price discrepancy.
Invisible Hand is great for: Frequent online shoppers with interest in travel.
Score: 3/5.
Download the Invisible Hand browser extension and start saving money.
The Camelizer: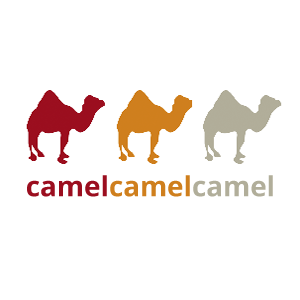 If you are an Amazon fanatic, you are going to love the Camelizer browser extension.
The Camelizer is a browser extension for Google Chrome or Firefox that is provided by CamelCamelCamel, a price tracking website for Amazon.
The Camelizer allows users to quickly view the historical prices for Amazon products as they are shopping. You don't even have to leave Amazon's website if you have the Camelizer browser extension; the historical data is displayed in a nifty chart that is easy to decipher.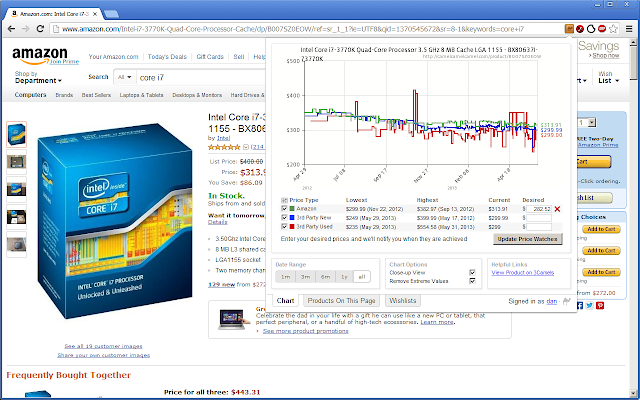 While the Camelizer doesn't automatically save users money, this is still one of the best chrome extensions for anyone who enjoys shopping on Amazon. If you find a product that is at peak pricing with the Camelizer, chances are, you can nab it at a lower price a few weeks later.
Additionally, you can also use the Camelizer extension with other browser extensions like Ebates to double-dip on some easy ways to save money.
The Camelizer is great for: Amazon shoppers with patience!
Score: 4/5.
Cently: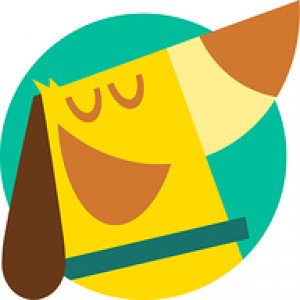 Cently is a money saving chrome extensions that was formerly known as Coupons at Checkout.
Cently automatically notifies users of available coupon codes before check out, which makes this extension incredibly similar to the Honey browser extension.
I've only ever used Honey, but from some reviews I've read, people like Cently more because it is less intrusive and promo-codes are even automatically applied.
However, some users seem to prefer Honey because it finds them discounts more frequently.
Whatever the case, you could theoretically use both extensions for a trial period to see which one save you the most money!
Cently is great for: Anyone looking for an alternative to Honey.
Score: 3/5.
Gumdrop by Goodshop: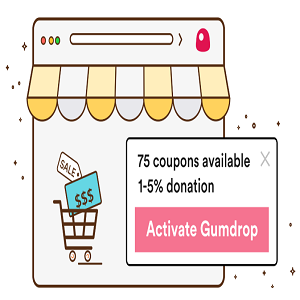 Goodshop is a popular coupon search engine that helps users save money when shopping online. Nothing too revolutionary there!
However, Goodshop has also created a browser extension called Gumdrop, and this extension saves users money while also donating part of their transactions to the charity of their choice.
Gumdrop partners with more than 100,000 nonprofit organizations, so can definitely support a cause you care about while saving money through Goodshop's coupon engine.
The Gumdrop extension works with Google Chrome, Firefox, Internet Explorer, and Safari. Additionally, Gumdrop can apply coupon codes at more than 45,000 stores, so you can use this extension to save money while doing a bit of good.
Gumdrop is great for: People looking to save money while supporting a charity.
Score: 4/5.
Visit Gumdrop's website to learn more.
Additionally, you can check out this cool post from my friend Peter at Seller At Heart on nifty ways to donate to charity for free.
Additional Browse Extensions & Tools to Make & Save Money:
While the above list of money saving browser extensions is a great way to get started with automating your online savings, there are a few more browser tools, extensions, or apps I suggest trying out as well.
More easy ways to save money with extensions:
PriceBlink: This extension helps users find the lowest price for the specific item they are shopping for by comparing data from thousands of retailers.
WikiBuy: This Chrome extension is designed to help Amazon shoppers save money. With WikiBuy, shoppers can add coupon codes, set up price drop alerts, view historical price data, and compare prices from other retailers. You can also link your credit or debit card to Wikibuy to earn cashback in the form of points when shopping.
Useful money making browser extensions or tools:
Qmee: Qmee is a comprehensive browser extension that allows users to earn and save money when shopping. Qmee users can earn money for searching, apply coupons at checkout to save money, and answer paid surveys on the brands they are interested in.
Swagbucks Search: If you are an avid Swagbucks user for shopping or phone farming, you can also default your search bar to Swagbucks Search to periodically earn SB when you browse the web.
Microsoft Rewards: If you don't mind using Bing every once and a while, you can accumulate Microsoft Rewards points by browsing the web or making daily searches. Microsoft Reward points can be redeemed for a variety of sweepstake entries or gift cards.
Additional money savings apps & platforms I suggest:
Drop: Drop is a cashback app that allows users to earn points for shopping at some of their favorite stores. Drop points can be redeemed for a variety of gift cards, and the app also has an ever-changing lineup of extra bonuses or shopping offers.
Paribus: Paribus connects to your email account and scans online receipts to secure money-back if items you have purchased drop in price and are eligible for price protection.
TPG To Go: The Points Guy to Go is a mobile app that informs users which credit rewards card they should use for purchases they are going to make. If you have a few cards in your wallet and lose track of which one you should be using for various shopping situations, this could be a neat app to try!
Some Final Thoughts on Browser Extensions & Privacy:
I hope this list of browser extensions, tools, and apps can help get you started with saving more money whenever you shop.
However, I also want to point out an important factor to consider: as the saying goes, if you're not paying for it, you're the product.
I believe the majority of these browser extensions and cashback apps make a great deal of their money by partnering with merchants to earn referral revenue.
While there is nothing wrong with this, you also have to consider just how much data these companies are collecting on user shopping habits and preferences.
You can read privacy policy after privacy policy that state that none of these browser extensions or tools sell your data to third parties, but the fact remains, your data is always being collected.
It might be anonymous, never sold, or completely irrelevant to you. However, you need to do your due diligence and read privacy policies, terms of agreement, and decide what you are comfortable with.
Personally, I use Honey, Ebates, Paribus, Drop, and several receipt scanning apps right now. This is as much data as I am comfortable giving up, and I don't feel the need to incorporate more apps into my life right now.
If you want to try out every single extension or app out there, just know what you are getting into and how you want to be compensated.
That's all for this post! Thanks so much for reading!
Catch you guys in the next post! 🙂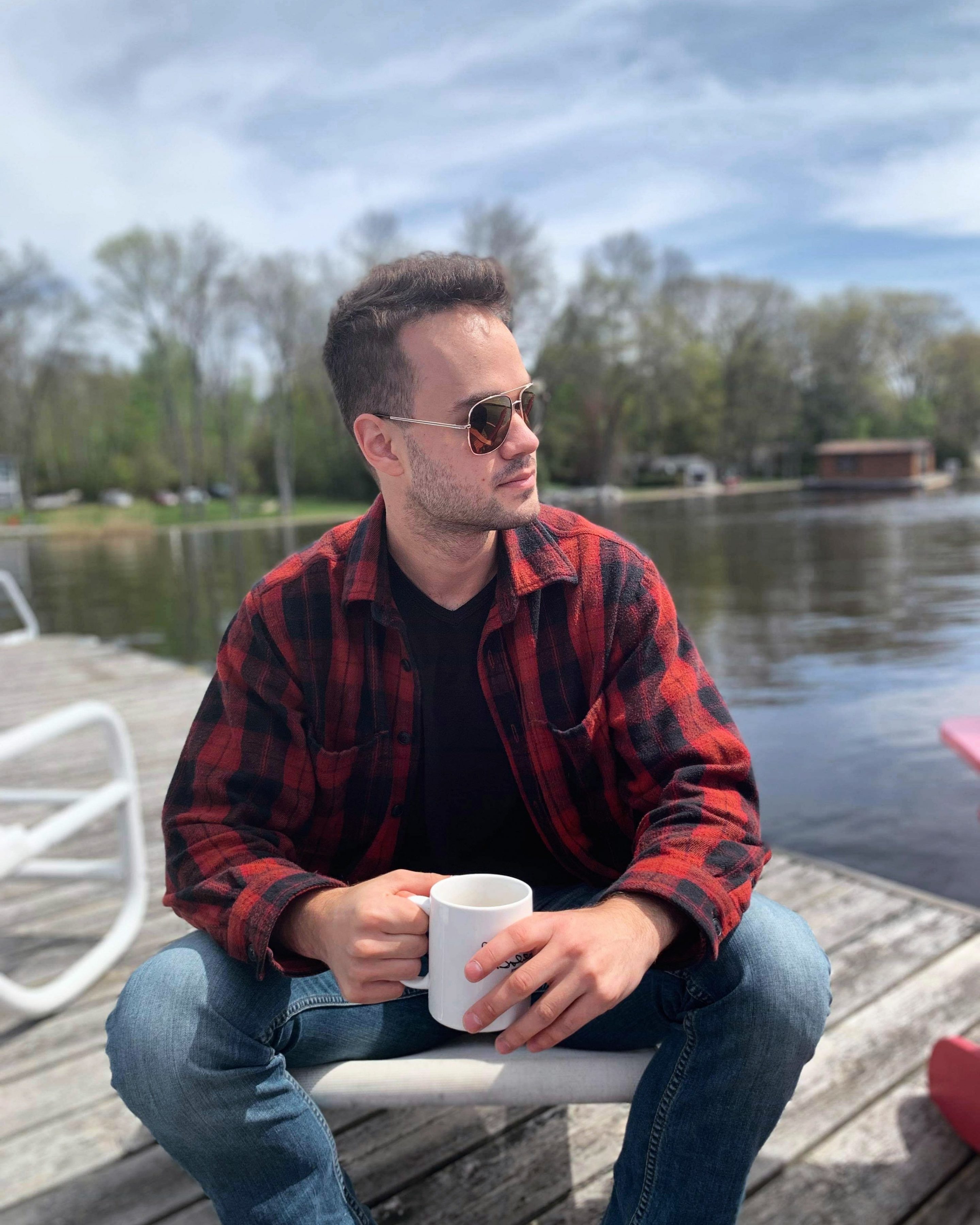 Tom is a 22 year old recent college graduate from Canada with a passion for side hustling, passive income, and marketing. This Online World is all about providing people with honest ways to make and save more money by using technology. To learn more about Tom, read his About Page!